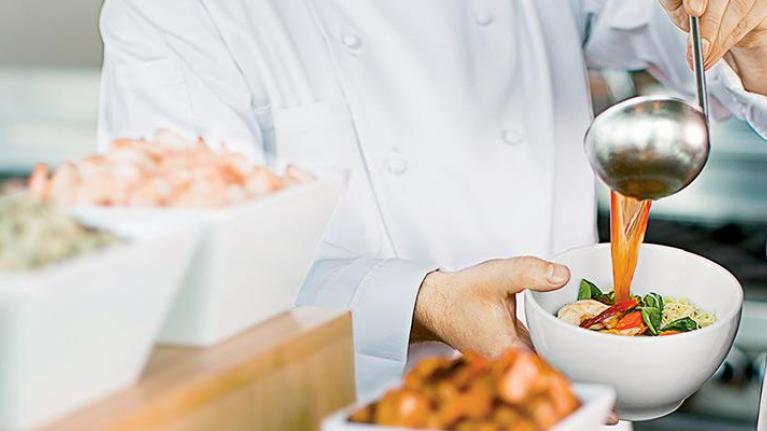 10 Reasons It Pays to Soup Up Your Menu
October 19, 2016
Soup is nutritious, versatile, and a chef's friend. Discover 10 ways that soup can help you provide exciting seasonal menu choices while maximizing value for you and your guests.
Chicken soup, tomato soup, clam chowder. All popular, delicious soup varieties, to be sure. But these top-selling soups are not the only possibilities, and you're selling the category short—and leaving profit on the table—if you're not taking advantage of its many benefits.
Incorporating seasonal ingredients and presentation formats.
Soups offer almost endless versatility and adaptability to the seasons. Hearty chowders and chilis are perfect for cold weather, while lighter warm-weather soups are a vehicle for farm-fresh seasonal produce like tomatoes, corn, and fresh herbs, as well as chilled soups such as gazpacho and even fruit soups.
Don't Forget: Winter vegetables such as red kuri and butternut squash, kale and cabbage, and root vegetables including beets and parsnips, are becoming more popular with consumers—and they're great in soup.
Cross-utilizing product, including overproduction, trim, and imperfect produce.
Soup du jour represents one of the best opportunities an operator has to maximize menu variety while minimizing waste. Like all specials, soup can be a real operational boon when it comes to product utilization. It's also an opportunity for the kitchen to adapt menu offerings to the season, and for front-of-the-house staff to "hand-sell" something unique to customers.
Tip: While proteins and other high-cost ingredients can be repurposed in a soup of the day, don't overlook the usefulness of such basic ingredients as celery and onions.
As a vehicle for customization.
Patrons love to build their own meals, and soup certainly qualifies. Soups can be customized with garnishes, starches (such as chicken soup with a choice of noodles or matzoh balls), or via a mix-and-match approach that puts the guest in complete control.
Get Started: The International Soup and Noodle Station from Nestlé Professional offers savory soups and noodle specialties that can be created to patrons' specifications.
Developing health-conscious menu appeal.
Chicken soup has always had the reputation of being curative, and the news-making "bone broth" trend has helped to focus attention on the health-giving benefits of soup. Customers are catching on. Broth-based soups are generally low in calories and high in satisfaction, especially when they're loaded with healthy ingredients like vegetables and packed with flavor. Adding flavorful, nutrient-dense grains (PDF) ups the ante even more.
Get Started: Maggi® and Minor's® bases are the start of countless delicious soup recipes, and many are gluten free.
Offering customers a value alternative.
Whether menued as an appetizer or a main course, soups tend to be one of the best value propositions on the menu. For the operator, soups are generally low in cost, and can be priced at several dollars less than a traditional appetizer or main course, but customers also seek out soups because they love them. Soups also appeal to younger diners who don't necessarily want to order off a Kids' Menu.
Tip: Offer soups in both cup- and bowl-size portions; a cup of soup represents a time-honored way to build add-on sales. And don't forget the ever popular soup-and-salad or soup-and-sandwich combo.
Taking operational strain off the kitchen.
Since most soups can be made ahead, they're great for easing kitchen bottlenecks and service snafus. Soup started in the morning can simmer quietly on its own until service time while other prep tasks are completed. And when a customer orders a cup of soup to start the meal, the kitchen gets some time to focus on cook-to-order items.
Try This: If appropriate, let servers portion out soup from a steam kettle or hot food station, eliminating that responsibility for the line.
Adding menu variety at lunch and dinner.
Soups are so versatile that they fit in not only with nearly every menu concept, but also most dayparts. In addition to offering them at both lunch and dinner, consider easy-to-serve soups for midafternoon meals and late-night dining occasions.
Try This: Hearty soup/stews like gumbo, French onion soup, Italian wedding soups and Asian noodle soups are creative and filling enough to be menued as an entrée. Consider adding a satisfying garnish such as garlic toast or Hot Pockets® to seal the deal.
Building takeout sales.
Soup is an ideal takeaway food. It's convenient, highly portable, stays hot without degrading in quality, and can be eaten at a desk for lunch or toted home in larger sizes for a comforting hot dinner. A soup of the day program ups the ante by building repeat sales, and it's surprisingly easy to launch: Invest in sturdy containers, print up calendar-style flyers, and promote takeout soup offerings via social media.
Get Started: Menu inspiration is just a click away with these Nestlé Professional soup recipes. And the database is being updated every day.
Experimenting with global flavors.
Soup is a true global specialty, showcasing ingredients, flavors, and traditions from around the world. Many international soups, in fact, have become commonplace on mainstream menus, including Mexican tortilla soup, Italian pasta fagioli (bean and pasta soup), and Thai red curry soup. Take advantage of soup's wide popularity by using it as a vehicle for introducing customers to new ideas in fun, low-risk ways.
Did You Know? Nestlé Professional offers a wide variety of flavor-forward products that make it easy to add globally inspired soups to the menu, including Maggi Thai Style Curry Pastes, Minor's sauces and flavor concentrates, and Chef-mate® cheese sauces.
Meeting demand for vegetarian and vegan options.
With more patrons either following a meatless diet or open to meat-free options from time to time, it makes sense to pay more attention to soup for its longstanding vegetarian and vegan traditions. As with pasta and pizza, soup can easily be made without meat or even animal products, without screaming alternative lifestyle. Look to the international soup repertoire for meatless classics like minestrone, or experiment with your own variations.
Try This: Add heft to vegetarian and vegan soup recipes with the addition of items like orzo, rice, or grains; bread or polenta croutons (which can be topped with cheese in the case of vegetarian items); and hearty vegetables such as sweet potatoes, butternut squash, or portabello mushrooms.