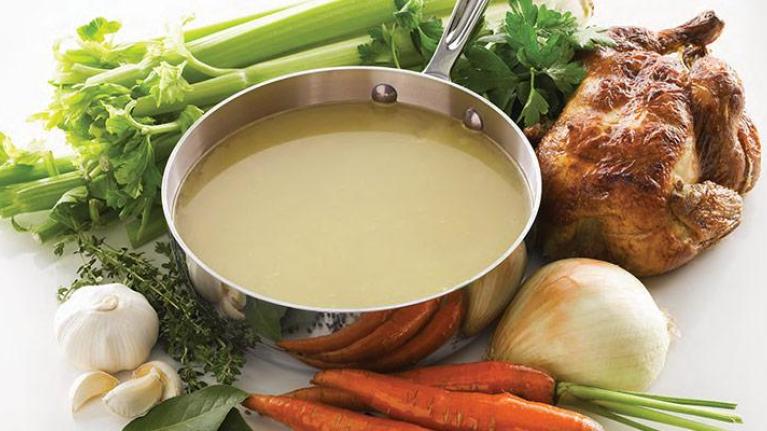 Bases and Beyond—25 Ways to Add Flavor
October 19, 2016
Use bases to amp up the flavor in dozens of dishes—from soups to sauces, marinades to chili, and even Bloody Marys! Learn 25 delicious base flavor hacks.
Food bases are one of the most useful products in the food service pantry. But their use goes way beyond standard deployment in stocks, broths, soups, and sauces. Think of bases wherever you could use an extra bit of flavor, seasoning, salt, or umami—in other words, lots of foods that "need a little something."
Minor's® bases have been a standard-bearer for premium quality, consistency, and performance since 1951, when Dr. Lewis J. Minor developed the first meat-first, ready-to-use food base. Today the line extends to dozens of different products, including meat, poultry, seafood, and vegetable bases, as well as low-sodium and gluten free formulations.
Did You Know? With the official launch of Minor's four-year, multimillion-dollar Ready to Flavor™ initiative, the brand's bases—as well as its flavor concentrates and sauces—are safe to use in both hot and cold applications, without the added step of cooking. For more information on the supplier collaboration and innovative new technology that went into this initiative, click here.
In addition, Nestlé Professional now offers Maggi® bases, in both beef and chicken formulations, which are an integral part of the #1 most frequently purchased food brand in the world.
Now, get more out of the extensive line of Minor's and Maggi bases with these ideas:
Use softened base as a complete seasoning rub for roasted meats such as chicken, beef, and pork.
How-To: A basic rub for chicken breasts is both easy and versatile—create it by mixing the base of your choice with other ingredients, like mustard or chopped garlic, to vary the flavor.
Add Chicken or Vegetable Base to the liquid for cooking rice, noodles, and potatoes.

Strengthen the essential taste of vegetable dishes with the addition of Mirepoix or Mushroom Base.

Add extra dimension to cream sauces with a complementary Minor's or Maggi base.
Recipe Idea: Minor's or Maggi Chicken and Beef bases ramp up the flavor in comforting recipes like this Country Chicken Pan Pie or Farmer's Beef Stew.
Bring a touch of bacon or ham flavor to bean dishes, Southern-style vegetables, and soups with Bacon, Ham, or Pork Base.

Add Chicken, Turkey, or Mirepoix Base to poultry stuffing.

Enhance the flavor of crab cakes with Minor's Crab Base.

Enhance the color of pale foods, as well as adding flavor during the cooking process, with darker bases such as Low Sodium Beef Base.

Mix Minor's or Maggi Beef Base, oil, spices, and other seasonings to create marinades for steaks and chops.

Use Minor's Fish Base in the courtbouillon (broth) used to poach fish.

Use a complementary seafood base to steam shrimp, crab, or lobsters, or in the broth for clams or mussels.
Try This: Use clam broth made with Minor's Clam Base instead of water to help create a flavorful steaming liquid when prepping clams for chowder or pasta with clam sauce.
Use Minor's or Maggi Chicken Base in cooking liquid for chicken or other poultry used in salads or sandwiches.

Add Beef or Pork Base to meatloaf, meatballs, hamburgers, and other ground-beef mixtures.

Enrich chili with Minor's Mirepoix or Mushroom Base.

Ramp up the dimension of your favorite barbecue sauce recipe by adding Bacon or Ham Base.

Cook potatoes for mashing in stock made with Mushroom Base, Lobster Base, or Mirepoix.

Whisk Minor's base into vinaigrettes and other salad dressings.
Recipe Idea: Using Minor's Chicken Base in the dressing turns classic chicken salad into a signature like this Lemon Oregano Chicken Salad.
Enhance the flavor of hot bacon dressing for spinach salad with Bacon Base.

Boost the flavor of German-style potato salad with Ham or Bacon Base.

Enrich clam, crab, or shrimp pasta sauces with the appropriate Minor's seafood base.

Add Minor's Mushroom or Clam Base to tomato soup for a different twist.

Boost the flavor of scrambled eggs or omelets with the addition of Chicken, Ham, Bacon, or a Vegetable Base.

Add the Minor's base of your choice to mayonnaise or sour cream to create a flavorful sandwich condiment or dip.

Mix a Minor's base into the filling for deviled eggs.

Use Minor's Beef Base with Bloody Mary Mix to create a Bloody Bull cocktail for the brunch menu.