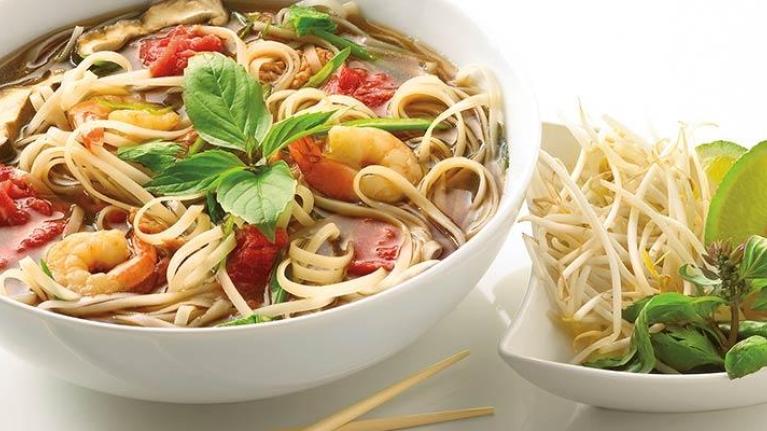 Build Sales with the International Soup Trend
October 19, 2015
Soups from around the globe are traditional favorites that are filling bowls across the United States. Chefs like the versatility and cross-utilization. Customers like the bold flavors and affordable price points.
Japanese Soba Noodle Soup, New England Seafood Chowder, Mexican Tortilla Soup. Who would have guessed that so many delicious soups from around the world would become popular in so many mainstream food service operations?
Global soups satisfy consumer demand for a menu item that is at once ethnic and familiar, healthy and light yet comforting, high in value, and almost endlessly customizable. For operators, they represent great food costs and an excellent way to cross-utilize other ingredients, particularly small portions of protein; they're also easy to adapt to vegetarian and even vegan needs.
In fact, according to NPD, soup is making a comeback on menus, thanks to its broad consumer appeal and operational ease. There are a number of great ways to merchandise soup on-premise, including DIY Asian noodle soups and rotating soup specials.
The Zen of Asian Noodle Soups
Following the pattern of Chinatown-style noodle shops in many big cities, mainstream operators are adding their versions of noodle soups, many of them in mix-and-match versions where customers can choose the type of noodle and topping they prefer.
Asian noodle soups are cheap and filling, so it should be no surprise that they're a favorite of college students-a fact that savvy university and college food service directors are taking advantage of.
At Rutgers, the State University of New Jersey, the Cook-to-Order Bar in Brower Commons often includes the makings for Asian noodle soups, such as miso soup, vegetable and lemongrass broth, rice and soba noodles, various proteins and vegetables, and noodle bar sides and garnishes (other cook-to-order concepts include paella, Mexican, and Chinese). Purdue University, in Calumet, IN, is home to the Lemongrass outlet, with made-to-order wok specialties and pho soups. One side of the station is a noodle bowl concept, using Vietnamese pho broths as the base. Customers select their broth, choose from one of three type of noodles-soba, udon, or cellophane-and add their choice of proteins or vegetables.
Nutrition, Health and Wellness Tip: Soup is typically a low-calorie, low-fat menu option, especially when you include lots of vegetables, grains such as buckwheat or brown rice, and lean proteins including seafood and chicken. Seaweed, nuts and seeds, and healthy oils like sesame are nutritious garnishing options.
Soup of the Day Engages Customers
Customers love soup, particularly when it comes in multiples. At the San Francisco Soup Company - with 18 units and a Soupmobile, plus a grocery store presence - customers can enjoy one of at least a dozen different soups every day. These include specialties like Chicken Pozole and Curried Butternut Squash, as well as more traditional offerings such as New England Clam Chowder and Tomato Bisque. To entertain all comers, soups are designed as Vegetarian, Low Fat, Dairy-Free, Gluten-Free, and more. Menus also include full and side salads, and half-sandwiches featured in combo with soup, but the real draw is soup, available in three sizes including quarts for takeout.
Get Started: It's easy to offer gluten free soups when you start with Minor's® Natural Gluten Free Base. As for international flavor, there is a whole range of Minor's Flavor Concentrates and Ready-To-Use Sauces to serve any purpose.
Minor's Do-It-Yourself International Soup Station
Build-your-own soups are all about freshness, health, and customization—attributes that are especially important in food service right now. These do-it-yourself soups have a lot going for them. Not only are they delicious, fun, and low in fat and calories, but they're also a great utilization for prepped vegetables and "recovered" proteins, helping to lower food costs.
Asian noodle soups (see box, below), as well as noodle and rice bowls, are a natural for the concept, but here are a few more ideas:
Chilled gazpacho with garnishes (chopped vegetables like diced tomato and cucumber, crisp croutons, plus olive oil and Minor's Fire Roasted Poblano Flavor Concentrate in a squeeze bottle for drizzling).
Global Chicken Soup (chicken broth with such add-ins as tortilla strips and cilantro for Mexican Tortilla Soup; rice or noodles, chopped cooked carrots, and shredded chicken for classic Chicken soup; matzo balls or kreplach for deli-style).
Minestrone (vegetable stock to which customers can add sautéed vegetables, cooked beans, pasta, prepared pesto or Minor's Sun Dried Tomato Pesto and grated cheese).
INTERNATIONAL SOUP AND NOODLE STATION
Nestlé Professional has created an international soup and noodle bowl station concept that allows patrons to build their own flavorful noodle soups and bowls. This action station, which can be either attended or self-service, starts in the back-of-the-house with a basic broth—for example, for an Asian soup concept, simply add Minor's Sesame RTU to make a Sesame broth.

Diners can add a "shot" of one or more Minor's RTU Sauces or Flavor Concentrates (such as Szechuan, Chipotle, Chile Garlic, or Sesame) from a squeeze dispenser to create a customized flavor profile.

Other add-your-own ingredients:
- A selection of different noodles, grains or rice, including brown rice
- Proteins including pork, beef, seafood, chicken, and tofu
- Bite-size vegetables (green peppers, broccoli florets, spinach, fresh snow peas, bean sprouts)
- Garnishes and condiments (sliced scallions, chopped peanuts or almonds, sesame seeds, crispy wonton strips, sliced jalapeños, toasted sesame oil, nori seaweed)