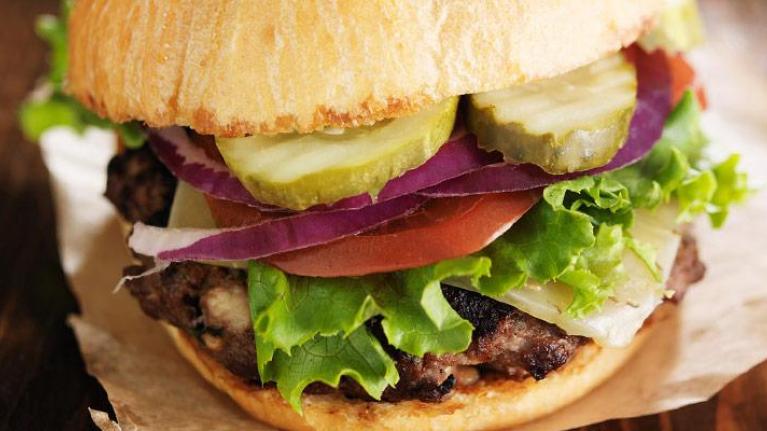 Classics: How to Build a Better Burger
October 20, 2021
The better burger trend continues and expands with new protein and flavor options, with twists on bun/bread and condiment choices. Discover how to make the classic burger exciting and new.
Arby's surprising announcement that it is testing a venison burger(!) in a small number of locations is proof that there's still plenty of mileage left in the old better burger trend. Built from a steak sourced from farm-raised deer and topped with frizzled onions and a sweet-tart berry sauce reminiscent of the Cumberland sauce that's traditionally served with game, the new specialty—whether it's widely accepted by mainstream consumers or not—also suggests the many ways in which food service operators can build their own signature burger specialties.
Did You Know? Three out of four consumers enjoy a burger. It's all in pursuit of a sum that's greater than its assorted parts.
The Carrier
Many burgermeisters insist that the bun or bread is crucial to a great burger—in fact, almost as important as the patty itself.
And there's plenty of room for improvement beyond the generic hamburger roll:
Housemade bun

Sliced sturdy bread, including rye and multigrain, whether plain or toasted

English muffin

Ciabatta

Brioche

Flavored or specialty-grain roll (such as jalapeño or spelt)

Gluten-free breadstuff

Lettuce (for a carb-free alternative)

For sliders, "mini" carriers such as biscuits

Pretzel roll

Waffles
The Patty
In addition to size (standard versus slider), there are numerous ways in which variety can be introduced to a burger menu with various proteins and other ingredients. Many customers, in fact, are seeking alternative burgers.
Premium beef (Angus, custom blend, grass-fed)

Turkey

Chicken

Pork

Lamb

Bison or buffalo

Seafood (including tuna, salmon, and shrimp or scallops)

Meatless (bean- and/or grain-based), for vegetarians and vegans

Portabello mushroom cap

The Blend (meat blended with mushrooms)
Try This: Mix flavor and a kick of savory umami right into the patty using Maggi® Seasoning or Spicy Seasoning, or an appropriately flavored Minor's® Flavor Concentrate or Base.
Additional Proteins
Many burger builders pride themselves on over-the-top combinations that pair a patty with even more protein—cheese and bacon being obvious choices, but there's so much more to it:
Specialty cheeses (such as Asiago or Gorgonzola)

Premium bacon (applewood smoked, locally sourced)

Pork belly

A fried egg

Other cured meats (ham, prosciutto, pepperoni)

Sliced roast beef, brisket, or smoked turkey

Pulled pork or chicken

Chili
Get Started: Chili topping is a breeze with Chef-mate® chili products; another protein-loaded possibility is Chef-mate Corned Beef Hash or Creamed Sliced Beef.
Signature Toppings
This flexible category of burger additions is where signatures are born, creating one-of-a-kind uniqueness by adding an item that's crave-worthy on its own to a burger build.
Cheese spread (pimento cheese, Boursin, cream cheese)

Kimchi

Onion rings or frizzled onions

Traditional or upgraded slaw (such as broccoli or Asian)

Potato chips or fries right on the burger, rather than on the side

Refried beans

Olives

Specialty pickles (bread-and-butter, quick-pickled red onions)

Macaroni and cheese
Get Started: Top a burger with a Stouffer's® macaroni and cheese product for a high-impact (and high-value) menu offering.
Vegetable Love
Lettuce and tomato are standard accessories to a burger, providing both flavor and texture, but growing interest in vegetables provides a good excuse for exploring other options.
Sautéed mushrooms

Sliced avocado or guacamole

Sliced cucumber

Caramelized onions or grilled scallions

Lettuce-and-tomato alternatives (arugula, spinach, shredded Romaine, sundried tomato, fried green tomatoes)

Sliced pineapple

Fresh herbs (cilantro, chives, basil)

Sprouts
Try This: Get in on the vegetable topping trend using Stouffer's Creamed Spinach or Spinach Artichoke Dip.
Condiments and Sauces
Spicy (habanero relish, Sriracha, chipotles en adobo)

Global (harissa, Korean gochujang, hoisin)

Artisanal (housemade ketchup, beer-infused mustard, roasted-garlic mayo)

Sophisticated (aioli, pesto)

Barbecue sauce

Sweet chile garlic sauce

Savory jam

Tzatziki

Hummus

Green Goddess or Ranch dressing
Did You Know? Nestlé Professional has lots of products that can be used as is or combined with other ingredients to create unique condiments and sauces, including Stouffer's Alfredo sauces and Queso Cheese Dip; Trio® sauces and gravies; Chef-mate cheese sauces; and Minor's sauces.