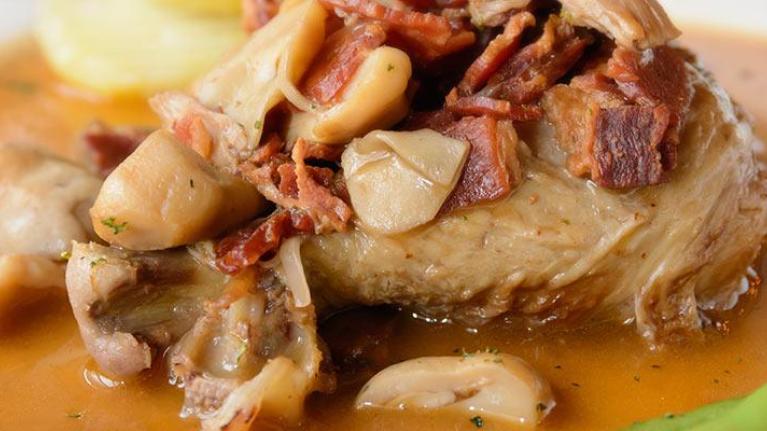 Comfort Foods Add Comfy Profits
October 19, 2015
Comfort foods are consistent best-sellers, but drive sales even higher by adding a twist to comfort classics. Learn which global, ethnic, and premium comfort concepts will fit your operation.
If there's one thing you can count on in this competitive, rapidly changing, trend-driven food service environment, it's consumer demand for comfort food. Classic favorites like barbecue, roast chicken, meat loaf, and macaroni and cheese continue to attract fans, even in venues like cutting-edge college dining halls where there may be dozens of other options on offer, from sushi to salad bars. There's even been a surge of interest in retro foods like deviled eggs and green bean casserole.
In addition, the very definition of "comfort food" is evolving, as tastes and demographics change. Global comfort foods like Japanese ramen and Mexican tamales appeal to a broader segment of the population.
And because comfort foods are so familiar to so many diners, it's easy to innovate around the basic concept without scaring off the customer. Comfort foods have a comfort level with guests that invites creativity, keeping the folks in the kitchen happy while they offer a craveable signature dish that will help set your operation apart.
In fact, San Francisco-based hospitality consultant Andrew Freedman has called out Upscale Comfort Food as a trend to watch. Meanwhile, Datassential Menu Trends has tracked five-year growth patterns in such classic comfort food items as macaroni and cheese (up 21.8% between 2010 and 2014), sweet potatoes (up 57.1%), pot roast (up 8.5%), pot pie (up 8.2%), and biscuits and gravy (up 4.3%). These upward trends existed in every segment, from quick-service restaurants to fine dining.
Try These Ideas: Country Chicken Pan Pie deconstructs pot pie to make it lighter and more contemporary. Lumberjack Biscuits and Gravy can do double-duty as a breakfast or dinner item.
That spells continued opportunity for some of the most popular menu items in food service. Fortunately, it's easy to add a creative stamp of your own to these classics.
Give it an Ethnic Twist
Take advantage of continued interest in global food specialties by adopting international foods or adding an ethnic twist to old favorites:
Moco Loco is a Hawaiian cult classic that's making it's way to the mainland. Make it healthy by substituting a ground turkey patty for the traditional beef

Pozole is a Mexican-style stew that combines protein like pork or chicken with hominy in a flavorful broth

Noodles say "comfort food" in any language, including this Japanese-style teriyaki udon noodle salad

Rice is another global comfort, and thrifty fried rice is making the jump to mainstream menus of all kinds
Between the Bread and On It
Sandwiches and other bread-based items like crostini and bruschetta bring the comforting power of carbs to almost anything.
Rustic Meat Loaf Sandwich delivers comfort on two levels, and it's easy when you start with Stouffer's Meatloaf with Gravy

Creamed Chipped Beef on Focaccia is a menu item competitors aren't likely to offer

Think of this Rustic Flatbread with Roasted Poblano as a marriage of pizza and an open-face sandwich

Sun Dried Tomato Bruschetta can menued as a snack, small plate, or shareable appetizer
Get Started: Adding a gravy or sauce to a straightforward menu item creates a comfort-food signature; look to Trio® sauces and gravy mixes, and Chef-mate® cheese sauces and Hot Dog Chili Sauce as a springboard.
Just Add Vegetables
With interest in fresh produce continuing to grow, adding vegetables to comfort foods not only boosts "stealth health" but it also helps create signature menu items.
Grits are another comfort carb that benefits from the addition of tasty, colorful vegetables

A Vegetable Casserole gratin enriched with hollandaise sauce stands on its own as a comfort offering
Add Some Premium Style
Upscale ingredients and preps can take most any comfort food to the next level, making it appropriate for venues such as fine dining or catering.
You can do anything to Stouffer's Macaroni and Cheese or Macaroni and Cheese made with Whole Grains, as this signature Caramelized Apples & Blue Cheese Mac and Cheese proves

Lobster Thermidor is an old-school classic that fits contemporary desire for upscale comfort food

Roast chicken is comforting; rubbed with adobo and "cooked under a brick," it's a premium specialty

The addition of fragrant tarragon turns this hot potato salad into a unique side dish
Put it in a Soup Bowl
Soup is ever and always a comfort item that appeals to a wide spectrum of customers.
Chicken soup is an all-time favorite; merchandising it as Home-Style Chicken and Macaroni Soup creates a hearty signature

Butternut Squash Bisque may be elegant, but that doesn't make it any less comforting

Classic Minestrone is chock full of pasta and vegetables

The San Francisco-style seafood stew known as Cioppino is substantial enough to serve as a comforting main course