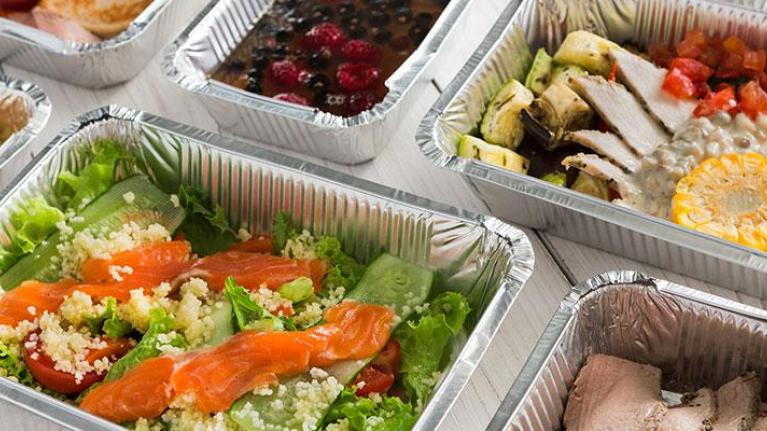 Takeout: Comfort Food and Family Meal to Go
January 1, 2018
Comfort and convenience are top trends. Leverage the momentum with family-size meals and comfort foods to-go for off-premise dining. We have some great ideas to get you started.
When it comes to takeout, there's more to menus than pizza and Chinese food. While these tried-and-true specialties remain top sellers, familiar favorites like fried or rotisserie chicken, ribs, burgers, steak, rice bowls, pot roast, macaroni and cheese, and other comfort foods are just as popular for takeout as they are for dine-in. And fortunately, all these items travel well.
That's not surprising, since comfort foods, by their nature, are generally foods that are cooked low and slow, creating deep flavors and tender results—the kind of recipes many customers no longer have time to cook at home. This does not preclude exciting ethnic specialties and global flavors, either, which can be as comforting as an all-American specialty.
For more ideas, see below.
Here are some comfort foods available for takeout from one casual restaurant chain that is moving vigorously into carryout, as well as delivery through local third-party vendors:
Grilled Cheese Sticks & Slow-Cooked Tomato Soup
Pork Noodle Bowl
Mac + Cheese
Thai Noodles
Braised Berkshire Pork Shank
Chicken Chile Verde Nachos
Turkey Meatballs
Garlic-Butter Flatiron Steak
BBQ Bison Meatloaf
Fried Chicken Dinner
Pot Roast Beef Dip Sandwich
All in the Family
Another opportunity for building takeout sales is family meals, curated selections that are sized and priced for groups of four to six or more: a choice of entrée, several side dishes including starch and vegetables, and bread or rolls. An enhanced family pack might also include an appetizer and/or salad and dessert. Homestyle choices like lasagna, family-size meatloaf, pot roast, and signature macaroni and cheese work well, and are popular enough to appeal to groups.
The point is to offer an entire meal that maximizes sales as well as customer satisfaction and convenience. For example, sandwiches might include a choice of side dishes such as potato salad or coleslaw, or a bag of chips, while pasta could include garlic bread and a salad. Entrées such as short ribs or Ginger Soy Salmon could include separately packaged side dishes such as mashed potatoes, rice pilaf, steamed broccoli, and roasted vegetables.
Adding a shareable appetizer such as hummus with crudité and pita, chicken lettuce wraps, or an antipasto salad adds value. Travel-friendly desserts including brownies, cheesecake, or a cookie plate round out the meal.
Some additional tips:
Be sure to add gluten-sensitive options
Offer a mix-and-match choice of items that work well together
Package each component separately, putting hot and cold items in different bags if possible
Keep dressings and extra sauce to the side, to prevent sogginess and allow customers to tailor the food to their liking when it gets to their destination
Don't forget beverage offerings that complement the food
Source: 2016 Technomic Inc., Takeout & Off-Premise Dining Consumer Trend Report
Get Started
Evaluate your menu for items that travel well
Create a separate takeout menu—online, at point of sale, and printed versions that customers can take with them—to promote carryout options, including hours of operation, phone number, pick-up location, and other details
Highlight takeout on social media, including Facebook, Twitter, and Instagram  
Make sure on-premise service staff and anyone who answers the phone know your takeout procedures
Here are Some Ideas
Offer a takeout discount on slower nights, to encourage business
Investigate local third-party delivery services to see if delivery can work for you; test-order from them to see how the process works
Consider features such as online ordering or a separate takeout number to make it easier for patrons to choose your establishment for takeout
Pay particular attention to times when takeout may be most popular: big game nights, final exam week, stay-at-home occasions like Halloween, and so on