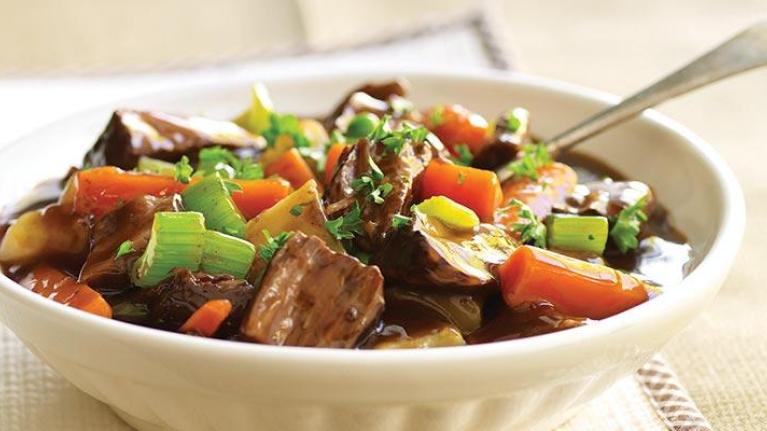 Tap In to the Enduring Appeal of Comfort Food
February 28, 2015
Comfort food is always a customer favorite. And it's a kitchen favorite because it lends itself to advance prep and product utilization. Learn about the latest taste trends influenced by international cuisines.
Trendy foods may come and go, but comfort food is always appealing. In fact, colleges may spend thousands of dollars to update residential dining facilities with wok stations and pizza ovens, but still offer burgers and fries. Hospital cafeterias commit to salad bars and grab-and-go reach-ins, but almost always menu a meat-and-three daily special. And with more restaurant chefs intent on offering value and quality, comfort foods with a twist are the order of the day.
Today's comfort foods may be more creative, but they're always still familiar. And that's why they remain popular. Braised and oven-roasted meats, soups and stews, pasta dishes, classic overstuffed sandwiches, even hearty ethnic favorites are very much in demand.
Meaty Menu Favorites
At Kapnos, a Greek restaurant in Washington, DC, the menu centers on simple but hearty meat dishes—many priced and portioned for the whole table to share—including souvlaki and moussaka, whole lamb shoulder, and spit-roasted chicken, accompanied by rustic vegetables and sides such as farmhouse vegetable salad, stone-baked flatbread, and braised cauliflower. The fact that customers are encouraged to come out to a restaurant and eat family-style speaks volumes about the demand for comfort food today.
Tip: Almost any meat dish will be better with gravy, and Trio® offers a range of dry mixes to meet any menu need, from Low-Sodium Poultry Gravy to classic Southern Country Gravy. There are also sauces like Au Jus and Alfredo, as well as a ready-to-use Cheese Sauce (which is always welcome on vegetables).
Soups and Stews
Nothing says cold-weather comfort like a bowl of hot soup or stew. Soup can be a lead-in to a meal or a satisfying and nourishing entrée all in itself, while stews represent the sort of long-simmering, big-batch cooking that few customers can attempt at home. And operators love these items because they're excellent for product utilization and can be made entirely ahead; in fact, most soups and stews taste better the second or third day. And the soup/stew category welcomes vegetarian diners, with such favorites as vegetable soup or Country Vegetable Pot Pie.
Try This: A wintertime soup-of-the day program can easily encompass a lighter stew or chili, especially as a second offering. Check out the recipes for inspiration.
Pasta Dishes Around the World
Few other foods are as categorically comforting as pasta, from Italian classics like lasagna to all-American macaroni and cheese. (In fact, macaroni and cheese has become a breakout menu favorite in recent years, from restaurants that specialize in it to cheffy versions upgraded with everything from lobster to five cheeses. With so many pasta shapes and sauces available, it would be easy to offer a different pasta recipe every day, and fast-casual concepts like Noodles & Co. mix it up with pasta specialties from their world kitchen.
Try This: Nestlé Professional has a full line of fully prepared pasta specialties: Stouffer's® Macaroni and Cheese and Macaroni and Cheese made with Whole Grains; Lean Cuisine® Six Cheese Lasagna; and more.
Big, Beautiful Sandwiches
Many of the most popular sandwiches are hearty, comforting affairs, from hamburgers and French dip to eggplant Parm grinders. These sandwiches fulfill many needs, besides customer cravings: They're great for breakfast, lunch, or dinner; for dine-in or takeout; for kids or teenagers or adults.
Other favorites
Pot roast or meat loaf sandwiches

Grilled cheese, simple or sophisticated

Waffle breakfast sandwich

The Monte Cristo

Steak sandwich or cheesesteak

Pork sandwiches, from pulled pork to Cubans
GO THE ETHNIC ROUTE TO COMFORT
Not everyone grew up with meatloaf, and America's increasingly global demographics are playing out on the definition of comfort food Pastitsio – A Greek-style layered casserole of ground beef or lamb, macaroni, and béchamel sauce Tagines – These flavorful Moroccan stews can encompass poultry, fish, meat and/or vegetables Fried Rice – Many Asian countries make a flavorful specialty out of a means to use leftover cooked rice Enchiladas – Saucy, spicy, and cheesy, this Mexican-style casserole satisfies all comers with its variety of fillings Pad Thai – Stir-fried noodles, soft egg, fresh vegetables, chicken or seafood, crunchy peanuts, sweet tamarind paste… what's not to like? Mofongo – Puerto Rico's beloved dish of mashed, fried green plantains can be served with shrimp, chicken, beef, and more