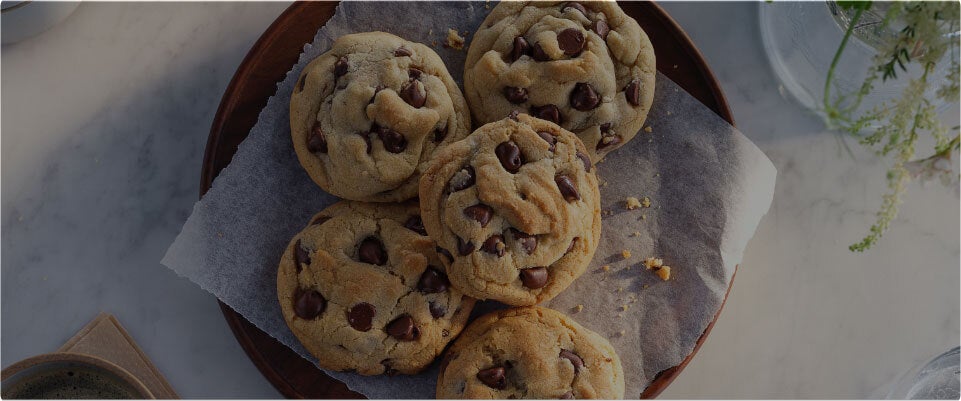 Dessert Products
Chefs and operators are under pressure to serve showstopping desserts. Make it happen with convenient, high-quality baking products in bulk and wholesale formats from brands that are incredibly well-known by you and your customers.
Explore Our Different Products, Flavors, and Formats
From ready-to-bake desserts to supplies for baking from scratch, you'll find a tasty selection of dessert products. Meet demand for timeless flavors with innovative formats, including premade frozen cookie dough, ready-to-eat cookie spread, chocolate chips, canned pumpkin, and evaporated milk.
 

| | | |
| --- | --- | --- |
| | | |
|           Bulk Cookie Dough |               Bulk Chocolate Chips |              Canned Baking Goods |
Cookie Dough
Strengthen your dessert menu with the strong heritage of the Nestlé Toll House brand. Ready-to-bake frozen bulk cookie dough comes in individual pre-formed pucks, making it easy to bake up cookies in classic flavors. You'll find lots of creative ways to bring the cookies customers love to your menu.
Pre-portioned | Ready-to-bake | Kosher certified
Chocolate Chips
For more than 75 years, Nestlé Toll House has played an important part on dessert menus. The versatile chocolate chips offer a classic, delicious flavor. Use bulk chocolate chips as a dessert topping, an inclusion in ice cream and baked goods, or to bring the cookie that customers love to your menu.
All natural | Gluten free | No artificial colors | No artificial flavors | Made with 100% real chocolate
Canned Banking Goods
Create a crave-worthy dessert menu by using branded canned goods in your recipes. Bulk supplies of unsweetened canned pumpkin, evaporated milk and malted milk are a great addition to desserts and baked goods, from cakes and pies to milkshakes and parfaits.