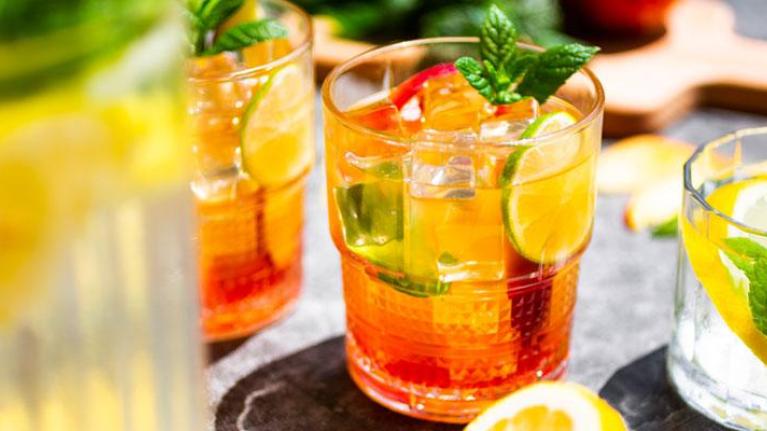 Premium Summer Refreshers – Specialty Iced Tea and Lemonades
September 1, 2023
Summer heat spurs Iced Tea and Lemonade sales. Refresh your offerings with some easy tweaks and you'll have a premium beverage worth a premium price.
The arrival of warmer weather heralds a beverage-menu pivot to summertime's ever-popular iced tea and lemonade.
But there are many ways to turn these dependable refreshers into high-impact, premium offerings. Here are 15 ideas for creating summer signatures:
Repurpose extra iced tea into ice cubes to prevent dilution; a mint leaf in every cube adds flavor and visual appeal.

Offer pitchers or carafes of iced tea and/or lemonade—plain or enhanced—for the table, and large-format containers of these beverages for takeout.

Mix lemonade or iced tea with on-trend "superfood" ingredients like wild blueberry or pomegranate juice, turmeric or ginger, cinnamon, goji or acai berries, or coconut water/milk to leverage growing interest in probiotics.

Go the predictable lemonade-and-iced tea "50/50" one better by combining ginger-peach tea, elderflower syrup (or liqueur), lemonade, and iced tea.

Mix lemonade with club soda or sparkling water, plus macerated fruit (try berries, apples, grapefruit, or clementines) and other flavorings (such as ginger, cardamom, chili pepper, or juniper) to create a European-style gazoz; a splash of apple cider or balsamic vinegar turns it into a nostalgic shrub.

Rim a glass of lemonade with hickory smoked sea salt or citrus chili salt.

Pair lemonade with slightly fizzy green tea kombucha for another spin on the 50/50.

Add limeade and/or orange juice to lemonade, and garnish with citrus wheels.

Instead of mint, add basil, lemon verbena, lavender, or vanilla to iced tea.

Serve refreshing matcha tea or flavorful chai on ice.

Turn plain or flavored lemonade into a slush by blending it with ice.

Combine lemonade or sweet tea with beer for a low-alcohol quaff called a shandy.

Mix tea with cherry limeade or pineapple juice for a sweet and fruity specialty.

Make iced tea interesting with bourbon, chopped peaches, and sugar or simple syrup.

Pick a surprising juice or ingredient such as yuzu, hibiscus, dragonfruit, guava, or lemongrass, to add excitement to iced tea or lemonade.
The information provided is based on a general industry overview, and is not specific to your business operation. Each business is unique, and decisions related to your business should be made after consultation with appropriate experts.