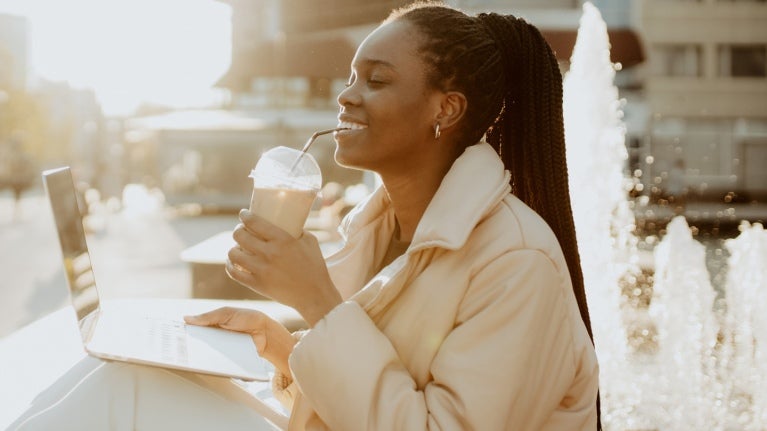 8 Ways to Promote Iced Beverages Year Round
November 1, 2023
Heat up cold drink sales any time of year with these easy tips for marketing iced coffee, tea, and other iced beverages.
Iced beverages aren't just for the summertime anymore. Consumers crave iced coffee, tea, and lemonade year-round no matter the weather. With customization options growing in all categories of iced beverages, consumers are drawn to the convenience, flavor customization, and photogenic nature of today's cold drinks.
So how can you keep your iced beverage menus top-of-mind when temperatures start to take a dip? Here are a few suggestions to get the ideas flowing.
Make It Seasonal: Fall and winter drinks taste equally delicious served over ice as they do hot. Promote an iced pumpkin latte, frozen peppermint cocoa, or ice-blended gingerbread coffee with whip.
Celebrate Happy Hour: Create a special iced beverage happy hour in which you offer a small discount on nonalcoholic iced beverages during your slowest time of the day for dine-in or to-go. This will attract customers who may also add food to their order.
Let Them Customize It: How many ways can your customers customize their iced beverages? Offer new ways to add colorful and flavorful creamers, syrups and toppings that create fun and social media-worthy drinks.
Put a Clock on Availability: Create a FOMO (fear of missing out) effect with an iced beverage that's only available for a limited amount of time. Tie the theme of the beverage into a local or national holiday or sporting event and consider offering it in a souvenir recyclable cup as an upcharge.
Start a Loyalty Program: Beverage loyalty programs can start small with a punch card that offers a free drink after a set number of purchases or can be tracked in POS software or an app. Either way, you'll inspire repeat customer visits.
Offer a Beverage Subscription: For your frequent guests, offer them a way to pay ahead each month for their beverages. Once they pay their monthly subscription, they pick up the iced beverage of their choice each visit, and you simply scan their card or app.
Be More Social: Every time you create a new iced beverage for the menu, make an interactive social campaign that asks the restaurant's followers to help name the new drink. The winner could be featured on your page and win free drinks for a month.
Give Them a Sample: Sometimes all it takes is a taste. During a slow period, make one drink and divide it into small sample cups. Take it around the restaurant or stand outside your door. One taste can create a new fan.
The information provided is based on a general industry overview and is not specific to your business operation. Each business is unique, and decisions related to your business should be made after consultation with appropriate experts.