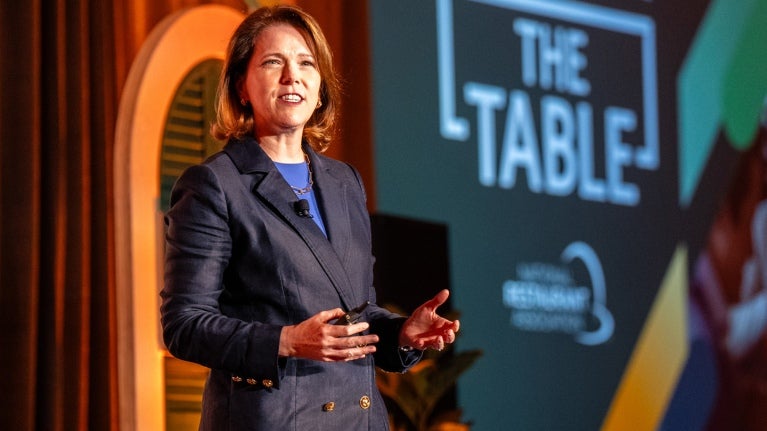 National Restaurant Association President and CEO Discusses the Industry's Future
November 1, 2023
Michelle Korsmo, President and CEO of the National Restaurant Association, shares her thoughts and insights on the future of foodservice.
The leader of the National Restaurant Association steers a dynamic path that adds muscle to lobbying efforts and that represents the entire foodservice industry—all 1 million eating and drinking places and the 15 million who work within them.1
With members from every part of the industry, the restaurant association is big, rangy, and a study in diversity. Its constituencies come from mom-and-pops and large chains, franchisee organizations, independents, and, through allied memberships, the supplier, consulting, and distributor communities.
Michelle Korsmo, holding the top job since May 2022, views every single member equally, the interests of all tightly woven into the organization's suite of services and goals.
In a conversation with Nestlé Professional, Korsmo talks about the association as an ally, resource, and champion for operators in all segments. "As an organization, the National Restaurant Association is for all operators who see how larger issues affect their business and who then ask themselves, 'Can I do anything about it?' Each should have a say," Korsmo says, their voices ultimately heard by key members of Congress whose support can affect outcomes.
Lobbying at the state and national level comes naturally to Korsmo who joined the association from Wine & Spirits Wholesalers of America. Managing that association through the height of COVID, she worked to ensure that the industry it served was deemed essential, thus greatly lessening business interruption.
At the National Restaurant Association, the industry's largest lobbying group, advocacy is aimed at helping restaurants flourish and thrive in a safe and prosperous customer-driven environment, according to the group's website. Policy issues at hand include workforce recruitment and development, immigration reform, supply-chain management issues, and rallying against credit-card swipe fee increases.
Perhaps at the fore is the association's response to efforts to eliminate tip credit, something the organization is strongly against. "Legislatively, we advocate for as much optionality as possible so that each operator can choose the model that's right for their business," Korsmo says.
There's more to the National Restaurant Association than its Capitol Hill agenda, the services it offers delivering more-immediate benefits to its members. "Operators have a lot on their plates that we can help with," Korsmo says. "We offer training and certification [led by ServSafe certification], have comprehensive industry data, forecasts, and insights, professional networking and deeper dives into specific topics such as technology and workforce challenges."
Korsmo sees a swirl of changes sweeping the industry, practically all of them favorable. Growth is strong, creativity high, and consumers overall are taking full advantage of the many lifestyle and convenience solutions foodservice offers, according to Korsmo. "If you look at the data, attitudes about restaurant meals have improved. Consumers value both the pleasure of dining out and the convenience of getting restaurant meals to feed families at home. Sixty-seven percent of consumers would rather spend money for a restaurant experience than have a tangible item," she says, adding that the space for restaurants to win big in the future is how they connect with their teams. "Going forward, a quality workforce will be the way to succeed," Korsmo says. "Focus will have to be on the culture and environment, to understand what they can offer their staff, and to know that workers can get a lot of different things from their jobs. Restaurants can offer all kinds of avenues to fulfill those needs."
To those who fear restaurant technology as a job stealer, Korsmo is quick to counter. "Every operator we've spoken to looks at it as, 'How does this allow us to better serve guests? Is there a way to bring automation in so the team can lean in and provide increased quality and consistency of food and service?'," Korsmo says.
An endlessly enthusiastic and ardent champion of the industry, Korsmo sees areas in which the National Restaurant Association can strive to do better. "As an industry, we could be better at telling our story, and that of the amazing people who work within it," she says, adding that these messages need to be directed not just at a public that's prone to dismiss its jobs as being dead enders but also to policymakers. "These stories illustrate the many opportunities that exist within a great industry," she says. "They deserve to be told."
Source: Total Restaurant Industry Jobs, September 2023, www.restaurant.org
The information provided is based on a general industry overview and is not specific to your business operation. Each business is unique, and decisions related to your business should be made after consultation with appropriate experts.