Donuts with Cold Brew Frosting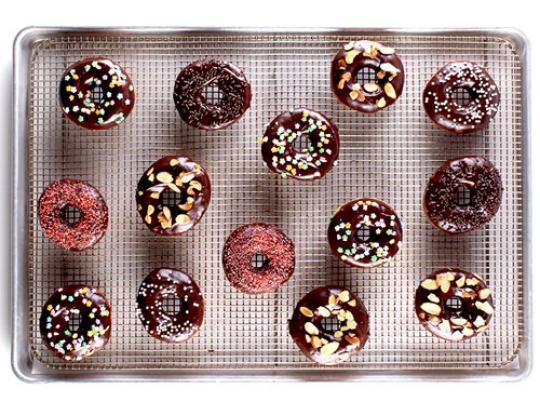 Hot-fried donuts dipped in velvety cold brew frosting.
Active dry yeast -- 2 packets

Warm water 105°F - 115°F -- 1/4 cup

Lukewarm milk -- 1 1/2 cups

Granulated sugar -- 1/2 cup

All-purpose flour-- 5 cups

Nestlé Toll House Semi-Sweet Morsels -- 3/4 cup

Unsalted butter -- 3 Tbsp.

Light corn syrup -- 1 Tbsp.

Cold Brew Coffee Concentrate-- 1 Tbsp.
Preparation
1
Add yeast and water and let sit for 10 minutes.
2
In a mixer with a whisk attachment mix foamy yeast mixture with milk, sugar, salt, eggs and butter on low for 1 minute. Switch to dough hook attachment on low and add 2 cups flour.
3
Add remaining flour 1/2 cup at a time on medium and knead for 5 minutes.
4
Place in greased bowl, cover with plastic wrap and put in warm area for 1 hour.
5
Roll out dough and cut into donuts.
6
Cover and let rise for another 30 minutes.
7
Cook about 2 min each side in fresh 350°F oil.
8
Place on paper towels to absorb grease, then move to cooling rack.
9
Place chocolate morsels, corn syrup, NESCAFÉ Cold Brew Concentrate and butter in double boiler and slowly melt.
10
Dip cooled donut in warm frosting to cover. Finish with sprinkles.