Pork Pozole, Gluten Free* and Lower Sodium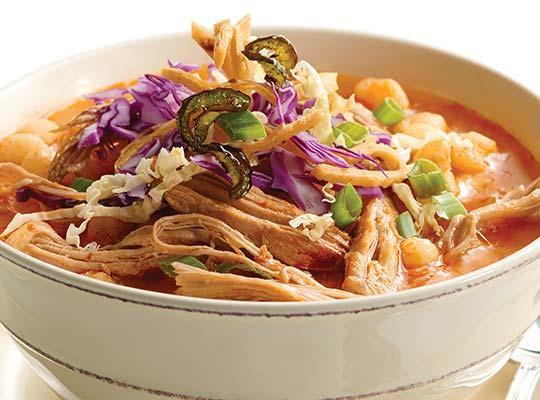 Pork, pulled or Carnitas, precooked -- 1 lb

Onion, small dice -- 1 cup

Minor's Ancho Flavor Concentrate Gluten Free -- 0.75 cup

Hominy, canned, white, drained, rinsed -- 1 cup

Minor's Chicken Base Low Sodium (No Added MSG)* Gluten Free -- 7 tbsp
Preparation
1

In a soup pot, combine the water, hominy, pork, onions, Ancho Flavor Concentrate and Chicken Base. Bring to a simmer. Simmer over medium heat for 20-30 minutes.

2

Garnish with shredded cabbage, tortilla chips, onions, scallions, oregano, lime, avocado, jalapeno, and cilantro. This recipe can also be made with Minor's Pork Base.
Note:
*When using Gluten Free ingredients, recipes, and proper back of house procedures.