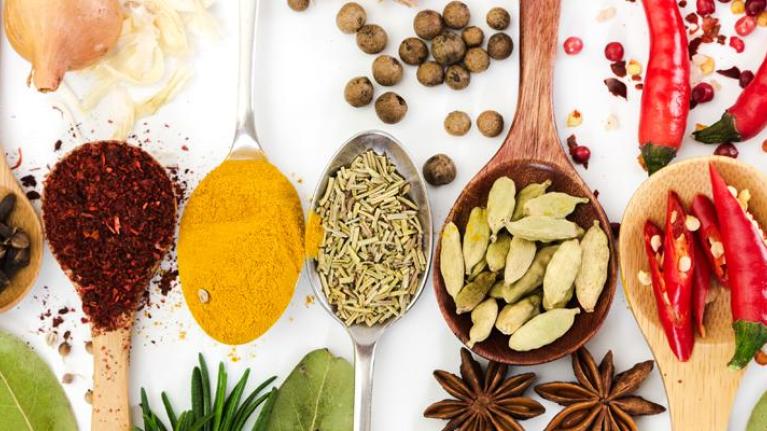 Are these emerging flavors and ingredients right for your menu?
January 18, 2017
Are these emerging flavors and ingredients right for your menu?
The adventurous culinary trends marking 2016 continue their trajectory into the coming year, but with new cultural influences and flavors adding excitement to menus. These flavor trends started out at fine dining and independent ethnic restaurants, eventually making it onto Fast Casual menus, becoming more accessible yet still authentic for a wider audience.
Pinch Me
The growing appeal of North African, Indonesian, Swedish, and Turkish cuisines, as well as diners' quest for heat, bring Aleppo, serrano, and ghost pepper varieties, piquant cardamom, and ginger front and center in harissa, gravies, soups, drinks, and even desserts. Nestlé Professional Food Technologist Terry Wagner says, "People are more willing to go a little further, to go a little spicier, to take a little more risk with flavor profiles." Sizzling, Mediterranean-style sauces paired with proteins lure diners with a taste for worldly spices.
"Heat with chiles continues to expand to new peppers, including Japanese Shishito and Aji Amarillo. High heat is becoming more mainstream and even working its way into honey."
– John Rathje, Givaudan Flavors, Category Manager Savory & Snacks
Bitter Victory
Radicchio and frisée assert themselves in salads, but Hawaiian-inspired Fast Casual restaurant menus incorporate raw tuna poke accompanied by the sea vegetable ogo, an edible seaweed. Speaking of bitter, watch for actual bitters to shake up cocktail hour, especially smoked bitters.
Thyme Keeper
Thyme and rosemary are turning up in cheeses, seafood, salads, and cookies. Look for more infusions in lemonade, tea, and spirits such as gin and vodka too. Some Fast Casual concepts craft classic cocktails with herbal simple syrups and flowers, teasing out flavors with spices.
Fruit Rolls
Citrus, especially tangerine and grapefruit, adds freshness and tang to salsas, confectionery, sauces, and beverages. Add ginger or jalapeño for a frisson of heat. Black and red raspberries, elderberries, and stone fruit add depth to chutneys, sauces, dressings, and teas. Classic calamari pops on Fast Casual chain menus with lemon frites and a ginger-apricot vinaigrette.
Pucker Up
Kimchi, sauerkraut, and pickles continue their dominance. Nestlé Professional Product Development Chef Juerg Wismer predicts, "Pickling will explode." Food Technologist Terry Wagner sees a rise in all preservation methods, including smoking, pickling, and other old techniques. Leftover pickling liquid can be used to enhance breads, cocktails, savory desserts, or to create marinades. American Fast Casual BBQ restaurants make use of pickled vegetables, which balance the smokiness of pork, brisket, and more.
Root Stock
Vegetables are central to most cuisine; retain prominence from soups and snacks to main plates; and integrate well with other on-trend ideas. Many Fast Casual restaurants have opted for naturally vegetarian concepts, which showcase tasty vegetables and fruits, even commanding attention from carnivores.
Nestlé Professional Chef Tips
Look for more smoked flavors in 2017. Product Development Chef Michele Sampson says, "I see smoked flavors on a lot of menus – smoked carrots in a dessert, smoked avocado salad dressing."
All trademarks are owned by Société des Produits, Nestlé S.A., Vevey, Switzerland, or used with permission.
SOURCES: Datassential, On the Menu, December 2016 | Datassential, Menu Adoption Cycle – Spicy | Datassential, Menu Adoption Cycle – Salad Ingredients | Datassential, Alcoholic Beverages Keynote, January 2016 | Datassential, MenuTrends Snapshot – Thyme | Datassential, On the Menu, December 2016 | Datassential, MenuTrends Snapshot – Citrus | Datassential, On the Menu, April 2014 | Datassential, MenuTrends Snapshot – Pickled Veggies | Datassential, Creative Concepts – Modern Vegan & Vegetarian, January 2016