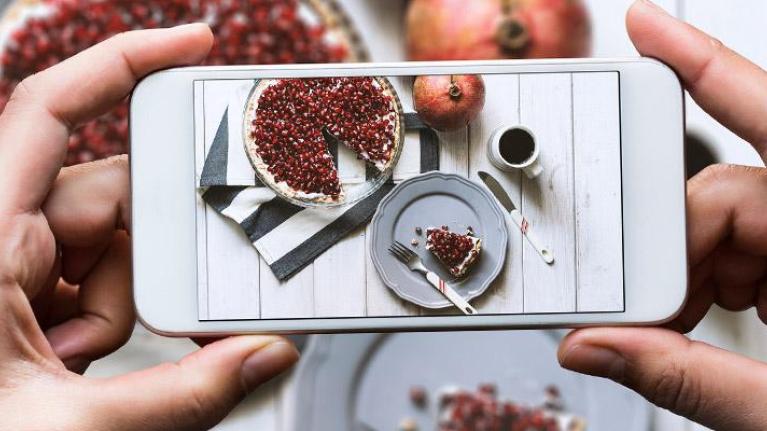 Add Sales with Mouthwatering Presentation
October 1, 2018
People eat with their eyes, so give them something to feast on. Use these 20 easy tips to make your plates sensational. 
 
The success and popularity of Instagram and other visually oriented social media platforms has made presentation more important than ever. It can be as simple as serving food on a shallow rimless bowl, instead of a plate, or as complex as layered vegetable timbale garnished with shaved and spiralized vegetables and ringed by droplets of pesto.
Here are some ideas that go beyond the tired old parsley sprig, radish rose, or fruit slices:
Select plates, glassware, and serving vessels that provide extra visual appeal—from a square white dish or a vintage tumbler to a mini steamer basket, cutting board, or an individual sauté pan or gratin dish.
Use a mandoline, spiralizer, or even a vegetable peeler to shave thin slices or noodles of raw vegetables like radishes, carrots, and beets into ingredients and garnishes for salads, toasts, and other items, adding crunch and flavor as well as color and eye appeal.
Experiment with pooling or dragging sauce or dressing under a protein or other featured ingredient to create depth and contrast.
Utilize the "white space" on a plate by arranging ingredients in only one section of the plate, to visually set the item itself apart.
Add droplets or squiggles of sauce to the margins of a plate using a squeeze bottle, which also allows patrons to add this flavor layer to their own taste.
Sprinkle a colorful rim of finely chopped herbs, nuts, citrus zest, or powdered flavoring (such as portabello mushroom powder) on a plate.
Float a crouton topped with aioli, gratinéed cheese, pesto, or finely chopped salad on a bowl of soup.
Build levels with ingredients that provide different heights, such as a timbale-shaped portion of grain salad and teepee of cooked greens or asparagus.
Skewer ingredients on picks to garnish a wide variety of menu items as well as beverages like juices, smoothies, tiki drinks, and Bloody Marys; not only are these fun for customers to eat with their hands, but these skewers can be made up ahead of time to speed service.
Fold, fan, or drape items like sliced meat, smoked salmon, or charcuterie in a shingle or wheel pattern.
Lean individual ingredients such as cooked shrimp or fried foods against each other to provide some height, or prop them up on a fluffy tangle of dressed greens, rice noodles, spiralized vegetables, or other foundation.
Sprinkle ice cream, cakes, and other desserts with fanciful candy garnishes.
Use a variety of small cups, mini dishes, and other small containers for sauce, garnishes, or other ingredients for a DIY dish such as tacos or a cheese board.
Layer beverage ingredients in order of density, where the heaviest ingredient goes in the bottom.
Vary the size of ingredients, from large pieces of protein to individual corn kernels, and everything in between.
Pay attention to the color of individual ingredients in a single-plate presentation, whether you go for harmony or contrast.
Char citrus slices, tomato wedges, and other garnishes to add more flavor and a distinctive texture, as well as an intriguing appearance to food and beverages.
Take off the top of a hamburger bun or egg sandwich biscuit and prop it on the side of a plate to showcase the ingredients and allow the customer to add condiments or salt and pepper.
Scatter leafy herbs, sprouts, watercress, scallion rings, thinly sliced mushrooms, popped grains, and/or toasted nuts on the top of a salad, adding texture and flavor as well as a more dramatic appearance.
Shape menu item components like soft cheeses, hummus, firmly textured salads (such as chicken salad), and ice cream into quenelles (three-dimensional ovals) to set them apart and create height.
One last tip: Make sure the plate or glass is cleaned of splashes, spills, and fingerprints before sending it to the customer.
The information provided is based on a general industry overview, and is not specific to your business operation. Each business is unique and decisions related to your business should be made after consultation with appropriate experts.