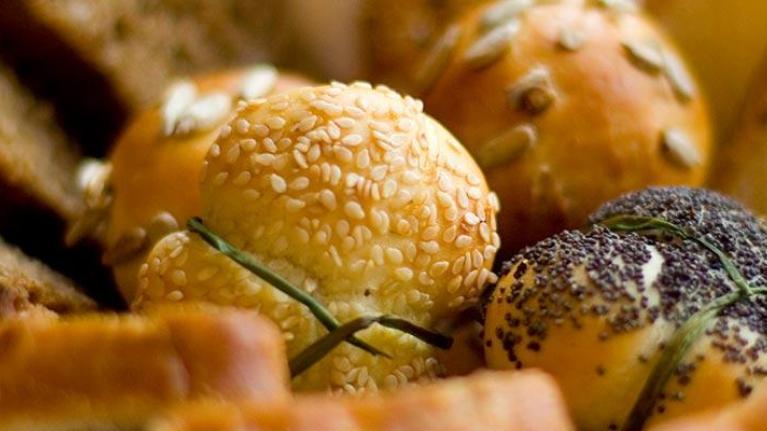 Bake Bread Into Your Profit Plan
October 19, 2014
Discover how to make extra dough from specialty breads. Customers are even willing to pay extra when you serve a breadbasket with dipping oil, compound butter, or savory sauces.
White, wheat, yawn. American diners are demanding better, more interesting bread—on sandwiches and in the breadbasket. And in many cases, they're willing to pay more for it.
The Breadbasket 2.0
If you've ever been to an upscale restaurant or catered event where different types of bread are served by roving waiters equipped with trays and tongs, then you know the appeal of a specialty bread service. And there's evidence that the popularity of bread service is picking up steam.
Here are some ideas for upgrading a bread service:
Consider accompanying bread with flavored or artisanal butter, infused oil, or a dip such as white bean
Vary shapes, sizes, and textures of breadstuffs, such as slices of rustic multigrain, small olive- or nut-studded rolls, and a suave white Pullman loaf
Match the bread to the menu concept, such as popovers in a pub, cornbread for a Southern American menu, or focaccia with Italian food
Investigate interesting alternatives to the standard basket, from a bread board with a knife for a whole warm loaf, or a neatly folded waxed paper bag in a more casual venue
Get Started: It's easy to introduce flavorful value-added butters, oils, and dips and spreads using products such as Minor's® Latin Flavor Concentrates and Chef-mate® ¡Que Bueno!® White Queso Sauce.
Better Breads Make Better Sandwiches
As sandwiches have become increasingly specialized and upscale, so have their ingredients—in particular the bread. Even the most popularly priced sandwiches are getting flair from specialty bread, such as Wendy's popular Pretzel Pub Chicken Sandwich and pleasingly squishy new brioche buns.
Offer a range of different sliced breads as well as rolls so customers can select their favorites for sandwiches
Investigate premade doughs, parbaked breads, and other convenience products so as to feature house-baked bread options
Consider purchasing—and merchandising—your sandwich breadstuffs from a local bakery
Vary bread selections with flatbreads such as pita or ciabatta, rustic peasant rolls such as focaccia, and flavored tortilla wraps
À La Carte Bread Specialties
Maybe it started with Atkins, or the whole gluten-avoidance trend, but when the breadbasket became optional it eventually became an item that savvy operators realized they could charge for. Making bread "request-only" saves on food costs; upgrading it and putting it on the menu makes it profitable.
The Southern homestyle restaurant Big Jones features an entire selection of à la carte house-baked goods on its brunch menu, from Sally Lunn to popovers
République, in Los Angeles, menus its bread with Normandy butter or pan drippings from the signature wood oven
Top-shelf toast has become the latest star in the artisanal food craze—and an à la carte gold mine
In California, Manhattan Beach Post's "Pass the Bread" menu might include bacon-cheddar buttermilk biscuits, naan flatbread, or a fleur de sel pretzel
Sitka & Spruce, in Seattle, has served its $4 house-baked sourdough with such spread options as soft butter, Portuguese-style cod pâté, and duck graisserons (another type of pâté)
What to Do with Leftovers
Panzanella is an Italian bread salad, traditionally made with ripe summertime tomatoes, but it can be made seasonal with root vegetables, roasted or grilled vegetables or fruits, hearty cheeses, nuts, and more
Thrifty cooks in the Middle East similarly use stale pita bread to make fattoush
Next day's tortillas are widely used in Mexican cuisine to make such specialties as tortilla soup, migas, and chilaquilas
Get Started: The flavorful panzanella featured in this recipe features grilled bread and Minor's Roasted Garlic Flavor Concentrate.
Breadcrumbs are a no-brainer, with multiple uses as a breading and filler, but did you know that you can also brown coarse breadcrumbs to use as a flavor- and texture-boosting topping for pasta and vegetables?
Many breads and bread products, like croissants and rolls, can be repurposed in bread pudding, including stuffing-like savory bread puddings
Speaking of stuffing, can you say cornbread?
Crostini, bruschetta, and garlic bread are a great utilization for bread of various flavors, sizes, and shapes
Did Your Know? In Italy, the first of the season's olive oil is made into a fettunta, or "greased slice" to eat as a snack. At Nico Osteria, in Chicago, it's a whole menu category (PDF).
Experiment with different types of bread, such as brioche and challah, for French toast; rye and other super-savory breads can be treated to the French toast prep method to create a base for smoked salmon
Thick slices of day-old brioche can be used to create a bostock, a sweet breakfast pastry from France
Use soft breadcrumbs as a thickening for soup, such as the traditional Italian ribollita
Don't forget croutons and rafts for soup such as onion
Cut leftover sliced bread into slim sticks and bake with spices as a finger food or garnish