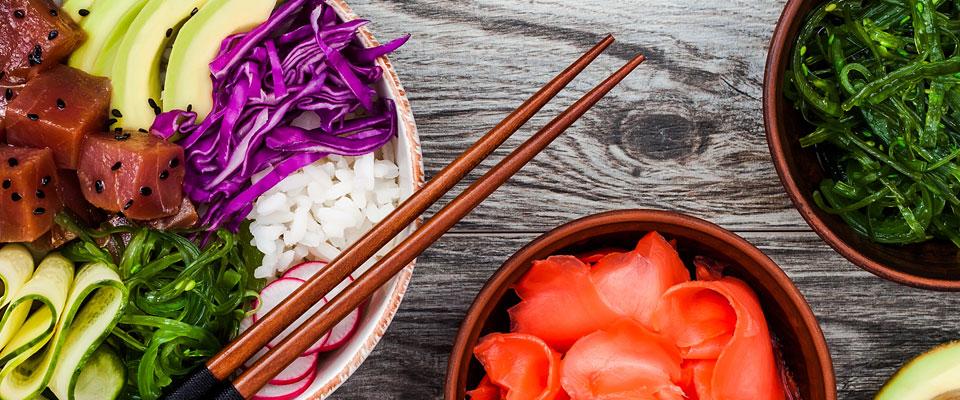 Bowled Over by Flavor
February 2, 2017
Fresh and global flavors in bowl-based cuisines
As vegetables continue their takeover in 2017, keeping meat-obsessed America content, oftentimes in the absence of meat-based proteins is a difficult problem to solve. Newer Fast Casual concepts opt for bowl-based cuisines that pack a flavor punch without sacrificing healthfulness. Spice blends, global inspiration, fermented vegetables, complex broths, and other menu accents keep customers coming through the door.
How are you going to capture the attention of adventurous diners this year? Simply put, flavor has moved to the forefront as healthful menu options, the rise of vegetables, and expressions of seasonality cut across Fast Casual restaurant concepts and cuisine styles. And 2017 looks to be the year of the vegetable. According to Datassential, 40% of consumers are interested in ordering vegetables (particularly Millennials and Hispanics), while 72% of operators are interested in offering more veggie-focused menu items.
The question for many operators is how to make these vegetable dishes desirable in meat-obsessed America. The answer can be found at many newer Fast Casual spots, with a focus on flavor that appeals to their curious consumers by incorporating ethnic spices and ingredients ranging from hot sauces to pickled and fermented foods. For example, a growing number of kitchens have gotten much better at identifying and applying umami. Sweet, sour, salty, and bitter all have a seat at the party. However, it's the savoriness of the so-called fifth taste, umami, that can take vegetables to a new level, drawing on the flavors of mushrooms, miso, and more.
Most of all, the globally inspired one-bowl meal is expected to continue its surge in the year ahead, including Latin, Asian, and Mediterranean interpretations. According to Datassential, bowls are one of the fastest-growing platforms on menus, especially in Fast Casual operations, with 32% penetration on all-day menus and 18% on breakfast menus.
Tip: Communicate to customers that your menu offers what they are looking for. Datassential notes that since bowls are a part of the larger, better-for-you eating trend, a number of health-related terms are used to describe them, including fresh (25%), gluten-free (8%), and organic (8%).
Super Bowls with Flavorful Broths, Dressings, and Sauces
Bowls satisfy America's growing preference for more casual, customizable, easy-to-eat, one-course meals that are layered with flavor, Datassential notes. Nestlé Professional Business Development Chef Rafael Stein says, "Dressings, sauces, and broths take something the consumer knows to a different place. Panera does an excellent job with their salads. It's not too risky, but it's different."
"Sauce bars offer customers a chance to customize their meal."
– Rafael Stein, Nestlé Professional, Business Development Chef
Fermented Flavors on the Menu
Ethnic ingredients ranging from Asian to Middle Eastern offer opportunities to feature layers of fermented flavors that enhance a variety of menu items. Middle Eastern Fast Casual concepts feature oven-baked pita, hand-cut salads, and sweet and a sour pickled mango sauce called amba. A sauce like amba is just the type of ingredient that can move a dish from boring to sublime.
As Stein points out, "With Middle Eastern food, you can go from one extreme to the other in terms of spicy. Turkey and Greece are so close geographically but their cuisines are so different." Middle Eastern and Mediterranean cuisines, he says, can be adjusted to the consumer's palate.
Asian flavor notes also include fermented ingredients such as kimchi, a Korean fermented cabbage. Take bowls to the next level by incorporating kimchi along with veggies like sweet potato, carrot, edamame, and bok choy. As you'll see in many of the menu items discussed herein, umami is often delivered through a single ingredient – kimchi in this case. Plus, the process of pickling continues to be on trend in 2017. Consider menu opportunities for other pickled vegetables and fruits as well that hold appeal for adventurous customers.
Stein notes that flavors today are more daring. "People can't go out for fine dining every day, they don't have time or the money. But eating fast doesn't need to be reduced to burgers, hot dogs, or pizzas. Innovative Fast Casual menus keep consumers excited, especially Millennials."
Globally Inspired Spice Palates
Farm-to-table Fast Casual often rely heavily seasonal vegetable menus. To accompany rice or farro bowls, kick up the seasonal offerings with side dishes. Brussels sprouts, which could get a maple and sriracha glaze, wake one's palate with sweetness, savoriness, and heat.
"If your consumer is family-oriented or not so keen on very hot flavors, you don't want to go very spicy. For example, in Korean cuisine, you taste the gochugaru chili in kimchi, but it is not overpowering and it complements the fermentation of the cabbage."
– Rafael Stein, Nestlé Professional, Business Development Chef
Spice blends also enhance menu items. Za'atar, an Arabic spice blend, adds punch to hummus or tahini and can be incorporated into Mediterranean salad bowls. Stein notes that the definition of spiciness is evolving for American consumers. "Americans are discerning flavors of spice – that there are sweeter, more bitter, and smokier spices. Take harissa, for example, it's not super hot but it has some kick. When you blend spices in such a way that it creates layers of flavor, you can cut back on other seasonings such as salt. Fermentation, too, brings out flavor without having to add salt to the food."
Ethnic Accents Splash onto Seafood Menus
Global flavors also spice up seafood offerings at Fast Casual operations. Seafood-based Fast Casual concepts offer a wide variety of seafood-heavy bowls with dressings including sriracha, wasabi, and gomae (a soy, vinegar, and sesame sauce). Accent bowls with toppings like masago (crunchy salmon roe), togarashi (a Japanese spice mixture of chili pepper, seaweed flakes, and dried tangerine peel), and furikake (a ground fish spice). These ingredients awaken any palate.
Better-for-you Fast Casual restaurants turn to fish-focused menus to incorporate proteins without as many calories. Steel-jacketed steam kettles create complex fish bowls with rich broths, sealing in the flavor. Vegetables and exotic spices are important to pull the bowls together. For example, a curried shrimp bowl with crushed peanuts, chili paste, roasted onions, squash, and flax seed is safe bet for health-conscious consumers that don't want to sacrifice taste.
Tip: The move from center-of-the-plate meat to fish is a health-related trend that will grow in the year ahead. Create on-trend signatures by combining seafood with out-of-the-ordinary spices and seasonings.
All trademarks are owned by Société des Produits, Nestlé S.A., Vevey, Switzerland, or used with permission.
SOURCES: Datassential, The New Healthy Keynote, April 2016 | Datassential, MenuTrends, 2016