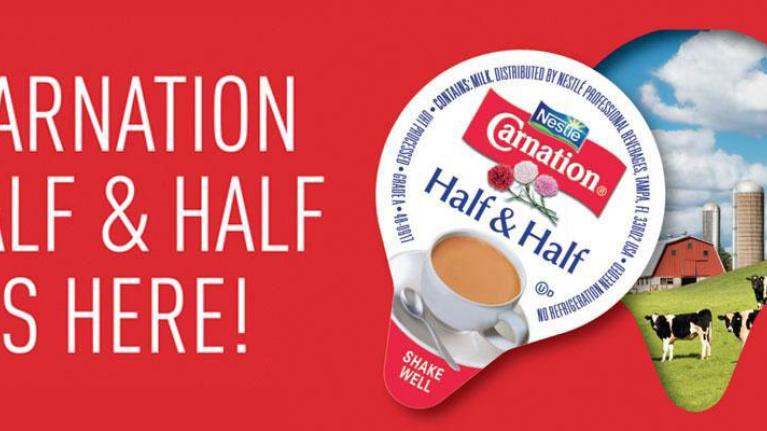 Carnation Half & Half is Here!
October 20, 2021
Nestlé Professional Beverages introduces Carnation Half & Half Liquid Creamer Singles.
TAMPA, FL (April 15, 2016)—Nestlé Professional Beverages announces the launch of Carnation Half & Half Liquid Creamer Singles. Carnation offers real dairy with the rich flavor customers expect, with an ambient shelf-life of up to 6 months—the longest by far of any liquid creamer singles brand.
Carnation Half & Half Liquid Creamer Singles are available in convenient, single-serve tubs—the most popular creamer format. It's real dairy half & half any operation can be proud to offer, with the Carnation heritage consumers know and love.
"Carnation Half & Half Liquid Creamer Singles are one more way we're rounding out our creamer portfolio with a broad range of innovative products and formats for foodservice and business coffee service," said Nestlé Professional Beverages Coffee-mate Brand Manager, Patty Poole.
From April 15 to June 30, 2016, operators can visit the Coffee-mate out-of-home website, CMFeelTheLove.com, to get a free Carnation mug and pen set (while supplies last; for more information and to see the official rules, visit CMFeelTheLove.com today).
Enjoy Foodservice Rewards®?
The first 250 new operators to register on CMFeelTheLove.com from April 15 through June 30 will receive an additional 250 Foodservice Rewards® Bonus Points just for becoming a Club Coffee-mate member! This offer fills up quickly so visit CMFeelTheLove.com today for additional information and details about this offer and promotion details.
About Nestlé Professional Beverages
Nestlé Professional Beverages offers an exciting and growing portfolio of hot and cold, non-carbonated beverages including juices, teas, enhanced waters and black and specialty coffees. Our leading brands, including Coffee-mate, Nestlé Vitality and NESCAFÉ in combination with proprietary dispensing technology and custom solutions backed by an unparalleled service network, are all designed to help customers maximize their beverage sales and profits. Nestlé Professional Beverages is part of Nestlé S.A. in Vevey, Switzerland—the world's largest food and beverage company—with sales of over $98 billion. For foodservice and product news and information, visit www.nestleprofessional.com.
Contact:
Deborah Henderson
Account Executive
Interfuse Food B2B – Integrated Marketing
Deborah.Henderson@interfuse.com
415.984.6182