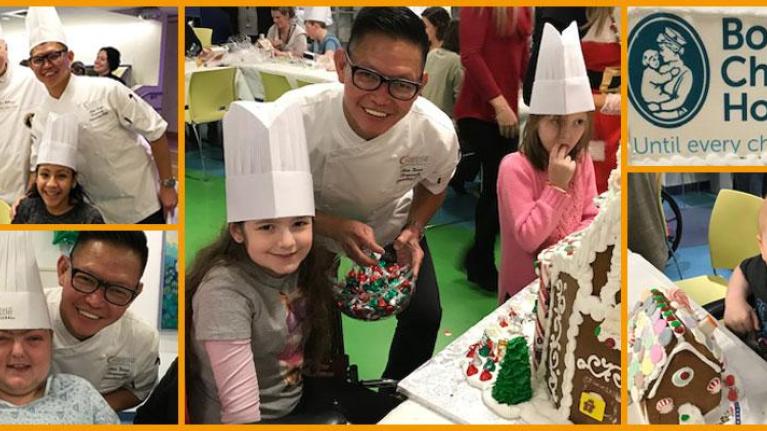 Chef Brings a Little Magic to Kids at Boston Children's Hospital
December 14, 2018
Nestlé Professional Corporate Executive Chef Alex Dino brought holiday cheer to kids staying at Boston Children's Hospital. Chef Dino helped the children build gingerbread houses and made everything a little more festive for the kids and their families.
One day a few weeks ago, Chef Alex Dino was riding the subway to sales meeting in downtown Boston.  During that ride, he had a brief chat with one of the commuters about cooking, no doubt because the passenger noticed the chef coat under Chef Dino's winter jacket.
This mom told Chef Dino that her son loves watching cooking shows and chef demos.  She went on to tell Chef Dino that her son was in the hospital and she was on her way to see him. As the conversation continued, she shared that the Boston Children's Hospital often hosts cooking activities, and Chef Dino exchanged numbers with his new friend, with hopes that he might be able to pop in sometime and help. 
Chef Dino reached out to organizers at Boston Children's Hospital and volunteered to help decorate gingerbread houses with the kids.  When asked what his favorite part of the event was, Chef Dino said, "When I asked each of those kids if I could put a chef's hat on their head, before they start decorating.  They were all very excited, it felt so good to make them all smile.  They all loved it!"
The annual event brought fun and tasty treats to more than 60 kids who were stuck in the hospital.  Chef Dino helped them design, build and decorate their own gingerbread houses, then helped them pack up their creations so they could take it with them.