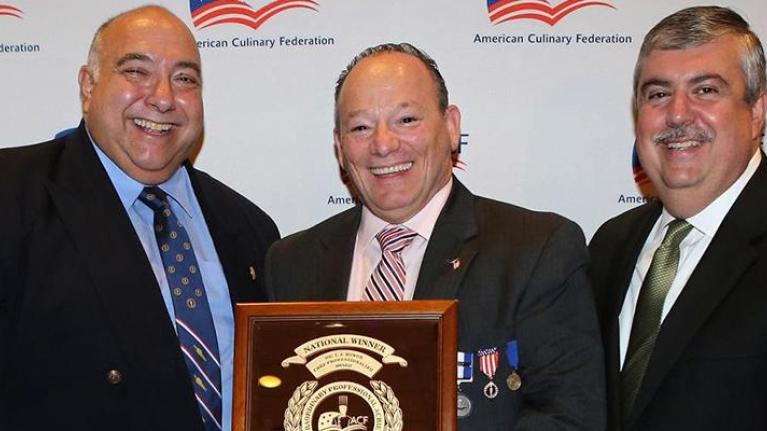 Chef Ralph Feraco Honored with Dr. L.J. Minor Chef Professionalism Award
July 27, 2017
Chef Ralph Feraco accepts the Dr. L.J. Minor Chef Professionalism Award. Sponsored by Minor's, the award was presented during the Chef Professionalism Dinner at the convention.
St. Augustine, Fla., July 26, 2017—Ralph Feraco, CEC, AAC, executive chef at Kensington Golf and Country Club, Naples, Florida, was honored by the American Culinary Federation (ACF) with the national Dr. L.J. Minor Chef Professionalism Award. Feraco received the award at Cook. Craft. Create. ACF National Convention & Show held in Orlando, Florida, July 9-13.
"Being the recipient the Dr. L J. Minor Chef Professionalism Award means everything to me because it recognizes 25 years of service to the industry and beyond," said Feraco. "Every chef wants to be recognized for their talent and cooking skills, but to be recognized for what you do other than cooking is a true honor and a humbling experience."
The Dr. L.J. Minor Chef Professionalism Award, sponsored by Minor's®, honors culinarians who help elevate the status of chefs and cooks in the U.S. The award is presented to a chef who exemplifies the highest standard of professionalism through certification, continuing education and training, culinary competitions and community involvement.
"Congratulations to all the regional winners," said Matt Schimpf, division vice president, Chef2Chef Sales, Minor's. "We are proud of these award winners who are continuing the legacy of Dr. Minor in support of the chef profession. We feel Ralph Feraco is an outstanding chef and a great ambassador of culinary excellence."
Prior to working at Kensington Golf and Country Club, Feraco worked as executive chef at Naples Sailing & Yacht Club, Naples, Florida; and executive chef, Nassau Country Club, Glen Cove, New York. Feraco has received more than 45 culinary awards, including a gold medal in 2004 and a silver medal in 2008 at the Internationale Kochkunst Ausstellung, commonly referred to as the "culinary Olympics." Feraco has dedicated much of his time to charity, including raising money for culinary student scholarships and culinary outreach programs, along with mentoring culinary students in his kitchen. He is a member of the American Academy of Chefs, the honor society of ACF, and a member of the Chaîne des Rôtisseurs Naples Chapter, as well as past president and member of ACF Caxambas Naples and Marco Island Chapter.
More than 1,100 chefs, cooks, students and food service professionals attended Cook. Craft. Create. ACF National Convention & Show. The event provided professional development through informative workshops and seminars, cutting-edge demonstrations, a trade show featuring 70 food service industry exhibitors, career fair, and national culinary competitions. For high-resolution event photos, visit the ACF Flickr page.