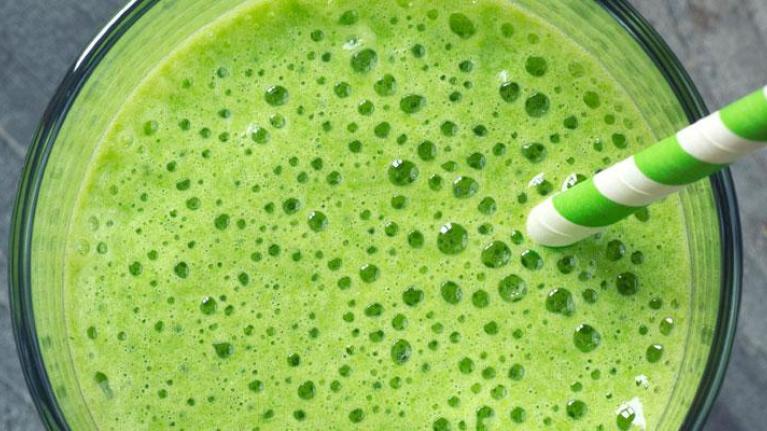 Clean and Green
October 20, 2016
Juices and fruit-flavored beverages go all-natural.
Millennials may be on the move, but a fast-paced modern life needn't leave healthy food options in the dust. Most are munching on the go, with more than a quarter seeking fast-made or ready-to-drink beverages over traditional snacks. While soda sales continue to plummet — down for the eighth year in a row, according to Specialty Food Association— a new breed of juices and fruit drinks is rising to take pop's place: health-forward, wholesome, and all-natural.
The green wave lifts all boats. From restaurants to coffee shops to grocery stores, all-natural foods and beverages are flooding today's marketplace. The category has grown 82% over the past four years, according to Datassential,  and data shows they've made their biggest splash in the glass with beverages leading the charge. More than 60% of Millennials have a juice away from home at least once a month — two in five at least once a week. A quick snack in fast-paced times, sure, but nearly all consumers still pause to check the label, aware of whether the juice is from concentrate, a cocktail, or 100% pure. Greenest is gold: pure juices are the most popular, and while they cost more, health-conscious consumers are willing to spend the green to get it in the bottle.
Back to Basics
The first step toward going green is to simplify. Some of the most popular juices are marketed not for what they include, but what they leave out. Indeed, Datassential reports consumers' top five beverage "must haves" all involve removing artificial flavors, preservatives, and sweeteners like high-fructose corn syrup. Stevia, a natural low-calorie sweetener, is edging out sugar and syrups — Mintel reports 36% of customers used more stevia in 2013 than in previous years. Coffee-mate offers sugar-free flavorings for your coffee, and Juicy Juice Fruitful, 35% less sugar in your midday snack.
Fresh Flavors
But while ingredient lists have slimmed, flavor profiles are booming. Datassential reports the most popular juice flavors remain traditional, but consumers are growing curious and ready to branch out from conventional options like apple, cranberry and orange. 67% of consumers like to try new flavors, and nearly half the 18–34 year olds are ordering more unique beverages than they were two years ago, including exotic new fruits, trendy superfoods, and even vegetables.
Shifts in cultural demographics have helped spur trends, pushing ethnic flavor palates onto mainstream menus. For example, the growing Hispanic population is shifting beverage-makers' inspiration south of the border. Flavorchem now offers a Hispanic Flavor Kit featuring popular Latin tastes like horchata, tamarind, mango, and mamey sapote. Ayala Herbal Waters spices things up with flavors like cinnamon-orange peel, ginger-lemon, and lemongrass-mint.
Vegetable-based juices are sprouting as well, according to Beverage Marketing, including ready-to-drink offerings from Forager and PepsiCo Naked. When Tropical Smoothie Café's Island Green juice debuted last year, CEO Mike Rotondo told Restaurant Business News the spinach, kale, and pineapple drink shot to the top of the best-seller list, with 50% higher sales than their number-two drink, made with avocado, kale, coconut, and lime.
Even more exotic flavors come from so-called "superfoods," a trendy crop of nutrient-packed plants like acai and goji berries, aloe vera, and pomegranate. Would-be caped crusaders get their super fix with ALO's Refresh aloe vera juice and Bolthouse Farms Acai+ Superblend with goji berries, sea buckthorn, blackcurrant, and mangosteen. Made-to-order juice and smoothie options from Nestlé leap past ho-hum orange and apple with flavors like mango, mixed berry, and even piña colada, adding tropical twists without artificial flavoring.
Boosted Juice
For many, the health benefits of superfoods are not substantive enough. Additives like vitamins and protein are turning juices into both medicine and meal — not just replacement snacks, but enhanced ones. The Mayo Clinic reports more than a third of Millennials' food purchases are snacks — meanwhile, FONA adds data showing 27% of those snacks are beverages. These "functional" beverages, combining energy, nutrients, and refreshment grew by almost 6% in 2014, according to Mintel, and are expected to surge by more than 40% through 2019. But eco-conscious customers want their bonus benefits from natural sources like energy from ginseng and yerba mate in Guayaki teas and AriZona's Golden Bear lemonade, caffeine from organic green coffee in Avitae water, and antioxidants from tea in Steaz and Vemma's Verve.
Greener drinks are in demand, and the industry is accommodating: A Beverage Industry News survey found 80% of respondents plan to use natural flavors and colors in their drinks this year, replacing artificial additives and sweeteners with exotic flavors and added nutrients from wholesome, natural sources. Millennials want their drinks fast, fresh, and filler-free — will you be ready to fill their cups?
About Nestlé Professional Beverages
Nestlé Professional Beverages offers an exciting and growing portfolio of hot and cold, non-carbonated beverages including juices, teas, enhanced waters and black and specialty coffees. Our leading brands, including Coffee-mate, Nestlé Vitality and NESCAFÉ in combination with proprietary dispensing technology and custom solutions backed by an unparalleled service network, are all designed to help customers maximize their beverage sales and profits. Nestlé Professional Beverages is part of Nestlé S.A. in Vevey, Switzerland—the world's largest food and beverage company—with sales of over $98 billion.
Sources: https://www.specialtyfood.com/news/article/rise-healthy-beverages/ | http://apps.datassential.com/snap/SnapshotsV2 | Datassential - Nestlé Cold Beverage Tracker | http://www.beveragedaily.com/Markets/Putting-joy-back-in-US-juice-Minte… | Techmonic: Menu: Non Alcohol Beverage Flavor Lifecycle Trend Report, https://mm.technomic.net/cms/publications | http://www.restaurantbusinessonline.com/menu/beverage-trends/whats-next… | http://www.mayoclinic.org/healthy-lifestyle/nutrition-and-healthy-eatin… | http://www.fona.com/resource-center/blog/millennials-functional-beverag… | http://www.bevindustry.com/articles/88995-new-product-development-outlo…