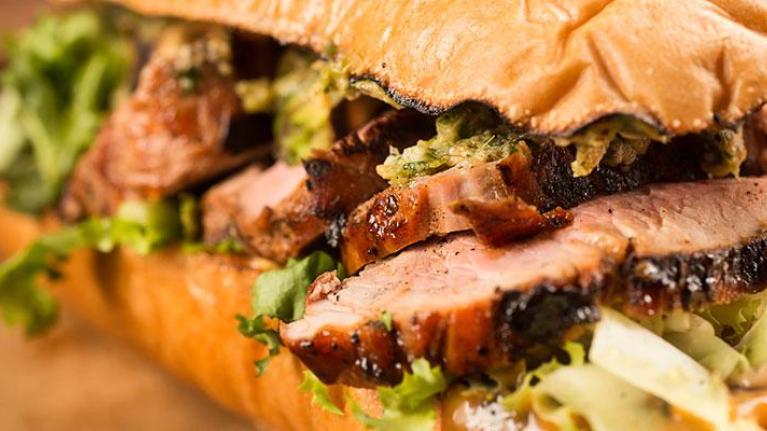 Customers Love Pork, Find New Ways to Serve It
October 20, 2017
Pork is a food service mainstay. Patrons love its flavor and value. Learn new ways to feature it from appetizers to center-of-plate. Get our new recipes!
There's a saying that everything's better with bacon, and despite recent growth in both chicken and "vegetable-driven" menu items, pork is still a food service favorite.
In fact, according to a 2015 Technomic report, 66% of consumers who eat pork eat it as a center-of-plate option at least once a week (PDF), up from 64% three years earlier.
Indeed, pork is the fastest-growing protein in food service—the category totaled 9.8 billion pounds in 2015, a volume increase of 2.6% over 2013, according to the 2015 Volumetric Assessment of Pork in Foodservice, conducted by Technomic, outpacing all other proteins. In addition, says Technomic, 29% of consumers surveyed would order pork more often at restaurants if it were available, including 38% of the influential 25- to 34-year-old cohort, and 30% of 35- to 44-year-olds.
Pork's variety and versatility make it particularly easy to add this well-loved protein to the menu, giving it room to grow throughout the day—from breakfast bacon to hearty sandwiches and comfort-style entrées.
For more ideas and information about menuing more pork, see below.
And that's only one possibility from the wide array of pork cuts from the leg, loin, belly, and shoulder, as well as the foot and head/jowl—many of which are underutilized value cuts. New and portion-controlled fresh cuts, including popular boneless cuts, as well as pork products such as bacon, ham, and sausage, mean that pork is even more versatile.
Here are some creative ways to add pork to the menu:
Pork in Appetizers: Entrées and breakfast specialties may come to mind first, but pork also adapts well to appetizers, small plates, and snacks.
Pork meatballs or sliders
Glazed spiced bacon
BBQ Bacon Stuffed Jalapeños (pulled pork flavored with Minor's® Red Chile Adobo Flavor Concentrate, stuffed into halved jalapeños, then wrapped in bacon and fried in hush-puppy batter)
Creamy Bacon, Garlic, and Chive Dip (made with Minor's Bacon Base and Roasted Garlic Flavor Concentrate)
Pork salumi (including country ham or prosciutto, salami, and/or pâté), served with accompaniments such as crostini and mustards or dried fruit
Crispy pork belly
Pork as a Seasoning: Smoked or cured pork is traditional in Southern-style greens, but ham, bacon, pancetta, or prosciutto can also be added to bring flavor to other green vegetables, such as green beans or Brussels sprouts, as well as potato and bean dishes, soups, salads, and dressings and sauces.
Global Pork Specialties: Pork is the most popular meat in the world, which should serve as inspiration for many flavorful and distinctive menu signatures.
Sweet and Sour Pork (China)
Feijoada (Brazil)
Cuban Sandwich
Choucroute Garni (France)
Pozole (Mexico)
Pork with Clams (Portugal)
Sausage: Interest in artisanal products as well as nose-to-tail cooking has put sausages on the radar for many food service operators. The lexicon of pork sausages include bratwurst, breakfast sausage, knockwurst, chorizo, andouille, liverwurst, kielbasa, and of course hot dogs. These sausages can be served in sandwiches, as part of a sampler plate, or paired with mashed potatoes for a hearty entrée.
Pulled Pork: One of the most popular pork specialties to emerge from the Southern barbecue trend, pulled pork—usually made from slow-roasted or braised pork shoulder—is also extremely versatile in other types of preparations:
As a filling for tacos and burritos
As a topping for nachos or potato skins
Added to grilled cheese sandwiches
On bruschetta or pizza
In cottage pie
In egg dishes
Pork Sandwiches: Sandwiches represent a great way to add pork to the menu, in addition to the examples already listed here, such as pulled pork sandwiches and Cubans (made with ham and roast pork). Many operators are adding a pork variation to their burger menus. Pork appears in many global sandwich specialties, such as banh mi and Torta Milanese (a Mexican sandwich made with a fried pork cutlet). And open-face roast pork and Iowa-style tenderloin sandwiches are all-American comfort food favorites.
Source: Technomic 2015 Center of the Plate: Beef & Pork Consumer Trend Report
MENUING MORE PORK
CHEF'S TIP 
"Thick-cut bone-in rib chops offer great flavor. They grill and pan roast very well and are generally more affordable than a loin chop or boneless medallion," says Minor's Corporate Executive Chef Christopher F. Donato CEC, AAC.
MENUING MORE PORK
GET STARTED
Pork products are invaluable for adding flavor as well as protein. This Cold German Potato Salad gets two layers of porky flavor, from bacon and Minor's Bacon Base.
MENUING MORE PORK
TIP
Don't forget the Smoky Mustard Sauce to liven up a sausage, pork chop, or pork roast offering.