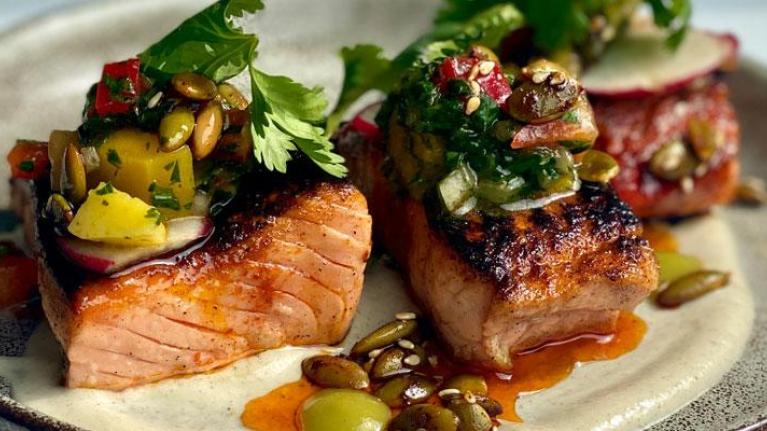 Ghost Kitchens—A Winning Response to Trying Times
May 19, 2021
Ghost kitchens are an ideal response to the pandemic era. Learn how one operator combined menus from two cuisines in a single "ghost" facility with big success.
Ghost kitchens aren't exactly new—after all, the Domino's Pizza-style model of a restaurant that has no seating for customers, only takeout and delivery, has been around since the 1960s. But rising real estate prices and consumer demand for convenience and value have made the concept of a restaurant without diners (a.k.a. ghost kitchen, cloud kitchen, or digital restaurant) more feasible over the past few years. And then of course came the pandemic.
At CHIMI and Amba, twin ghost kitchens operated out of a single facility in Cleveland Heights, OH, local chef Douglas Katz is offering contactless pickup and delivery of such South American and Indian menu specialties as Grilled Peruvian Chicken, Jackfruit Tamales, Whole Roasted Eggplant, and Spicy Lamb Keema. In the process, the owner of the brick-and-mortar Middle Eastern restaurant Zhug, and the food hall fast-casual chutney b. isn't just keeping the cash registers operating.
He's also keeping key back-of-house employees on the job, and he's engaged in active R&D for planned new restaurants once the local restaurant economy re-opens. And he's keeping existing and new customers engaged with his food.
"It's been an interesting learning experience," says Katz, who made a name for himself in Cleveland with his first restaurant, Fire, which was to have had its 20th anniversary in June 2020. Rather than undertaking a "new era" reconcepting of the upscale Fire, Katz closed the restaurant. The restaurateur also made the decision to close Zhug and chutney b. except for carryout/delivery, rather than trying to operate dine-in facilities in the midst of a pandemic. But with business down as much as 70%, there needed to be something more.
"Ghost kitchens have been on my radar for two or three years," explains Katz, who also owns a building that had been a diner but was used in recent years for upscale catering under the Fire brand. Leasing part of that space to a coffee shop and repurposing the rest of it into a cloud kitchen was the answer. Also key was a new advanced P.O.S. system that was already being used at Zhug, and which offered an easy pivot to a takeout/delivery model.
CHIMI debuted in June 2020, followed by Amba in October. "We really needed two businesses, in order to justify hiring the additional staff, but also to build repeat business and keep customers engaged." In addition, South American and Indian food were two avenues Katz and Executive Chef Cameron Pishnery had been planning to explore after opening Zhug in late 2019.
Social media was key to launching CHIMI and Amba as brands, with a full-court press of Instagram and Facebook posts announcing the openings and showcasing beautiful, exciting food. Menus favor mix-and-match small and large plates and distinctive flavors and ingredients (such as Amba's Kale and Persimmon Salad with candy-striped beets, carrot, pepitas, sesame, and ginger vinaigrette; and CHIMI's Shrimp and Creamed Corn with poblano chile, bacon, and herbs), plus plenty of vegan and gluten free options. The two concepts are capturing a younger audience that Katz hopes to bring into the future when he opens brick-and-mortar versions of CHIMI and Amba later this year.
In the meantime, the R&D work has also been done on the two menus, both from the perspective of customer acceptance and back-of-house execution, giving the kitchen staff a leg up on future projects.
Katz acknowledges that for his company, the ghost kitchens have been a stopgap during extraordinary times. Although he may keep them running past the pandemic, more likely the space will be repurposed yet again into a commissary and incubator test kitchen for his growing empire of brick-and-mortar restaurants; he may even try a third ghost kitchen concept there.
Virtual restaurants are definitely an idea whose time has come in the right kind of market. He sees them not only filling a role in areas where real estate costs are high, but also in new congregate areas such as urban streetscapes, co-working spaces, and in the lobbies of hotels. "People have gotten used to having a unique experience with takeout and delivery—not just pizza and Chinese food."
The information provided is based on a general industry overview, and is not specific to your business operation. Each business is unique and decisions related to your business should be made after consultation with appropriate experts.