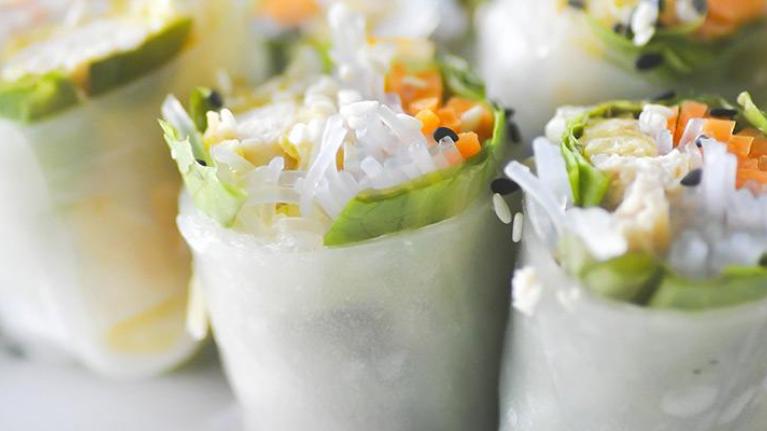 Globalize with These Asian Favorites
February 1, 2017
Global cuisine is surging in popularity. And Asian flavors lead the trend. Discover how easy it is to add intriguing Asian flavors and specialties to your menu. 
Here in the United States, Asian food used to equate with ethnic food: exotic, unfamiliar, perhaps a little intimidating to mainstream diners. Its very differentness appealed to adventurous diners, but customers in search of a traditional dining experience would have sought out another kind of food.
Well, you can forget all of that. Today, Asian food represents some of the hottest, most innovative dining choices around, offering exciting flavors and unique menu concepts in all segments.
Growing consumer interest in global cuisine has played a major role in this development, along with changing consumer demographics that favor younger, food-savvy diners as well as sweeping immigration patterns. This means more of an appetite not only for more familiar Chinese food, but also other Asian cuisines such as Thai, Vietnamese, Japanese, Filipino, and Korean.
Get Started: Maggi® and Minor's® both offer a variety of easy-to-use products designed to help operators tap into consumer appetite for Asian flavors and menu concepts. These include Maggi Seasoning and Spicy Seasoning, and Maggi Thai Style Red Curry Paste as well as a variety of Minor's Asian-accented RTU sauces, from familiar Teriyaki to Korean Style BBQ.
Perhaps most influentially, however, high-profile Asian-American chefs like Roy Choi, David Chang, and James Syhabout are embracing their immigrant roots and using them to create highly personalized and creative food for the Millennial generation. After learning the culinary ropes in technique-oriented French and American kitchens, these chefs are adapting the Asian ingredients and recipes they grew up with to more approachable, mainstream menu concepts. They're opening restaurants that also meet demand for friendly service, distinctive ambiance, and such all-American extras as sophisticated beverage programs and inclusive marketing efforts.
In doing so, they've changed the modern definition of Asian food, a category that now encompasses everything from authentic regional specialties to exciting fusion mashups. In fact, in many cases, it's all about creativity, and that's good news for operators who are looking to add variety to the menu.
Here are some of the trending concepts that are ready to be adapted to mainstream food service venues:
Ramen – This satisfying, customer-friendly Japanese noodle soup is adaptable to a wide variety of proteins, vegetables, noodles, and broths, which makes it perfect for the customizable menu trend.
Moo Shu – A traditional DIY Chinese specialty of stir-fried meats wrapped in pancakes along with a flavorful sauce, the moo shu concept can be translated to all manner of "roll-your-own" appetizers, sandwiches, and entrées.
Dumplings – Starting with dim sum, dumplings from various Asian cultures have been making their way across menus in a number of accessible guises, from Chinese potstickers to Japanese gyoza to Korean mandu.
Fried Rice – Every Asian culture has its version of fried rice; the fact that all of them can be made with leftover rice and bits and pieces of protein and vegetables makes them perfect for menuing as a cost-conscious special.
Try This: Consider this Shrimp Fried Rice recipe a starting point for other ingredients, including roast pork, tofu, scrambled egg, and/or vegetables.
Bing and Buns – Bing are flatbread-wrapped Chinese sandwiches—similar to burritos—that translate well to made-to-order menus, while buns utilize a puffy steamed bread to anchor a fun, shareable appetizer or meal that can be filled with a wide variety of savory or sweet ingredients.
Southeast Asian Noodle Specialties – Along with ramen, Vietnamese pho represents another way to introduce Asian noodle soups to American diners, and pad Thai has made a quick translation for noodle lovers. But the world of Southeast Asian noodle dishes is a vast one, from spicy Thai chicken noodle soup to comforting Korean japchae.
Did You Know? Nestlé Professional has an Action Station concept designed to offer customers exciting international noodle specialties, including Asian-style noodle soups and noodles (PDF). And Minor's has a number of convenient ready-to-use sauces that make it easy to create authentic Asian noodles, including Korean Style BBQ.
Poke – From Hawaii via that state's polyglot Pacific Rim culture, this iconic specialty of marinated raw tuna has swept the mainland, adapting itself perfectly to build-your-own bowls with a wide selection of toppings and flavor profiles.
Korean Barbecue – Kalbi, bulgogi, gochujang pork: these marinated grilled meats and the traditional go-with side dishes and dipping sauces could be the next Asian specialty to migrate onto mainstream menus.
Char Siu – Chinese-style basted and skewer-roasted meats, including ribs and other cuts of pork, are another Asian barbecue trend that can be easily translated to other products and non-Asian menu concepts.
Get Started: Minor's has Korean Style BBQ RTU—that makes it easy to tap the growing global barbecue trend.
Hot Pots – Entire menu concepts are being created around this Asian style of community eating—diners dip meats, vegetables, noodles, and other ingredients into simmering pots of broth and other liquids—but just like fondue, the fun begs for translation to mainstream venues.
Bibimbap and Other Asian Rice Bowls – Rice bowls have been widely appropriated as a healthy, customizable menu option, but the Korean original called bibimbap still has a lot of mileage.