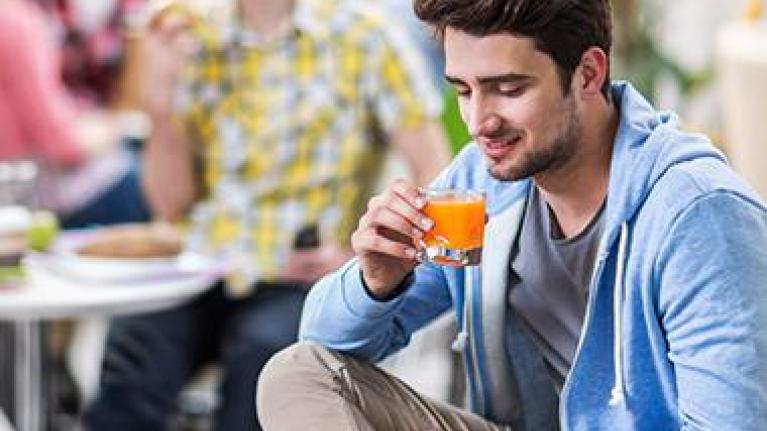 Nutrition, Health & Wellness
Gluten Free for Dining Halls
October 21, 2017
The United States has roughly 5,600 universities, serving an average of 1,000 meals per day, per school. In today's competitive landscape, colleges and universities are using dining halls and food offerings as a point of difference, rather than a point of necessity, to attract potential students.
Lessons Learned From Food Service Directors
Catering to the diverse tastes, health preferences, and allergy restrictions of incoming students will contribute to the overall success of college dining halls in 2016.
Colleges: A Place for Diversity
The next generation of students enrolling in college prefer healthier food options than the generations before them. Fresh, local produce and complete nutritional transparency are important to these students. Due to this desire for transparency, 88% of colleges and universities now share nutritional information for each item served in their dining operations.2
"In our dining halls, we share nutritional information for every item we serve," says Andy West, certified executive chef for Barrett, the Honors College at Arizona State University. "We also have a full-time registered dietician available for student consultation."
Along with a heavier focus on nutrition comes an increased awareness of allergens and how different foods affect the body. For example, in recent years, many Americans have opted to limit their gluten intake for a multitude of dietary reasons.
Sixteen percent of US consumers today are actively seeking to limit gluten, a protein naturally occurring in wheat, barley, and rye, in their diet.3 1% of the US population—about 3 million people—are estimated to have Celiac disease, an intolerance for gluten in any form.4 College foodservice directors must offer gluten free options in order to create an inclusive environment for all students.
Although there is little scientific evidence to support people without Celiac disease eliminating gluten, many consumers associate this diet with a healthy lifestyle—some people even claim to feel better when limiting their gluten intake.
"Gluten free continues to grow. Just 10 years ago, only 1% of menus called out gluten; today, it's 20%," says Alison Henley, senior analyst at Datassential, "Out of the thousands of different trends Datassential tracks, gluten free is among the fastest we've ever seen."
How To: Setting Up Gluten Free C&U Cafeterias
Due to the tremendous growth, 94% of colleges and universities now provide gluten free options to meet students' dietary needs.5 Although menuing gluten free cuisine is a challenge for college and university dining centers, it is a trend that can no longer be ignored and can be incredibly worthwhile.
The University of Chicago was the first college to debut a dedicated gluten free station in their dining facility. Certified through the Gluten Intolerance Group's Gluten-Free Food Service (GFFS) Accreditation Program, this Mongolian-style grill is the first of its kind.6 The groundbreaking gluten free station serves as an excellent example of a college dining program with allergen-friendly goals.
The first step the University of Chicago took in menuing gluten free cuisine was to train their staff to properly handle allergen-friendly products. From the moment food enters the building to the time it is served to students, each staff member must be trained on how to properly manage gluten free products in order to prevent cross-contamination.
Cross-contamination occurs when gluten free ingredients are exposed to ingredients that contain gluten. To prevent cross-contamination, college dining operations must maintain proper organization and storage methods for gluten free ingredients. Color coding and labeling the separate cooking stations and tools helps dining staff stay organized in order to maintain gluten free integrity. To prevent cross-contamination, the University of Chicago's gluten free station has its own kitchen, designated tools (with purple color-coded handles), and a separate prep area along with its own storage and refrigeration unit.6
Once a kitchen is properly organized to prevent cross-contamination, the college dining hall staff must be trained to properly communicate with one another about allergens. Staff must also be educated and able to communicate to students with gluten sensitivities in an informed manner. At the University of Chicago's gluten free dining station, the Gluten Intolerance Group trained and certified front-line staff members and managers as "gluten-free specialists."6 Proper training along with gluten-detecting strips are used to ensure the grill station maintains its gluten free standards.
Menuing Gluten Free Items in C&U Cafeterias
The next step in menuing allergen-friendly cuisine is to decide which gluten free items to serve.
"We receive gluten free requests from students every day, at every meal," says Chef West. "We have a variety of ways we meet the request for gluten free foods, including gluten free: bread, pizza bases, brown rice pasta, and a variety of seed and grain options. We have also noticed that customizable 'deconstructed dishes' are a hit with the students."
College dining hall operators must decide whether to make gluten free items in-house or to order gluten free items from a manufacturer. Some factors to consider are: the size of the university, the demand for gluten free options, and the ability to have separate gluten free storage and workspaces in the university dining hall kitchen.
According to FoodService Director, 77% of college and university operators purchase their gluten free items from outside vendors rather than making it themselves.5 Small kitchens with limited storage and prep space, a lack of demand from students, and the peace of mind that comes with manufactured ingredients are some of the reasons college foodservice directors choose to opt for manufactured gluten free products.
"The process of adding additional stock items, keeping separate storage areas and having trained staff is an added workload that most of the time isn't feasible in busy operations," says Doug McGohan, corporate chef and manager, Culinary Team Nestlé Professional North America. "The most convenient way to satisfy all the special dietary needs is to have finished food products that can be incorporated into the menu that do not require any additional space or labor."
Manufacturers, like Nestlé Professional, must put each batch of their gluten free certified products to the test before products become available for distribution. This adds an additional degree of safety and reassurance to foodservice directors looking to menu gluten free products.
Much like the University of Chicago, many college and university dining facilities are updating popular dishes with better-for-you, allergy-friendly ingredients.
"Our gluten free products are designed to fill your menu with offerings that satisfy gluten-sensitive customers," says Chef McGohan. "These products are an easy, go-to choice that you can offer that doesn't require additional labor or special ingredients to execute recipes. Chefs can easily create delicious gluten free recipes such as: Stuffed Potato Skins, Chicken, Asparagus and Sun-dried Tomato Pizza, and Shrimp and Kale Penne Alfredo."
Conclusion
With expertly manufactured products from Nestlé Professional, such as Stouffer's®, and Minor's®, college and university operators can effortlessly cater to gluten free students. Catering to the diverse tastes, health preferences, and allergy restrictions of incoming students will contribute to the overall success of college dining halls in 2016.
"As this group of gluten-sensitive consumers continues to grow, chefs and college dining operators need to be more aware of their needs," says Chef McGohan. "This means we need to take the steps to learn in detail what we can do to prevent students from being exposed to allergens in our recipes. Also as the list of allergens grows, we need to be more flexible in our menu development to make sure that everyone is taken care of and included. If college dining halls want to keep their student base as large as possible, they need to keep up with the health and wellness factors that are happening today and in the future."
 
Sources:
1. Understanding the School Food Landscape, FoodNavigator-USA, August 2014. | 2. The Big Picture, FoodService Director, January 2015. | 3. Datassential Global Health & Wellness study. | 4. Food Allergy Research & Education, 2016. | 5. Gluten-Free Trend Grows, FoodService Director, 2015. | 6. University Makes Nation-First Stride in Gluten Free Dining, Food Management, 2015.
All chefs quoted in this article are Nestlé Professional customers or employees. They did not receive any compensation for contributing to this article.