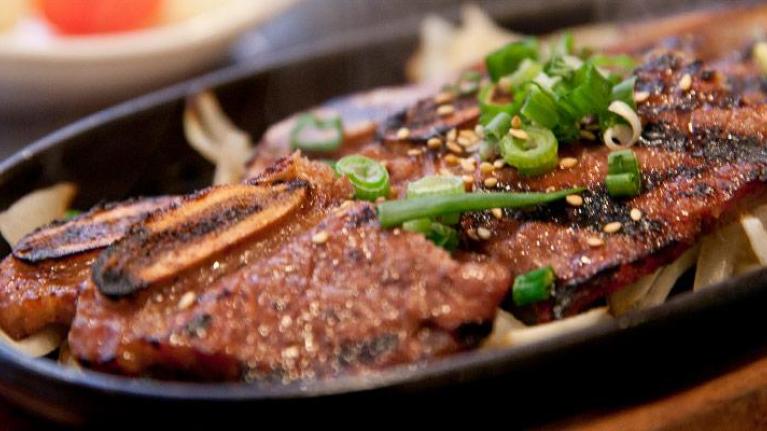 Here's Your Global Barbecue Primer
August 1, 2017
Expand your BBQ offerings with grilling styles from around the globe. A marinade or rub is all you need to take your patrons on an exotic BBQ adventure.
Americans aren't the only ones who love their barbecue and grilled food. Cultures and cuisines as diverse as Korean and Brazilian have long-held traditions of barbecuing, grilling, and smoking. And that gives food service operators tremendous leeway for adding global flavors and international excitement to menus.
In its most elemental form, barbecue has existed for thousands of years, and generally consists of the roasted or grilled meat from whatever animals and other ingredients are geographically common. From among the dozens of countries that have a barbecue tradition, here are a few specialties to consider.
Argentina—Asado is a term used in Argentina, as well as Chile, Paraguay, and Uruguay, for both grilling meat over charcoal and for the social event where it is served. Short ribs, flank steak, sausage, pork, and lamb are the most popular meats. Offal such as a sweetbreads are also common.
Brazil—Churrasco refers to meats threaded on skewers and cooked in or over the embers of a fire, including pork, sausage, turkey, chicken, and various cuts of beef. It is often served with chimichurri, a vibrant green sauce made with chopped parsley, cilantro, garlic, olive oil, and lime juice.
China—The most famous Chinese barbecue is char siu pork, boneless pork loin rubbed with a sweet and sour sauce of soy, honey or brown sugar, rice wine, hoisin, and five spice, and grilled until a flavorful glaze forms on the outside of the meat. Char sui is enjoyed as is, but is also incorporated into other recipes, such as fried rice.
For more ideas for international barbecue, see below.
Indonesia—The country's vibrant, multicultural grilling traditions favor satay, a seasoned, skewered, grilled meat (beef, chicken, goat, pork, fish, and other meats), often served with a savory sauce of soy and peanut.
Jamaica—Jerk chicken is the crown jewel in the Jamaican barbecue tradition, but the technique of rubbing the uncooked meat with chile pepper, allspice, and thyme, and glazing it with a sweet-spicy barbecue sauce can also be applied to ribs and other proteins.
Japan—Yakiniku is the name for grilled meat and vegetables, cooked on skewers and served with various sauces (tare) including soy mixed with sake, mirin, sugar, garlic, fruit juice, and sesame. The most familiar include yakitori (charcoal-grilled chicken) and teriyaki (meat, fish, or vegetables glazed with soy sauce, mirin, and sugar).
Korea—This Asian country's tradition of gogigui (meat roast) centers on tabletop grills where diners grill their own thinly sliced meats, marinated in a mixture of soy, sugar, garlic, sesame, and sliced onions, including beef sirloin (bulgogi), short ribs (kalbi or galbi), and spicy pork (dwaeji galbi). Once cooked, the meat is often dabbed with spicy bean paste and wrapped in lettuce.
Mexico—Fish, chicken, or pork is often flavored with a recado or dry marinade that includes citrus juice, then grilled and served with tortillas and salsa. Pollo al carbon refers to chicken rubbed with achiote paste, chopped cilantro, jalapeños, garlic, lime, and orange juice. Traditional barbacoa is meat (pork, goat, lamb, or beef) that is slathered with chile paste, wrapped with aromatic leaves (maguey or avocado), and smoke-roasted over a kettle filled with water, vegetables, aromatics, and sometimes beans.
Middle Eastern—Skewered meats called kebabs, grilled over a charcoal fire, are a specialty of the entire region, but may have originated in Turkey. The most common meat is lamb, either in bite-size pieces or ground and formed into lozenges (kofta or seekh kebab), but chicken and swordfish are also common. They are often served with a tart salad or an accompaniment of pita, crisp vegetables, and a yogurt-based sauce.
Philippines—Pinoy Barbecue is charcoal-grilled bite-size pieces of pork shoulder or belly, marinated in a sweet-savory mixture of orange or calamansi juice, soy sauce, brown sugar, oyster sauce, garlic, and ginger ale or cola, threaded onto bamboo skewers and usually served with hot and spicy vinegar.
Puerto Rico—Typical lechon asado is pork shoulder, studded with garlic and oregano, rubbed with annatto oil, and spit-roasted. Garlic-marinated ribs and chicken are also popular.
South Africa—The summertime tradition of braai (grilled meats) can include lamb, sausages, steak, and chicken with piri piri, a chili-laden sauce made with lots of fresh herbs. Another specialty is sosatie, seasoned meat (usually lamb or goat) grilled on skewers.

Obviously, the flavors and ingredients of these specialties can be translated for mainstream applications. According to Datassential, for instance, menu items invoking "Korean barbecue" experienced 11-year growth of more than 775% as of 2016. Many of these menu instances were in the form of excitement-generating LTOs (limited-time-only menu items), such as the Korean BBQ Burger featured at Carl's Jr. in April 2017: A burger topped with Korean-style BBQ beef and Asian coleslaw.

Sources: wikepedia.org; Datassential MenuTrends, 2017; Technomic Foodservice Digest, February 2017; Technomic Consumer Trend Report, Center-of-Plate: Beef & Pork Market Insights 2017; Technomic Consumer Food Trends, Barbecue: From Backyard to Menu (August 2012)
The information provided is based on a general industry overview, and is not specific to your business operation. Each business is unique and decisions related to your business should be made after consultation with appropriate experts.
INTERNATIONAL BARBECUE
GET STARTED
Minor's® Ready to Flavor products can be used in both hot and cold applications, adding distinction to menus without the added step of cooking.
INTERNATIONAL BARBECUE
DID YOU KNOW?
The complex flavors of Latin American barbecue and other specialties become accessible with these recipes utilizing Minor's Latin Flavor Concentrates.
Minor's chef Christopher F. Donato shows how grilling is possible on a wide variety of equipment, using many different fuels.