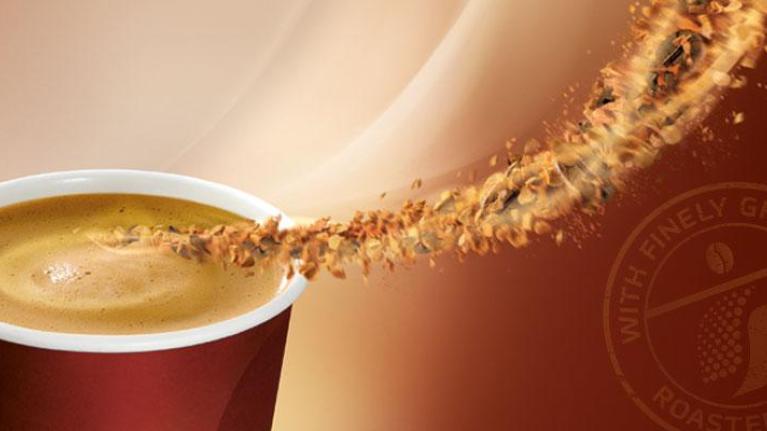 How Commercial Coffee Now Delivers Fresh Fast
June 9, 2017
NESCAFÉ Fuses Finely Ground Beans with 100% Coffee for a True Operator Solution
An innovation in soluble coffee for commercial applications has been long overdue. From food to drinks, consumer trends reveal people are enticed by freshness cues. In fact, 51% of consumers believe made to order food and beverages is the most effective way for foodservice segments to showcase freshness. For coffee, that means a just-ground aroma and made-from-scratch flavor.
Until NESCAFÉ recently refined the careful process of encapsulating finely ground coffee within soluble granules, there wasn't a commercially viable way to consistently balance natural roasted flavors and checkbooks at the same time. Using the NESCAFÉ 8/100 Total Solution Dispenser on-demand coffee dispenser reduces waste and improves operational efficiency, while ensuring a consistent end cup quality at the touch of a button. Operators can offer full-bodied flavor brewed to order, cutting down on waste and labor while meeting customers' needs.
100% coffee
NESCAFÉ coffee blends are made from the same sustainably-sourced beans NESCAFÉ is known for. But at the heart of this improved, responsibly grown 100% coffee is an exciting new innovation for operators and consumers alike. Soluble coffee, of course, dissolves quickly. What happens next is what differentiates NESCAFÉ 100% coffee. The soluble outer layer creates the coffee base, then the inside –very finely ground coffee – releases to finish the cup. Those grounds make the hot brewed coffee burst with a fresh aroma. For hot beverages, freshness is important to provide the highest quality product, and 14% of consumers would pay more for fresh, hot beverages.
Cut down on waste and labor*
With 65% of operators claiming labor costs rose in 2016, finding a coffee machine that requires minimal training and little effort is an effective money-saving technique. NESCAFÉ offers on-demand coffee with flexible features for a variety of foodservice operators. A NESCAFÉ coffee program also reduces waste –another top operator concern. Unlike a hot brewed pot of coffee that can become cold or burn, NESCAFÉ 100% coffee is served as needed at the perfect temperature every time.
Coffee in healthcare facilities
With 75 million Baby Boomers in the U.S., the healthcare segment has become a competitive space. Many senior living facilities are on the lookout for ways to upgrade coffee programs. The right coffee program could even be the reason someone chooses one healthcare facility over another. Consider that 72% of consumers looked for a coffee shop when choosing a senior living facility for a friend or family member.
Consumers look for convenient, high-quality options when purchasing hot brewed coffee. And with residents, visitors, and employees eating and drinking at healthcare facilities, it's no wonder they also value variety. The NESCAFÉ 8/100 Total Solution Dispenser suits many preferences, in one convenient machine, and along with the new 100% coffee, it could be the high quality, cost-effective, flavorful solution healthcare facilities need.
All trademarks are owned by Société des Produits, Nestlé S.A., Vevey, Switzerland, or used with permission.
*NESCAFÉ was compared to traditional roasted and ground coffee for this claim.
SOURCES: Datassential, CPP – Fresh Perceptions, February 2017 | Datassential, CPP – The Role of Fresh, February 2017 | Datassential, CPP, February 2017 | Datassential, PULSE – Market Overview, 2016 | Datassential, Creative Concepts –Senior Living, November 2016 | Datassential, BUZZ, July 2016