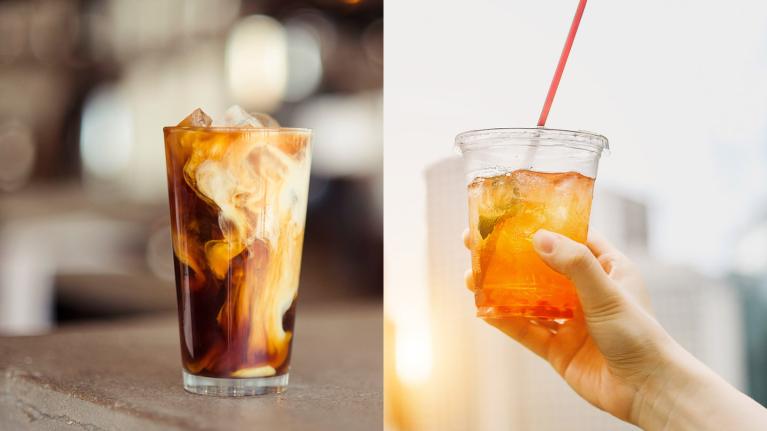 For Cold Coffee and Iced Tea Customers, It's Increasingly Personal
August 1, 2022
Customers look forward to that moment of refreshment each day. Here's what's on-trend with cold coffee and iced tea to keep them coming back.
Cold coffee and iced teas are more than just beverages. For many customers, they've become a much-anticipated part of daily life—a few minutes they take just for themselves to escape from the daily grind with a refreshing, delicious indulgence.
Part of what customers love most about these drinks is the ability to add their own personal touches. After all, they are available today in an increasing variety of flavors and styles that can be further enhanced with a growing array of add-ons, from creamers—both dairy and plant-based—to newly trending "next-level" sweeteners, including even new versions of honey (see iced tea section below).
In fact, Starbucks recently announced it is investing more than $200 million in new technology for its stores to keep up with the unceasing demand for customized cold beverage orders. "Customers are increasingly further customizing already complex handcrafted cold beverages," said Starbucks Corporation's interim Chief Executive Officer Howard Schultz.1
Among the most popular cold innovations at Starbucks are cold brew, nitro brew, and cold foam. In fact, the cold category represented 74% of the company's beverage sales in a recent quarter, growing 10 percentage points over the past two years. At the same time, alternative dairy offerings represent nearly 25% of milk-related beverage sales. The company said these innovative offerings are particularly attractive to Millennial and Gen Z customers.2
Another part of their appeal is their affordability, with an average price of $2.82 for a cold coffee and $2.55 for an iced tea.3 This, and the fact that more and more outlets carry them, puts them an arm's reach away from customers throughout the day.
Such ubiquity may also feed into why customers now view cold coffee and iced tea as year-round drinks, not just for the warmer months.
So, cold coffee and iced teas are among the most exciting categories today. But they are also one of the most challenging to menu because of all the innovation. To help, here are some of the most on-trend developments in both categories.
Cold Coffee
Menu the popular

espresso martini. Add 2 ounces vodka, 1/2 ounce coffee liqueur (usually Kahlúa), 1 ounce espresso, freshly brewed (or cold brew concentrate), 1/2 ounce simple syrup, and top with coffee beans as a garnish

For an easy cold coffee creation, just add sparkling water.

Sparkling coffee is easy to prepare and continues to catch on. You just need espresso, cold brew, or freshly brewed coffee that has cooled to room temperature. Simply fill a glass with ice, add sparkling water, and then your coffee or espresso

Consider adding cold foam on top of everything from iced coffee to iced teas,

and potentially even create latte art or add branded edible stamps on top of the foam to make the beverages even more photogenic. Over a quarter of consumers say they've visited a restaurant solely for an item they saw on social media. And to double up on trends, while cold foam is normally made with nonfat milk, it could also be made dairy-free with plant-based milk

Differentiate your cold coffee with cutting-edge hot coffee flavors and styles.

These include toffee, almond, dark chocolate, cardamom, spiced, Brazilian, Indonesian, Thai, and ginger

Popular cold coffee-specific ingredients and flavors include

honey, pecan, chicory, apple, almond, crème brûlée, coconut, butterscotch, caramel, white chocolate, and marshmallow

For something really exotic, and also on-trend, consider blending in an avocado.

Jus alpukat, which means "avocado juice," is a rich, chilled Indonesian beverage. It gets its creamy texture from avocado and milk, and its sweetness from condensed milk. It can be spiked with strong coffee or a double shot of espresso

Tap into breakfast- and dessert-inspired flavors for your cold coffee.

For example, Starbucks debuted Chocolate Cream Cold Brew this summer. The beverage features Starbucks Cold Brew topped with a light, sweet, and silky chocolate cream cold foam, and sweetened with vanilla syrup. The company says it is meant to remind customers of summers past

One out of five cups of cold coffee with creamer includes a plant-based creamer.

Offering both dairy- and nondairy-based creamers will appeal to a broader audience. Oat milk usage in cold coffee is growing in popularity and is being used as often as almond milk

Consider offering flavored creamers or syrups as an easy way to expand flavor offerings.

As seasonal offerings like gingerbread and pumpkin continue to expand, the appeal of innovative flavors continues to grow

There's more to seasonal beverages than just those for fall and winter.

Don't forget about other festive opportunities to show off fun flavors like during Valentine's Day and Pride Month

Have hot cocoa mix on hand?

 Use it to make a delicious iced mocha. Take espresso or fresh brewed coffee, add the cocoa, and then stir in milk or cream, and ice. 
Iced Tea
Half lemonade, half iced tea drinks, continue to be popular.

They combine two of the cold drinks Americans adore the most. And they continue to grow in popularity after all these years, with appearances on menus rising by 4% last year3 

Attract younger customers by adding functional ingredients.

One large chain menus a Pink Strawberry Coconut Refresher made with B vitamins and energy from green tea extract and featuring strawberry dragon fruit flavor combined with coconut milk. Another features green tea and lemonade with caffeine from coffee plus guarana and ginseng

Create iced teas using today's top hot tea flavors,

including green tea, sweet, lemon, raspberry, peach, chai, mango, orange, strawberry, ginger, apple, and honey

Flavors and ingredients just catching on in tea include

(ranked in order of popularity): peppermint, lavender, assam, turmeric, cinnamon, lemon-ginger, and garam masala

For iced tea specifically, ingredients, styles, and flavors just catching on include:

CBD Oil, hops, taro, coconut, turmeric, melon, cheese tea, pineapple, lavender, Thai iced tea, milk tea, cherry, rooibos, apple, watermelon, jasmine tea, pear, lychee, guava, ginseng, rose, and barley

Butterfly Pea Flower has mesmerized social media by causing tea to change color.

It can be enjoyed either hot or cold and with the addition of lemon or lime changes color from an indigo blue to a purple pink. You can also add wildflower honey to sweeten this refreshing tea drink

Consider featuring nonsweetened fruit flavors

like strawberry, mango, tropical, and peach, which have experienced increases in appeal ratings

Add food pairings as most of iced tea consumed out of home is with food.

In addition, having iced tea with part of a meal is a top motivation for consumption. LSR operators can feature food/iced tea pairings while FSR operators could benefit by also offering free refills

Feature afternoon/evening discounts on iced tea purchases.

The share of away from home evening occasions has increased so consider offering evening promotions to entice consumers looking for an evening treat or reward

Iced matchas are growing in popularity

in the form of matcha iced lattes and cold brews

Take a cue from Starbucks and menu a Dirty Chai Latte.

It is a popular item on Starbucks' secret menu. It is a chai tea latte beverage with shots of espresso added in which can be ordered hot with steamed milk or iced

Consider offering guests what Datassential calls "next-level" varieties of honey.

Hot honey, with its spicy kick, has been growing across menus. Then there is the TikTok-driven frozen honey, where it is frozen into a taffy-like consistency that is said to heighten its sweetness. Fueled by such innovation, and by demand for more natural sweeteners, honey is expected to grow 9% on menus over the next four years4
Frozen Hot Chocolate
Hot Cocoa can be used for chilled beverages, too.

 For example, frozen hot chocolate is making a comeback on menus, with the Dairy Queen ice cream chain recently offering them as a LTO for the holidays after customers requested them.

Frozen hot chocolate is easy to make. 

Simply blend up hot cocoa mix, ice and milk. Customizable options can include chocolate chips, whipped cream, or other add-ons.  

Looking for a year-round treat to menu?

 Frozen hot chocolate fits the warmer months, too, as a refreshingly-indulgent, yet not overly sweet cooler. 
Did you know?
Frozen hot chocolate was invented by the famous New York City restaurant, Serendipity, which has been around since 1954. The restaurant has served millions of frozen hot chocolates over the years and even had a movie named after it.
Sources: 1. MarketWatch (May 5, 2022). 2. Vending Times (July 28, 2021). 3. Technomic Ignite Cold Beverage U.S. Menu Trends (Q4 2021). 4. Datassential Trends to Know: Honey (April 2022). 
The information provided is based on a general industry overview, and is not specific to your business operation. Each business is unique and decisions related to your business should be made after consultation with appropriate experts.