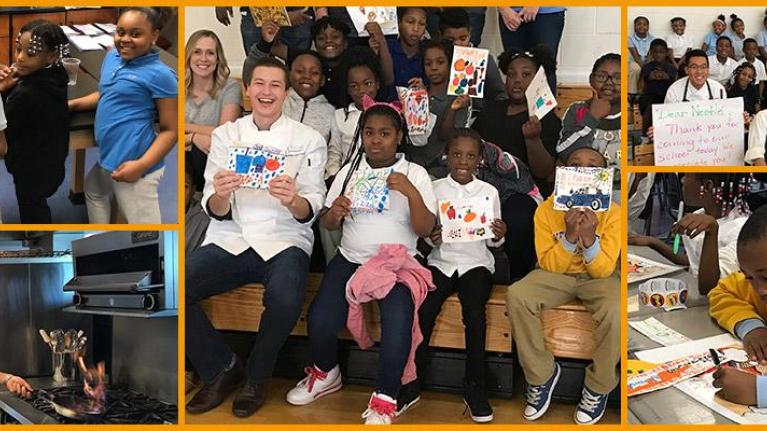 International Chefs Day Helps Kids Eat Happy
October 20, 2017
Kids, food, and chefs are a great combination. That's one reason we support International Chefs Day every year. Read how the Foods for Healthy Heroes theme cooked up some fun.
Nestlé Professional is proud of its heritage of culinary excellence—and is committed to investing in the growth and development of future culinarians. This commitment is part of the larger promise that parent company Nestlé S.A. has made to Creating Shared Value by giving back to local communities.
By supporting International Chefs Day, held every year on October 20, Nestlé Professional is helping to fulfill that promise. Sponsored by the World Association of Chefs Societies, International Chefs Day (ICD) promotes healthy eating through a series of special workshops and activities hosted for children around the world. In the process, kids are also exposed to the culinary profession by working one-on-one with chef participants from more than 100 member organizations. Nestlé Professional and Nestlé Healthy Kids partner with these organizations to make this possible.
Nestlé Professional participates in a variety of ways, through its existing relationship with Boys & Girls Clubs of America, and by sending Nestlé Professional chefs to partner with local schools all over the country as part of the Nestlé Adopt-A-School volunteer program.
Last year's Boys & Girls Clubs event, held at the Broadway Boys & Girls Club in Cleveland, brought hands-on activities about healthy eating, exercise, and what it takes to become a chef, to 60 children. Kids were also given the chance to play with their food to create "Art on a Plate" masterpieces using fruits, vegetables, and grains that they may not have been familiar with. In addition to its focus on nutrition education, the day's activities helped equip elementary school-age students with simple culinary skills and a glimpse of what it's like to be a chef, acting as an outreach program for future culinarians.
This year's International Chefs Day continues the message of "making and eating healthy food fun and exciting" with the theme Foods for Healthy Heroes. This year the chefs and other Nestlé volunteers took the program to AJ Rickoff Elementary, part of the Adopt-A-School initiative. For school-age children, the ever-popular superhero theme translates easily to a variety of foods and beverages with "superpower" benefits, from delicious fruits like potassium-laden mangoes to the healthy hydrating power of crunchy cucumbers. During the day's workshops, Nestlé Professional chefs and other volunteer participants talked about the chef profession, took part in a fitness challenge, decorated placemats, and even made their own smoothie concoctions!  
In addition, volunteers have the opportunity to:
Talk to the children about what it's like to be a chef and explain that, by creating meals that can give kids 'super abilities,' chefs are also superheroes
Introduce kids to the fruits and vegetables on the Foods for Healthy Heroes list and explain their 'superpower' benefits
Discuss recipes with the kids and give them the chance to assign their own 'superpower' to each ingredient in the recipe
"The key to all of this is our commitment to improving the lives of people in our local communities in a variety of ways," says Laura Hardin, corporate communications manager for Nestlé Professional. "The International Chefs Day activities help teach kids about the importance of healthy living, and it helps local communities by serving as a career development opportunity for kids who might not have access to or interest in a traditional college track. In the future, we want to expand our reach by making training programs like International Chefs Day available to clubs and schools across the country."