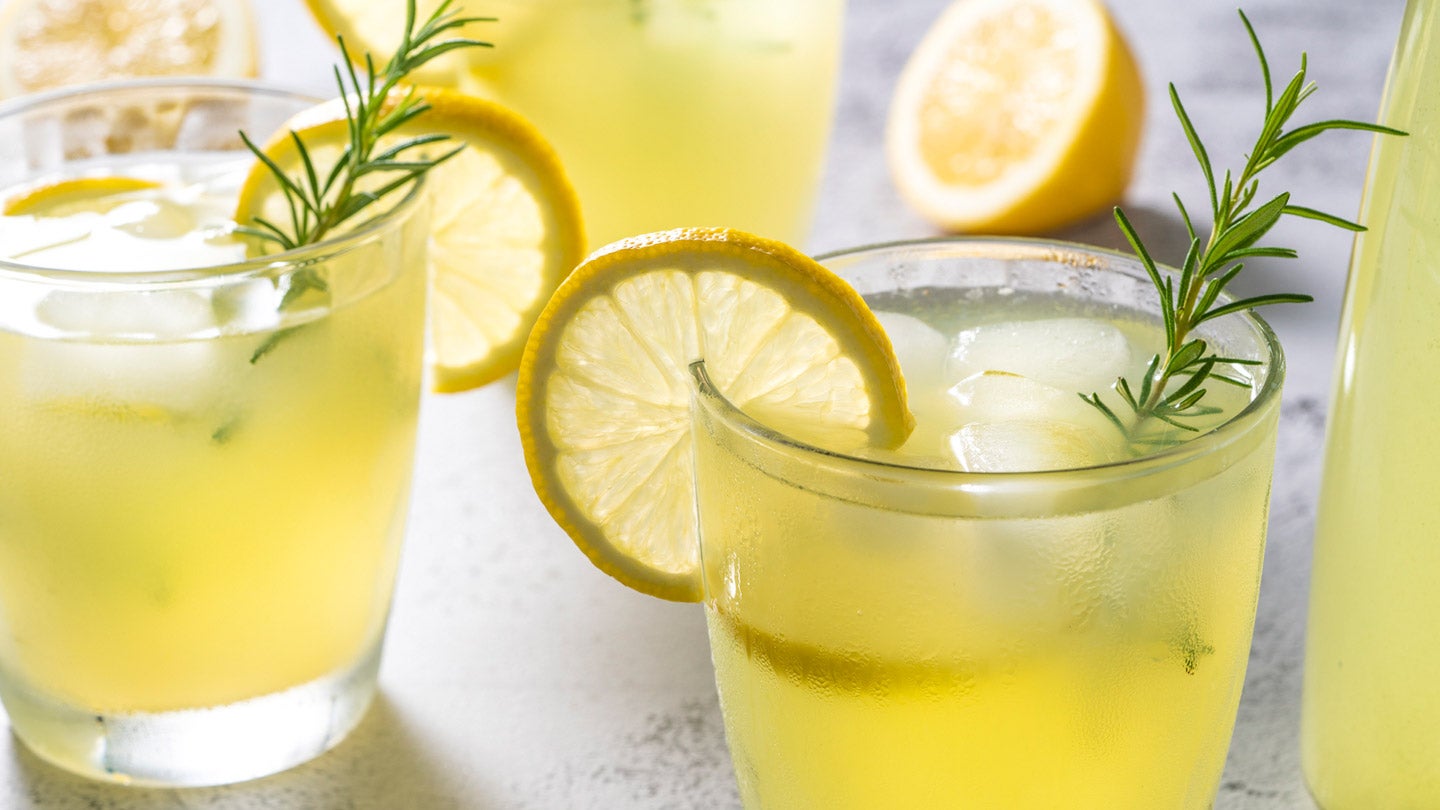 Ideas to Freshen up Your Lemonade and Juice Menus
November 22, 2022
Some of today's newest options are novel and sophisticated yet retain the refreshing qualities we all love. Squeeze more profit from lemonade and juice.
Familiar yet almost endlessly versatile, nostalgic yet also trendy, lemonade is one of those beverages that almost begs to be a part of any operator's menu. Who can resist it? The ubiquitous children's "lemonade stand" is part of the fabric of Americana. The drink touches something deep down in all of us. And yet, this appealing beverage with its sunny disposition is experiencing a new chapter amongst social media-savvy younger consumers thanks to continued innovation.
One recent example is the growing popularity of whipped lemonade. This frothy nonalcoholic refresher has broad demographic appeal, including with kids, and an appearance that is made for Instagram. And what's more, it checks all the right boxes today for operators: a simple recipe with ingredients many establishments already have on hand: lemonade, ice, and cream. Its simple preparation also makes it a convenient add even when short-staffed.1
Lemonade is one of the fastest-growing menu items, with year over year growth of 18%.2 And guests are looking for more. Up to 65% say they would like to try new flavors of this refreshing beverage.3
While lemonade goes great with lunch or dinner, or simply as a refreshing snack in between, operators turn to juice at breakfast. And juice may also be ripe for innovation this year as guests return to the office and are increasingly looking for something to grab and go for their commutes.4
Here are some additional ways to freshen up your lemonade and juice menus.
- Lemonade and coffee, a match made in Brooklyn? A Brooklyn café came up with what it calls the Laura Palmer. Inspired by the coffee-loving characters of the iconic television show, "Twin Peaks," it is a twist on the Arnold Palmer that replaces the iced tea with coffee.5 The drink has just begun to show up on menus.6
- Which lemonade flavors are showing the strongest growth? Watermelon is tops, with four-year growth on menus of 67%, followed by blackberry, mint, blueberry, ginger, peach, strawberry, mango, pomegranate, orange, cherry, and raspberry, in that order.7 Growth is also particularly strong for lavender and hibiscus lemonades.6 While the most popular lemonade flavors are pink, strawberry, raspberry, fresh squeezed, peach, mango, and mint.6
- Bring excitement to your menu with some edgier lemonade varieties. Those just beginning to appear on menus include yuzu, the aforementioned whipped lemonade, lavender, guava, turmeric, cold-pressed, Brazilian, and butterfly/pea flower, which actually changes colors.6
- Recipe extreme lemonades. These build on the trend of loaded beverages that are showing up on menus and social media.6 One example combines Everclear, lemonade, grenadine, hot sauce, and lemon-lime soda.8
- At breakfast, many guests reach for their familiar juice favorites. The most popular on menus are orange, apple, cranberry, pineapple, grapefruit, tomato, mango, grape, strawberry, carrot, lemon, ginger, peach, and beet.9
- Differentiate your juice offerings with less-common flavors. These include elderberry, blackberry, dragon fruit/pitaya, soursop, golden beet, tart cherry, lychee, jicama, tamarind, and cactus.10
- Kick things up even further by adding an on-trend spicy kick to juice with jalapeño, cilantro, turmeric, lemongrass, and cayenne.11
- Some 80% of consumers are interested in functional juices.11 So, add some superfood ingredients such as green tea, berries, or ginger, which are high in antioxidants, or probiotic-loaded kombucha. And turmeric, popular for its antioxidant and anti-inflammatory properties, has also become a popular ingredient in lemonades.12
- Whip your lemonades and juices into refreshing frozen beverages. Berries are one of the top ingredients usually paired with frozen beverages, others being, in order of popularity, banana, strawberry, pineapple, mango, blueberry, and apple.13
- Turn your lemonade into a more sophisticated refresher by creating a sparkling version with a splash of some carbonated water.6
- For added dimensions of flavor, rim a glass of lemonade with hickory smoked sea salt or citrus chili salt.
- Lemonade-based cocktails can be a lighter alternative when guests don't want to fill up on loaded cocktails.14
- A simple merchandising idea is to offer pitchers or carafes of lemonade—plain or enhanced—for the table, and large-format containers of these beverages for takeout.
- Have some leftover juice? Don't pour it down the drain. Freeze it into ice cubes and use to prevent dilution in juice beverages, and create an evolving flavor addition.
Sources: 1. "Social Media Sensations!" by Datassential, February 2022. 2. "State of the Menu 2022," by Technomic. 3. Givaudan Tea & Lemonade Concept Insights, 2018. 4. Foodservice Digest/Technomic Report, January 2022. 5. Supercrown Coffee Roasters Facebook Page. 6. "The World of Lemonade," Datassential, updated August 2021. 7. "Most Popularly Menued Lemonades," Datassential, March 14, 2022. 8. Pinterest: Extreme Lemonade Drink Recipe. 9. "Most Popularly Menued Juices," March 14, 2022, Datassential. 10. Juice & Juice Ingredients Menu Adoption Cycle, Datassential, February 2022. 11. SNAP! Juice, by Datassential, 2021. 12. Technomic Ignite, 2019. 13. "Frozen Beverage U.S. Menu Trends," Technomic, Q4 2021. 14. "Industry Insights for the Week of February 7, 2022," Technomic.  
The information provided is based on a general industry overview, and is not specific to your business operation. Each business is unique and decisions related to your business should be made after consultation with appropriate experts.
Lemonade and Juice Quick Facts
August 20 is National Lemonade Day
The origins of lemonade can be traced to the Egyptians, when in 500 A.D. lemon juice was mixed with sugar to make a beverage known as qatarmizat.