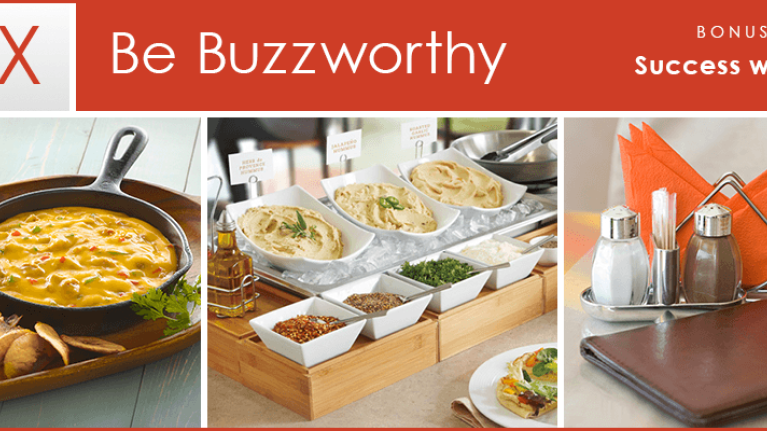 LTOs and Specials – Powerful Menu Development Tools
March 1, 2016
THIRD IN A SERIES: Want to make sure a new item will work for your menu? Test it as a Limited-Time Offer or as a Daily Special. Discover these powerful menu development tools.
Order a limited-time offer (LTO) menu item or take a look at the night's specials, and you could be looking into the future—that's how important these offerings are to the core menu.
Specials and LTOs serve an important function not just in building traffic, but also for testing and refining possible additions to the core menu. Whether a recipe undergoes the rigorous phased-in test and rollout of a national chain, or is so popular as a special in a restaurant, hotel, or student or employee dining facility that it wins a permanent place in the selection, special offerings should be part of any menu's evolution.
Tip: Offering your guests customized menu options within a specials format will give you great insight into their preferences and purchasing patterns. One particularly effective way of introducing mix-and-match specials: Nestlé Professional Action Stations, with platforms for promoting breakfast, dessert, salads, international soup and noodles, street food, and wellness concepts.
Some specials are designed to push the envelope, to create buzz, and to challenge diners to try new things, such as Brussels sprouts or pork belly. The Nightly Specials menu is a vehicle for the staff at bb's Restaurant and Bar, a casual spot in Jacksonville, FL, to stretch its creative wings, introduce unusual ingredients such as octopus and wakame seaweed, and wow regulars.
Get Started: It's easier than ever to bring distinctive flavors to menus with Minor's® Ready to Flavor products, which can be used in both cooked and uncooked applications.
A recent spate of chain LTOs seems to have taken a page from the runaway popularity of some of Taco Bell's more rule-bending signatures, including the Doritos Locos Taco line—born itself from a promotion.
Pizza Hut's Hot Dog Bites Pizza, which is adapted from an item already on menus in Canada and the UK

TGI Friday's PB&J Wings, part of a new line of wing flavors

Seasonally recurring dessert/beverage items like McDonald's Shamrock Shake and Arby's Orange Cream Shake 

The Masher Burgers at Carl's Jr., featuring beef or chicken burgers topped with mashed potatoes, truffle gravy, and crispy onion strings
Get Started: Sauces and gravies can bring flavor, value, and uniqueness to specials and promotional menu items. Chef-mate® and Trio® offer a full line of recipe-ready products.
Menu items like these illustrate a fundamental principle of LTOs and specials: Make them unique enough to capture patron interest (all the better if fans want to paste photos all over social media), but familiar enough that people will actually order them. Thus the proven platforms of popular items such as pizza, wings, burgers, and ice cream desserts. In addition, this tactic also minimizes the number of new ingredients that need to be brought in if the idea succeeds.
Did You Know? Branded ingredients help sell new menu items, whether specials or permanent introductions. Look to Nestlé Professional branded Dessert Ingredients, including new Butterfinger® Peanut Butter Cups minis, to boost the value and appeal of all kinds of desserts.
Other menu specials are more clearly designed as line extensions, or to transition customers to a new price point or menu ingredient.
Uncle Maddio's Foldwich sandwich line utilizes the chain's signature pizza dough in a convenient new single-serve way, with seasonal specialties such as this past fall's Spicy Italian, Mediterranean, and Backyard BBQ versions

A Bone-In Natural Cut Ribeye stays close to Outback Steakhouse's brand promise, with a more upscale premium image

Both the University of Massachusetts and Emory University have partnered with the Alaska Seafood Marketing Institute to introduce new seafood-based menu items within the context of the schools' sustainability initiatives

The surprise hit response to Red Robin's first-ever LTO beer milkshake, the Samuel Adams Octoberfest Beer Shake (2012), led to the development of an entire line of signature Boozy Shakes

The test debut of a Chicken Parmesan Burger at Smokey Bones led to what is now one of the category's best sellers
Major brands use sophisticated metrics, not just sales volume, to determine how well a new item or LTO is performing. For instance, Datassential's SCORES service tracks such perceived consumer values as draw, uniqueness, and purchase intent. But any operation can track the performance of specials through the use of comment cards, social media, server feedback, or good old-fashioned talking to customers and soliciting their input. Or just check to see that the plates come back clean.