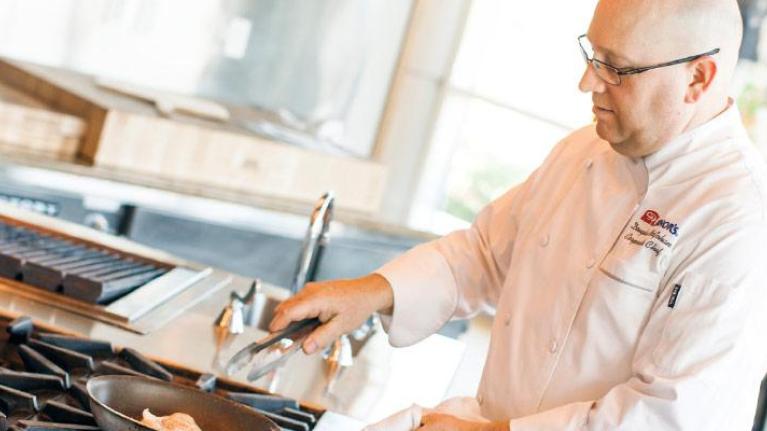 Meet Chef Doug McGohan — Innovator & Trend Leader
February 1, 2015
Chef Doug McGohan came up through the ranks from dishwasher to head chef. Now he heads up the kitchens at Nestlé Professional. Get to know this taste leader.
Chef McGohan's path to becoming an outstanding Corporate Chef at the Nestlé Professional Customer Innovation Campus (NPCIC), in Solon, OH, has been shaped by a variety of culinary experiences, from line cook to fine-dining chef to corporate R&D. Each step brought a different level of skill to his résúme, paving the way for his current position managing Culinary Services at Nestlé Professional. In this role, Doug is involved in all aspects of the company's culinary business, working with customers and the sales team, providing assistance to the Marketing Group, supporting the divisional chefs in the field, and representing Nestlé Professional at trade events. He has an associate's degree in Culinary Arts/Chef Training from Columbus State University, and is active in community events and kids' sports in Aurora, OH, with his wife, Vanessa, daughter Kylie (12), son Kaden (11), dog Lola (1 ½), and beta fish Blue (age unknown).
Q. When and how did you first realize you wanted to work with food for a living?
A. My first job was as a dishwasher at a Sizzler Steakhouse restaurant when I was 16 years old. After a couple of months I was moved up to a line cook and then I was addicted to the rush of energy and excitement that working in a restaurant brings.
Q. What people or experiences influenced you coming up in your early years as a culinary professional?
A. The first true chef I worked under was Chef Richard Blondin at the Refectory restaurant in Columbus, OH. He was from Lyon, France, where he worked under culinary icons Paul Bocuse and Pierre Orsi. His approach to cooking was different from anything I had experienced prior. He taught me to respect not only the food but the profession. It was working under him that really ignited my culinary passion.
Q. You've had a very interesting career, working as a chef in fine dining in some remarkable restaurants and hotels, including the Refectory Restaurant in Columbus and The Broadmoor resort in Colorado Springs. From there you became a corporate development chef for a large marketing agency focusing on major food brands, before coming to Nestlé Professional. Why did you choose to make the switch out of operations? 
A. It was right after we had our second child that I received a call from a recruiter friend who thought I might want to get away from the nights, weekends, holidays, and 60-hour work week to spend time with my family. She was right! Although I didn't know a lot about the corporate world of food service, I saw it as an opportunity to expand my skills and apply years of experience in a new direction.
Q. How did your background as an executive chef prepare you for leading the Culinary Services team? 
A. Having the experience of a variety of food service operations helps me to understand our customers and the daily challenges they face. This allows us to present our products in a way that they can understand.
Q. What continues to excite you about food and cooking? 
A. Working with our products in new and innovative ways is a great challenge.
Q. What inspires you most about working for Nestlé Professional? 
A. Being able to be part of a company that has such a strong presence in the food world.
Q. How do you keep current with what's going on in the food and food service world? 
A. There are many ways, but I think the biggest source of current information is working with our chef team, who are constantly in front of our customers.
Q. What food and dining trends do you see developing now that are most interesting or challenging to you? 
A. Rising costs are a challenge not only to us but to the industry as a whole. Finding ways to help our customer make money using Nestlé Professional products by controlling food cost, labor cost, and quality is a key focus.
Q. What's next for you, Doug? Anything on your life list that you would like to accomplish? 
A. I would like to travel globally to experience different foods and cuisine firsthand.