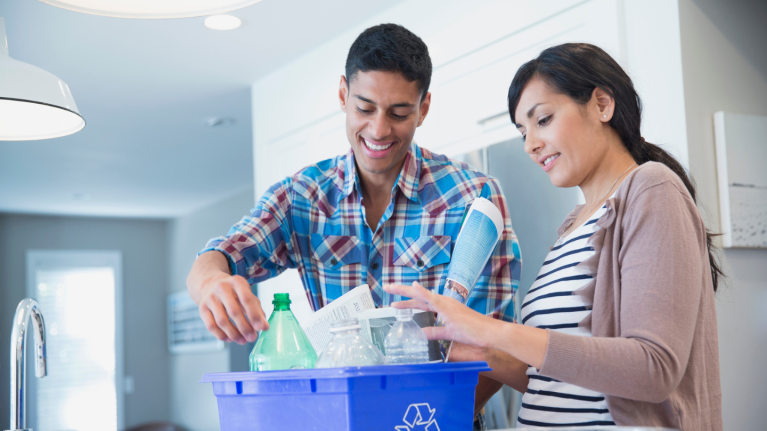 Nestlé Is Dedicated to Reducing Plastics Use
October 20, 2020
Plastic waste is a worldwide problem, and Nestlé is committed to helping with the solution. Find out about our plan to make all of our packaging recyclable or reusable.
In recent years, plastic pollution has emerged as a significant environmental worry, for both consumers and operators.
It's an issue for Nestlé as well. With plastic waste continuing to accumulate in landfills and oceans, where it endangers wildlife, Nestlé believes that tackling the problem has never been so urgent. In fact, in April 2018 the company announced a commitment to making 100% of its packaging recyclable or reusable by 2025, with a particular focus on avoiding plastic waste. The ultimate goal is that no Nestlé packaging, including plastics, ends up in landfill or as litter. The initiative focuses on three core areas:
Eliminating non-recyclable plastics
Encouraging the use of plastics that allow better recycling rates
Eliminating or changing complex combinations of packaging materials
To that end, the company has created the Nestlé Institute for Packaging Sciences, in Lausanne, Switzerland, to develop sustainable packaging materials and collaborate with industry partners to scale-up research and innovation. In addition, Nestlé has committed to phasing out by 2025 all plastics that are non-recyclable or hard to recycle for all its products worldwide (see accompanying table).
To date, Nestlé has launched or initiated the following: 
The roll-out of paper-based packaging for Nesquik® and several of its consumer snack products
The elimination of all plastic straws from its products
A collaboration with PureCycle Technologies to produce food-grade recycled polypropylene
The U.S. bottled water portfolio will use 25% recycled PET plastic by 2021, and will reach 50% recycled by 2025, with a specific focus on Poland Spring. Similar goals have been announced globally
Nestlé Waters has formed a global partnership with Danimer Scientific to develop a marine biodegradable and recyclable bottle, and has joined NaturALL Bottle Alliance, which aims to develop 100% bio-based PET to be used for our water business
All 4,200 Nestlé facilities worldwide have committed to eliminating single-use plastic items that cannot be recycled
In addition, Nestlé is collaborating with other organizations to help build a waste-free future.
We signed The New Plastics Economy Global Commitment, a joint initiative led by the Ellen MacArthur Foundation and UN Environment, to promote and encourage progress in tackling the plastic waste problem.
We're partnering with Veolia to work on waste collection, sorting and recycling of plastic material, with a particular emphasis on flexible plastic packaging
Nestlé is working with the global recycling organization TerraCycle to create Loop, a first-of-its kind subscription home delivery service designed to help eliminate waste by providing food and personal care products in durable, customized packaging that can be collected, cleaned, refilled, and reused. In January 2019, Haagen-Dazs became the first brand to pilot this project, debuting a double-walled, reusable steel ice cream container.
Designed by the company's global research and development group in Bakersfield, CA, the packaging keeps the ice cream at optimal condition throughout the supply chain. The canister also ensures that when it is opened, the ice cream melts more quickly at the top than at the bottom of the container, rather than the entire contents melting at once.
For more information on the Nestlé commitment to improving the environmental performance of its packaging, click here. And for the company's latest Creating Shared Value progress report on Corporate Social Responsibility, download the pdf.
Sources and Additional Information: Working towards a waste-free future; Nestlé takes action to reduce plastic waste in the environment; Nestlé and Danimer Scientific to develop biodegradable water bottle; Nestlé's Häagen-Dazs part of Loop reusable packaging initiative; The quest for better packaging