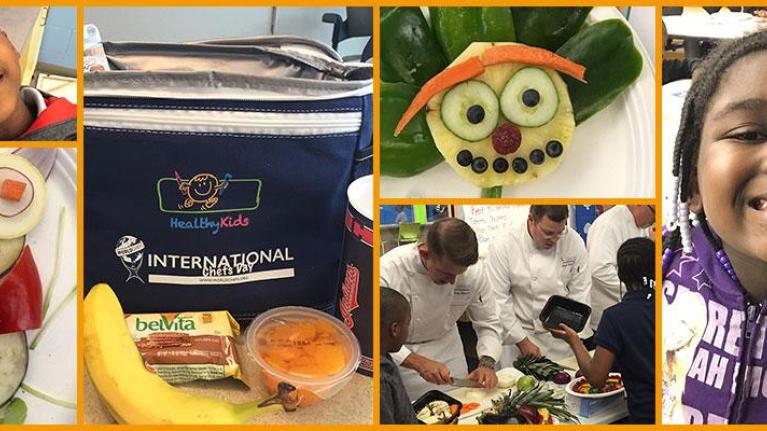 Nestlé Professional Supports International Chef's Day
October 20, 2017
Kids got their turn in the kitchen at International Chef's Day. Nestlé Professional and Boys & Girls Clubs of America hosted young future chefs in a day of discovery.
A team of chefs and employees from Nestlé Professional participated in International Chef's Day on October 20, 2016, and visited a local chapter of the Boys & Girls Club of America. A cooking demo, hands-on activities, and even the chance to play with their food and create "Art on a Plate" masterpieces using fruits, vegetables, and grains that the kids may not be familiar with rounded out the day.      
The team from Nestlé Professional focused on nutrition education and equipping students with a bit of culinary skill and industry knowledge so they understand what is possible if they choose to pursue a career as a chef. For pictures and ideas for healthy eating, follow us on Twitter @NestleProUSA.
While International Chef's Day is just one day, the partnership between Nestlé and the Boys & Girls Club of America extends far beyond one day.  In support of #Nestlé150for150, Boys & Girls Clubs of America (BGCA) also hosted National Fitness Competition events at Clubs around the country. Nestlé has an ongoing relationship with Boys & Girls Clubs of America focused on nutrition, health, exercise, and giving back to local communities.  
"Nestlé Professional is excited by our participation in International Chef's Day this year.  We all had a terrific time on Thursday. There was food, fun and we were even able to sneak in some education" says Laura Hardin, corporate communications manager for Nestlé Professional. "This event is for the younger kids at the club. We're already planning another date before Thanksgiving so the older kids from the Boys & Girls Club don't feel left out."
Nestlé Professional is dedicated to being an inspiring growth partner that delivers creative branded food and beverage solutions, enabling food service operators to delight their consumers. From Minor's®, Stouffer's®, Chef-mate® and Trio® on-trend culinary items to innovative beverage systems under the NESCAFÉ® and Coffee-mate® brands, Nestlé Professional meets the needs of food service operators while satisfying the tastes of the out-of-home consumer. Nestlé Professional is part of Nestlé S.A. in Vevey, Switzerland—the world's largest food company—with sales of over $98 billion.