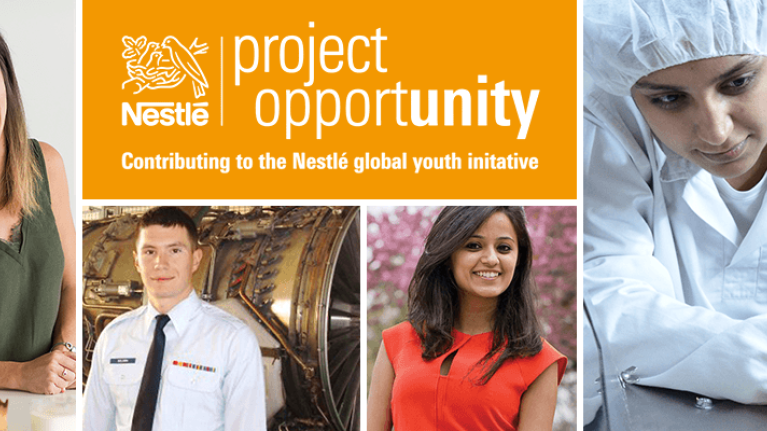 Project Opportunity
October 20, 2017
Nestlé CEO Announces Ambition for Global Flagship Initiative at UN General Assembly
On September 18, 2017 at the United Nations General Assembly in New York, Nestlé's CEO announced the ambition for the Global Flagship Initiative: to help 10 million people have access to economic opportunities by 2030. This flagship initiative will help Nestlé to focus our efforts in the "Our Communities" impact area.
Globally, this initiative brings together multiple efforts to help people gain the skills required to join a rapidly changing and increasingly digitalized world of work. It will cover the following areas:
Employment and employability: supporting Nestlé's continued workforce development through hiring, "skilling-up" the next generation of our workforce, supporting career readiness through social and digital media, and forming partnerships with like-minded organizations to amplify our work.

Agripreneurship: supporting and assisting women and farmers to improve the economic returns from their crops and become leaders in agriculture.

Entrepreneurship: identifying and nurturing business talent.
Globally, for Nestlé to provide opportunities for career development is vital for the sustainable growth of our business as it enhances access to talent, makes agricultural supply chains more resilient through skilled agripreneurs, develops the skills of entrepreneurs along our value chain, and promotes and supports innovation that keeps our company dynamic and competitive.
In the U.S., Nestlé supports this global ambition through Project Opportunity – a career acceleration initiative to help people of all ages gain the needed skills, resources and training to develop in today's modern day workforce. Leading the industry, Nestlé has demonstrated a strong commitment to the next generation of its workers specifically growing our U.S. apprenticeship program, offering the support, training and resources to skill-up and advance today's workforce to build a strong pipeline of talent for generations to come.