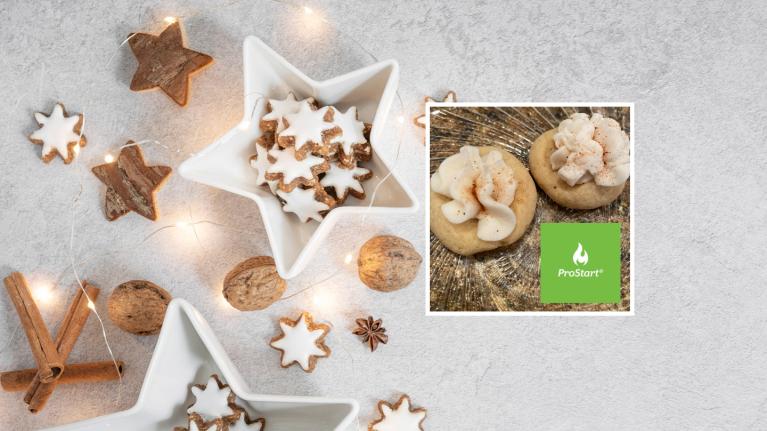 ProStart Pros Pick Top Cookie Recipe
January 4, 2023
Is there such a thing as the best cookie, one recipe that stands out above all others? Culinary instructors for NRAEF's ProStart program named Eggnog Thumbprints as the One to Bake Right Now!
From classic recipes to best techniques, smart shortcuts, and kitchen hacks, culinary school instructors are solidly committed to sharing their collected wisdom, know-how, and experience with students. This nearly universal truth was deliciously apparent during a recent gathering of a group of ProStart instructors who took on the topic of cookies. Favorite for eating was the first filter for judging but it didn't take long for these kitchen aces to further highlight other assets—recipes with foundational teaching lessons, affordable and practical ingredient lists, and those that are strong sellers in retail foodservice settings.
Each of the ProStart instructors tossed one of their best into the ring, with peers and colleagues from around the country there to arbitrate, ponder, and then decide. There's no bad answer when candidates include pan-banging ginger-molasses cookies, snickerdoodles, pumpkin-chocolate chip cookies, pecan tarts, and peanut butter-oatmeal sandwiches. Eggnog Thumbprints, a buttery-rich recipe from Mary Levinski of Sauk Rapids High School in Sauk Rapids, Minnesota, got top nods. A simple recipe, it teaches ProStart students basic measuring and mixing skills, portioning and shaping, and proper baking. It's also open to lots of different variations, the seasonal eggnog filling easily subbed with fruit preserves, lemon curd, or chocolate ganache. In other words—it's an all-around winner.
ProStart, a two-year culinary and restaurant management program for high school students overseen by the National Restaurant Association Educational Foundation, helps build the future strength of the foodservice industry, its classes readying thousands for jobs and careers. Each year, more than 165,000 students participate, learning practical skills and building a solid foundation for jobs and careers. How sweet is that?
Eggnog Thumbprints
Fill each thumbprint with a pool of rum-flavored cream and then sprinkle with nutmeg.
Ingredients
3/4 cup butter or margarine
1/2 cup sugar
1/4 cup packed brown sugar
1 egg
1/2 tsp vanilla
1/4 tsp salt
2 cups all-purpose flour
1/4 cup butter or margarine
1 cup sifted powdered sugar
1 Tbsp rum*
Ground nutmeg
Preparation
In a large mixer bowl beat 3/4 cup butter or margarine until softened. Add sugar and brown sugar and beat until fluffy. Add egg, vanilla, and salt and beat well. Add flour and beat until well mixed. Cover and chill about 1 hour or until easy to handle.
Shape into 1-inch balls. Place 2 inches apart on an ungreased cookie sheet. Press down centers with thumb. Bake in a 350° oven about 12 minutes or until done. Remove and cool.
For filling, in a small mixer bowl beat 1/4 cup butter or margarine until softened. Add powdered sugar and beat until fluffy. Add rum and beat well. Spoon about 1/2 tsp filling into center of each cookie. Sprinkle with nutmeg. Chill until filling is firm. Makes about 50.
*You may substitute 1 Tbsp milk and 1/4 tsp rum extract for the rum.