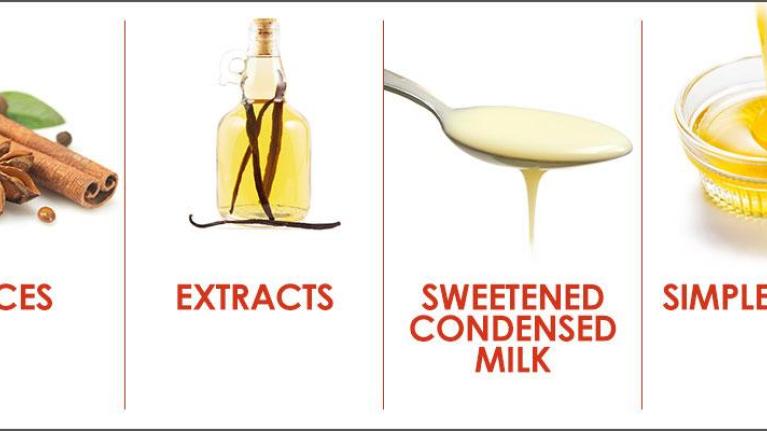 Relishing Recipes: Quick tips for turning a plain brew into a special indulgence
September 12, 2016
business operators are now tasked with offering more than a typical cup of joe
Sometimes simple isn't satisfying. Flavored and specialty coffees are trending up, and business operators are now tasked with offering more than a typical cup of joe. Here are a few tips for adding a sweet twist or spicy accent to traditional black coffee.
Spices: a pinch of cinnamon, nutmeg or allspice highlights warm flavors without adding any calories, perfect for a chilly fall morning.
Extracts: a drop of vanilla or coconut extract adds both aroma and flavor to a simple brew.
Sweetened Condensed Milk: one teaspoon is enough to combat coffee's natural bitters for a rich sweet treat.
Simple Syrup: it's all in the name. Simply dissolve equal parts sugar in water over heat. Add a drop or two of extract to flavor the syrup – vanilla, nut or peppermint – and store in the fridge up to a month. Simple syrup mixes well with both hot and cold coffee.
Too simple? Step it up a notch to wow your customers with blended or cocktail-style coffee drinks. These NESCAFÉ recipes are complex in taste, but simple to make.
Mocha Crème Dream
Makes (1) 12 oz serving
Ingredients:
Grated chocolate
Ice cubes - ½ cup
Chilled brewed coffee - 4 oz
Coffee-mate Café Mocha Liquid Creamer Singles - 3 containers
Coffee liqueur - 2-3 oz (optional)
Directions:
Rim 12 oz mug or heatproof glass in water and then grated chocolate.
Place remaining ingredients in blender and cover.
Blend until smooth.
Pour into prepared glass and serve.
---

Peppermint Mocha Café Au Lait
Makes 1 serving
Ingredients:
Hot brewed coffee - 4 oz
Steamed milk - 2 oz
Coffee-mate Peppermint Mocha Liquid Creamer Singles - 2 containers
Directions:
Combine all ingredients in 10 oz mug or heatproof glass.
Stir and serve.