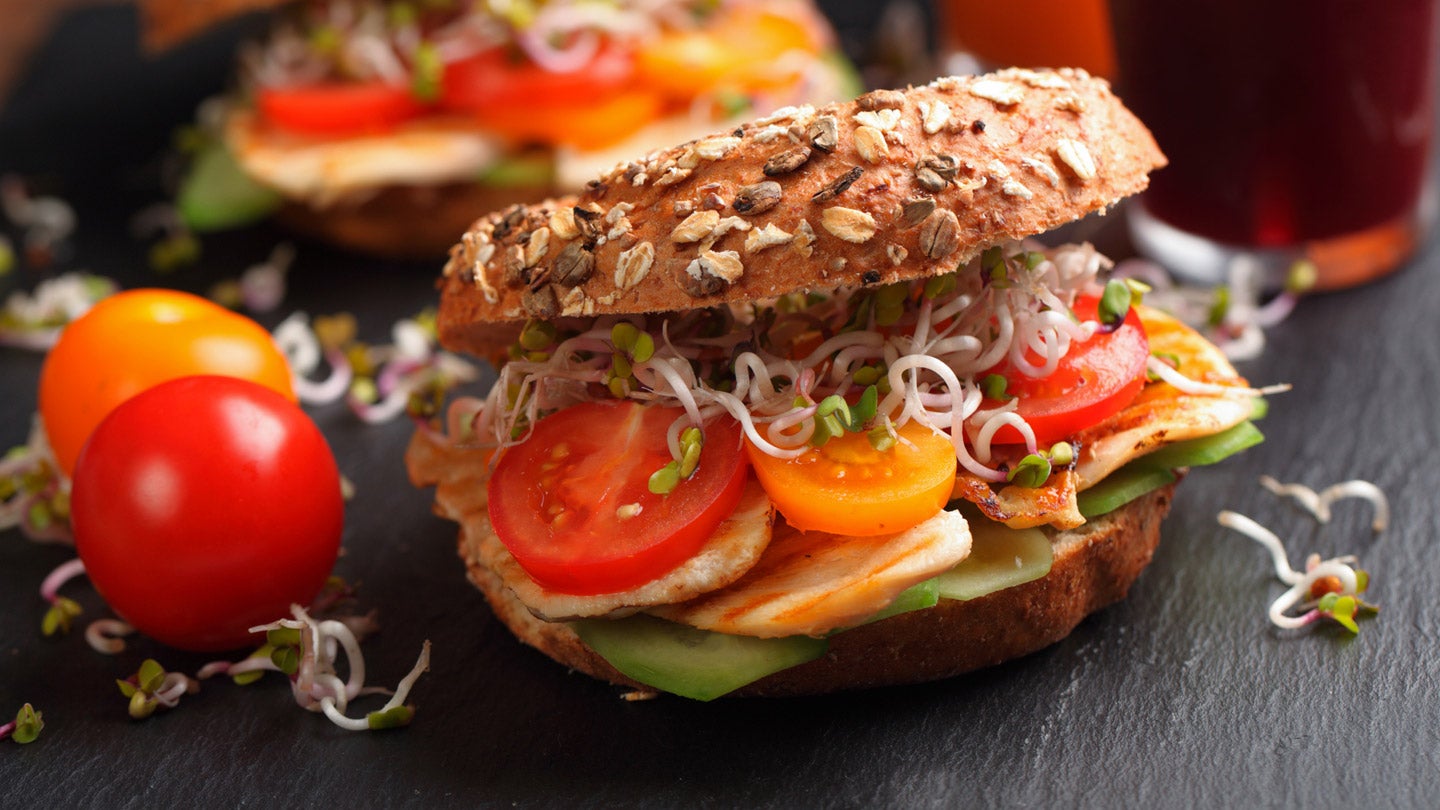 Sandwiches Trend Report Menu
September 2, 2022
Introduce new sandwiches to the menu that include consumer favorites such as breakfast sandwiches, pork sandwiches, and hot sandwiches. Recipes are included to get you started.
What's Inside
Trend 1: Sandwich Advantages

Trend 2: The Bread

Trend 3: Meat, Cheese, and Extra Toppings

Trend 4: Meat-Free

Trend 5: Beverage Pairings

Conclusion: Use Sandwiches to Debut New Products, Flavors, and Trends
Boost sales and attract new customers with a delicious and approachable sandwich menu.
Innovative premium sandwiches and specialty beverages have been on the upswing for some time, but the off-premises revolution kicked things into overdrive. A good sandwich meets multiple demands for operational convenience, craveability, value, and portability
44% of consumers

say their preferred weekday breakfast is a breakfast sandwich.1 
The potential for innovation and trendsetting is limitless with sandwiches. These blank canvases offer infinite choices among breads, spreads, toppings, meats, cheeses, plant proteins, vegetables, herbs, and sauces

. Best of all, sandwiches are delicious any time of the day, whether served for breakfast, lunch, dinner, or a late-night snack.

 

 

Sandwiches appear on 73.2% of restaurant menus.2

 

 

The upsell opportunities from companion sales of add-on beverages, sides, and desserts, is yet another benefit that accompanies a sandwich menu

As plant-based meat alternatives grow, so too do the sandwich possibilities. The days of alfalfa sprouts on wheat have made way for truly creative sandwich combinations that mix new meat-free options like fried plant-based chicken, faux breakfast sausage, mock pork, and faux fish with unique and delicious toppings

.

 

78% of consumers prefer to eat meat analogues at restaurants

and other foodservice outlets rather than at home.

 

 

Whether it's turkey on whole wheat, fried chicken and a runny egg on brioche, or a mile-high club on toasted sourdough, America's love for sandwiches will only grow in the coming years
As comfort and convenience become even more important to consumers and operators, sandwiches will continue to be a perfect vehicle for introducing seasonal ingredients, global flavors, new plant-based meats, and the latest recipe trends. Savvy operators will take advantage of the opportunity. The Sandwich Trend Report outlines the biggest sandwich trends and tips to take advantage of now.
Sources: 1. Technomic U.S. Breakfast Consumer Trend Report, 2021; 2. Datassential, Sandwiches, April 2021; NPD: Consumers' Top Plant-Based Choices at Home and from Restaurants, Nov. 2020
Would you like to receive the full report?