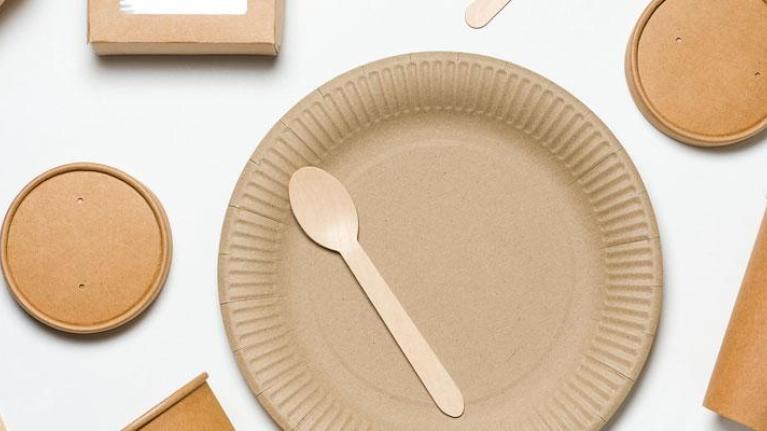 The Search for More Sustainable Takeout Packaging
October 3, 2021
After the explosion of takeout and delivery over the past 18 months, a review of sustainable packaging habits for off-premise is now in order.
Sustainability was the last thing on anyone's mind when the Coronavirus pandemic forced the closure of thousands of restaurants in the spring of 2020. Many restaurants switched from full-service dine-in operations to takeout and delivery virtually overnight.
A survey by Technomic found that 35% of U.S. foodservice establishments added takeout or carryout service when dine-in was closed.1 When push came to shove, cleanliness and safety trumped sustainability, and supply shortages added to the chaos of choosing what was easy and affordable over what was environmentally friendly.
But, as restaurants and other foodservice outlets have reopened at full capacity, there's renewed attention being given to smart takeout packaging practices. Compostable, reusable or recyclable food containers, cups, and bags are being reintroduced across the country, and new ghost kitchens and virtual restaurants will continue to create a greater need for packaging supplies that work sustainably for off-premise. With Technomic reporting that environmentally friendly packaging is important to 39% of consumers, the ecological impact of takeout packaging is a significant factor for operators to consider. 
Did You Know?
The first rule of sustainable packaging is to reduce waste. Asking consumers if they need silverware, napkins, and condiments can be a great step toward making takeout more sustainable. 
What Makes a Takeout Package "Sustainable" Today?
Having a goal to offer more sustainable takeout packaging is a noble one, but what qualities make packaging for off-premise consumption "sustainable?"
Many solutions for more sustainable packaging are appealing to consumers. They are open to different packaging materials and new behaviors like having plastic disposables available on request rather than included as default. The key is that consumers know what to do with takeout packaging when they're done with it and have access to the appropriate disposal stream.
One option available today is to use packaging made from commonly recyclable materials like plastics labeled #1 or #2 or aluminum—some of the most accessible options available now, since many consumers have access to curbside recycling which accepts those types of materials. You can even go the extra mile and research the recycling program in the municipalities close to you to be sure these materials will be accepted. 
There is also packaging that can be composted. For example, a newer material is bagasse-based containers, which are made from the pulp and fibers of crops such as sugar cane. A much smaller percentage of consumers have access to the commercial composting facilities required for many of today's compostable packaging options, but interest is growing.
For certain applications, cardboard and paperboard can also be appropriate because they can be recycled if clean and dry, or potentially composted.
Another option is to select containers that use either sustainably sourced materials—such as bamboo or Forest Stewardship Council (FSC)-certified paper—or recycled materials. While the packaging itself may or may not be recyclable, this type of packaging has a positive impact on the overall recycling industry by providing an end market for recycled materials. 
But for all these options, unless they are used and disposed of properly, the sustainability factor can be moot.2 It will take educating operators and consumers in the proper ways to reduce, reuse, and recycle all types of containers if sustainability goals are to be reached in the future. Without education and easy ways to recycle or compost existing packaging, many eco-friendly materials will unfortunately still end up in the trash.3
The Future is Now
Reusability might be the future of packaging for some restaurants, if small scale pilots prove successful. Several restaurants in San Francisco are already attempting to answer the rising interest in reusable packaging by packing takeout orders in reusable steel containers, utilizing a company that cleans and returns the containers to them (customers, for their part, drop the packaging off in conveniently located collection bins).4
Comparing Cost, Durability, and Performance
Running a restaurant relies on the ability to manage costs. Today's sustainable takeout packaging options are, generally, more expensive than traditional containers, which makes comparison shopping essential.
Not all menu items will work for delivery or takeout either, regardless of the packaging material. Consider everything that could occur during transport (becoming cold/warm, soggy, being tossed around, etc). Many operators pare down takeout and delivery menus and/or rework recipes in addition to considering different takeout packaging options to avoid potential pitfalls.
Analyze your menu and test a variety of packaging options before signing on the dotted line. The packaging should be easy to store, fill, and close; durable enough to carry an order to its destination without seeping through; and work into your existing budget. 
The Larger Picture
In addition, operators and consumers alike can extend their sustainability efforts to the packaging used in products they purchase from manufacturers. Companies like Nestlé are making their own commitments to introducing more recyclable or reusable packaging, for both back- and front-of-house use. (For more information on Nestlé initiatives, click here.)
Most important, communicate what you're doing to your customers. Tell them the story of the journey that you are on to help them use and dispose of their packaging responsibly. Because increasingly, your customers are looking to support businesses whose practices fit their values. Let them know what you're doing through your website and social media, as well as by training staff to handle any of their sustainability questions.  
Sources: 1. Technomic Delivery & Takeout Consumer Trend Report (2020). 2. Science Direct: Unsustainable Plastic Consumption Associated With Online Food Delivery Services in the New Normal (2021). 3. Zero Waste: Reusable vs Disposable – What's the Future for Packaging? (2021). 4. Eater San Francisco: Zuni Café Completely Switches to Reusable Takeout Containers (Dec. 2020).
The information provided is based on a general industry overview, and is not specific to your business operation. Each business is unique and decisions related to your business should be made after consultation with appropriate experts.
Packaging solutions
Datassential surveyed 1,001 consumers about sustainability in October 2020 and found that they were open to the following solutions regarding sustainable packaging:
73% - New product designs that eliminate the need for plastic disposables
71% - Receiving a discount for using my own utensils/containers
67% - Switching to products that do not require the use of plastics
59% - Use my own reusable items that I carry with me
56% - Stop using single-use plastics completely
56% - Switch to paper/biodegradable disposables for a small surcharge
46% - Have plastic disposables available on request for a small surcharge
43% - Willing to pay up to $1 more per menu item for sustainable, single-use items
Source: Datassential Sustainability (Oct. 2020)
The future of foodservice sustainability
The future of foodservice depends on the inclusion of sustainable packaging as illustrated in this list of operator-driven sustainability initiatives reported by Technomic.
TOP 5 SUSTAINABILITY INITIATIVES IN 2021-2022
Packaging—safe and green
Energy efficiency
Clean label
Product and ingredient safety
Addressing issue of GMOs
Source: Technomic, U.S. Foodservice Planning Program (2021)