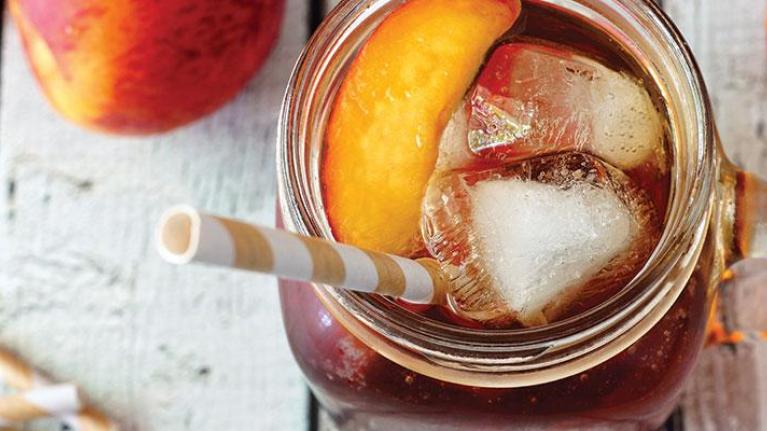 Tea Trends to Watch in 2016
August 10, 2016
What tea trends to watch out for in 2016.
Healthy living and exotic eating have reshaped what's on your plate (think farm-to-table dining), what's in your glass (craft beer) and now what's in your morning mug: first, with third-wave coffee and today in specialty tea. While often overlooked in the hospitality world, tea is one of the beverage industry's hottest segments. Meet your guests' expectations with new drinks and preparations focusing on wholesome lifestyles and creative flavors.
As health trends continue to sap the fizz from sugary soft drinks, American drinkers are looking for flavorful alternatives. Consumers turn to tea's rich stores of vitamins and immunity-strengthening nutrients, which may contribute to the industry's growth from under $2 million in 1990 to almost $12 million today, according to Market Realist.
Luxury Leaves
But greens and blacks now share shelf space with oolongs, whites, reds, and even single-origin crops. Loosely defined as high-end, rare, and uncommon teas, "specialty" is the industry's fastest-growing segment, its sales up by more than 16% since 2012, according to the Specialty Food Association. Specialty tea joins third-wave coffee at shops like Starbucks, which recently acquired tea company Teavana, and runs the show at tea-only emporiums. And with these large-scale commercial tea shops comes increased awareness and demand for teas.
Exotic brews make tea an affordable luxury, enjoyed at Downton Abbey-themed tea parties and afternoon tea tastings at hotel restaurants like Wolfgang Puck at the Bel-Air and Gordon Ramsay at the London West Hollywood. But service can be as simple as the push of a button, at home or in your guest rooms thanks to the same single-serve pods that have reshaped the coffee world. New offerings from Lipton, Numi, and Stash include jasmine green, Moroccan mint, and exotic rooibos chai, an herbal blend from South Africa.
Healthy and flavorful, simple and complex, luxurious but affordable – tea appeals to all and offers an adaptable platform to meet the desires of different demographics. Most tea drinkers skew older and female, according to the Tea Association, perhaps due to the many perceived health benefits of tea.
Milk and Sugar
The variety of exotic teas is also drawing on a more diverse consumer base, with flavors to satisfy every palate. Long gone are the days of 'a dash of milk and two lumps of sugar.' In its place, milk-blended drinks like matcha lattes are on the rise, made with a special powdered Japanese green tea renowned for its nutritious, caffeinated kick. Other teas incorporate herbs, spices, and fruits for a wholesome boost. Superfoods like acai and pomegranate are popular mix-ins for a fresh and healthy spin.
Some Like It Cold
The Tea Association reports almost 85% of tea consumption in the US is still iced, and younger drinkers make up the most of this popular segment. Instead of chilled down classics though, consumers look for more creative spins on the popular summertime refresher: sweet bubble teas mixed with chewy balls of tapioca or Thai iced teas with condensed milk.
Iced tea drinkers are often looking to quench thirst, in which case, bottled tea is a convenient on-the-go solution. According to the Tea Association, bottled iced tea is the largest segment, at nearly half, or $5.2 billion, of the industry's total wholesale value, having grown by 15 times over the last decade. Hotels and university gyms keep fridges stocked with fruit-infused Nestea flavors like peach, lemon, and raspberry, or tea-flavored energy drinks like Steaz and Guyaki Yerba Mate.
From a morning pick-me-up to midday treat, pre-workout fuel to after-work happy hour, tea is steeping into all corners of our lives, with new flavors, preparations, and varieties both made to order and ready to drink.
About Nestlé Professional Beverages
Nestlé Professional Beverages offers an exciting and growing portfolio of hot and cold, non-carbonated beverages, including juices, teas, enhanced waters and black and specialty coffees. Our leading brands, including Coffee-mate, Nestlé Vitality and NESCAFÉ in combination with proprietary dispensing technology and custom solutions backed by unparalleled service network, are all designed to help customers maximize their beverage sales and profits. Nestlé Professional Beverages is part of Nestlé S.A. in Vevey, Switzerland – the world's largest food and beverage company – with sales of over $98 billion. For foodservice and product news and information, visit www.nestleprofessional.com.
Sources: http://marketrealist.com/2015/06/growing-demand-tea-us/ | https://www.specialtyfood.com | http://w