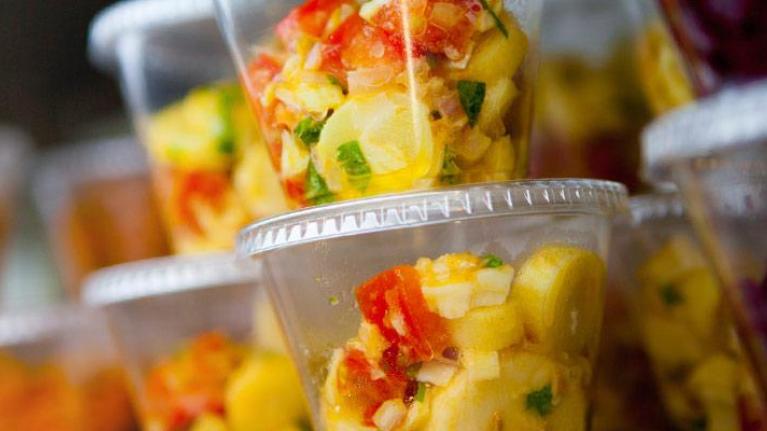 Top 10 Ways to Build Traffic
January 24, 2015
Learn how to build traffic and increase sales without resorting to discounts. We have 10 easy techniques to ramp up traffic, drive sales, and increase profits.
Everyone wants to boost sales, and make no mistake that discounts and value meals are still a popular way of doing it. But putting your food on deal isn't appropriate for every kind of concept (some noncommercial hosts don't allow it, for instance), and it's not even necessarily a good idea for your brand. Here are other ideas for getting more people in the door.
Consider an "express meal." Whether it's a grab-and-go item already prepared and ready for pick-up, or a special quick menu selection that can be served to the table immediately (such as soup and a slice of quiche), on-the-go patrons will appreciate a time-saving choice. Initiatives like this are also great for the increasing ranks of business travelers.

Leverage Facebook and other social media. Offer real-time perks and extras like a free dessert, two-for-one entrées, discounted gift certificates, and other enticements to followers on Instagram, Twitter, and Facebook—creating loyalty through connection and responding to current conditions like bringing people out on a cold night.

Boost category sales by sweetening the deal. For example, build customer interest in lunch by offering a free cookie, brownie, or other small, individual sweet with a sandwich, salad, or soup; present it at the same time to avoid compromising service times.
Get Started: Nestlé® Toll House® Oatmeal Cookies are all prepped and ready to heat and serve.
Offer specials. In addition to keeping patrons interested and fostering repeat business, special items—whether daily, weekly, or monthly—represent a great way to incorporate seasonality and to test potential new menu items. A regular rotating Blue Plate Special program can also be highly effective at building sales, particularly on slow nights.

Introduce a prix fixe. Offer a three-course, all-inclusive meal using existing menu items at a value price, such as a salad or soup du jour, a favorite entrée, and a simple dessert. Items that are easy to serve and that carry low food costs are most appropriate, so that they can be "packaged" affordably.
Get Started: Comfort foods and classic mealtime favorites are especially appropriate for prix fixe and Blue Plate Specials; try one of these: San Francisco Style Cioppino; or Marsala Chicken with a White Bean Salad.
Court single diners. Be the destination of choice for the many consumers who are now eating alone—especially at breakfast, lunch, and snacktime—by making available magazines, newspapers, or free Wi-Fi; putting in a friendly counter or communal table; and/or focusing on speed and convenience with server training.

Cater to special dietary needs: Make sure you have options for as many of the following mainstream nutritional and dietary concerns as possible: gluten free, vegetarian and vegan, and high protein. If appropriate, selections for children can be another source of patron interest.
Get Started: Nestlé Professional offers a number of products that cater to the needs of the gluten averse, as well as those with food allergies.
Create a "secret menu." Customers love the idea of being an insider, and companies like Panera and others are tapping into that desire, and building sales, with (not-so) secret menu selections. Many are items that have been taken off the menu in the past, but repeat customers still want them.

Double down on guest engagement. Effective front-of-the-house training is not just about the mechanics of service; it's also about showing employees how to engage with guests. A recent survey by Goodsnitch suggested that customers have a tendency to return to a place where they have engaged with a specific employee.

Send your most popular menu items packing. Individual-order takeout is one valuable source of sales, but you can also promote menu favorites that are easy for patrons to purchase packed up and ready to reheat for an easy meal at home with family or friends.