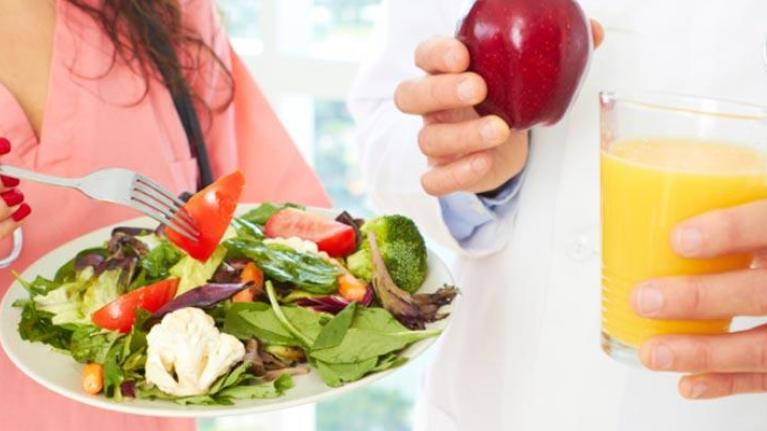 Trends in Healthcare Food Service—RX for Revenues
October 19, 2015
Restaurant concepts (like buffets and even room service) are popping up in hospital food service operations. Get insights on this and other revenue-producing trends. Plus learn how Nutripro can improve the variety, quality, and better-for-you profile of the recipes on your menu.
Patients are eating better than ever, and so are healthcare employees, as the etnire segment ups the ante on quality and variety in its menu offerings.
The biggest news on the patient feeding side continues to be the implementation of room service-style menus, and the addition of more local and fresh foods.
Hotel-Style Patient Meals
According to the "2014 Hospital Census Report" from FoodService Director, 46% of U.S. hospitals now offer on-demand, hotel-style room service, where patients—and often family members or other visitors—can order more varied options within their dietary requirements during expanded meal periods.
At Central Washington Hospital in Wenatchee, WA, for instance, patients may order from the breakfast menu during the hours 7 to 11 a.m. and lunch and dinner from 11 a.m. to 7 p.m. Morning options include pancakes, Belgian waffles and Biscuits and Country Gravy, while the lunch/dinner menu features such options as the Create Your Own Sandwich, a variety of entrée salads, and main courses ranging from Macaroni & Cheese and a pasta bar to grilled salmon and pizza.
Get Started: Chef-mate® Country Sausage Gravy is a great platform for breakfast specialties like biscuits and gravy and country-style omelets.
In addition to expanded hours and menus, many such programs offer additional amenities, including:
Customized meal plans

The opportunity to talk to a diet tech or nutritionist

Upgraded presentation and quality standards

Cook-to-order preparation

Wellness demos and other post-stay education

Multilingual and/or picture-associated menus
Sodexho's Expressly for You option offers a highly personalized level of service via a host/hostess who is assigned to a limited number of patients, and handles multiple elements of meal order, assembly, and delivery in order to build rapport and establish a more regular point of contact.
Get Started: For the growing number of people who are avoiding gluten for health or dietary reasons, many of our products are now gluten free.
Fresh Healthy Foods
Patients aren't the only ones who are benefiting from the healthcare segment's focus on better food quality—employees and visitors are also being courted, in part because their participation means enhanced revenues for food service providers.
Many of those efforts relate to healthier options and more farm-fresh local foods. In Lihu'e on the Hawaiian island of Kauai, the cafeteria at G.N. Wilcox Memorial Hospital is highlighting the push with abundant salad bars and a new Fryless Friday program. On that day, the fryers aren't used at all, and options such as chicken and local fish are baked or grilled instead.
With more hospitals and senior living centers sourcing fresh vegetables in season from local farms, Stony Brook University Hospital in New York is practicing a little healthy one-upmanship with a rooftop garden.
Building Revenues with Food Service
Smart administrators are realizing that food service goes beyond merely feeding the body, but can also add to the coffers. Services and amenities like espresso carts, catering, and community outreach not only raise employee and visitor satisfaction, they also build sales.
University Hospital in Salt Lake City introduced a resort-style buffet to its remodeled lower-level Café that even attracts locals in for date nights and pregame meals with such offerings as steak, freshly made desserts and baked goods, gourmet sandwiches, and other upscale items. In addition, the affiliated Huntsman Cancer Institute is home to a restaurant and bistro called The Point, which also does banquets, catering, and box lunches.
Get Started: Boost creativity in public dining facilities and catering programs with delicious, easy-to-use sauces from the Nestlé Professional family of brands, including Stouffer's® Alfredo Parmigiana, Minor's RTU Sauces and Hollandaise Sauce, and Trio® Gravies and Sauces.