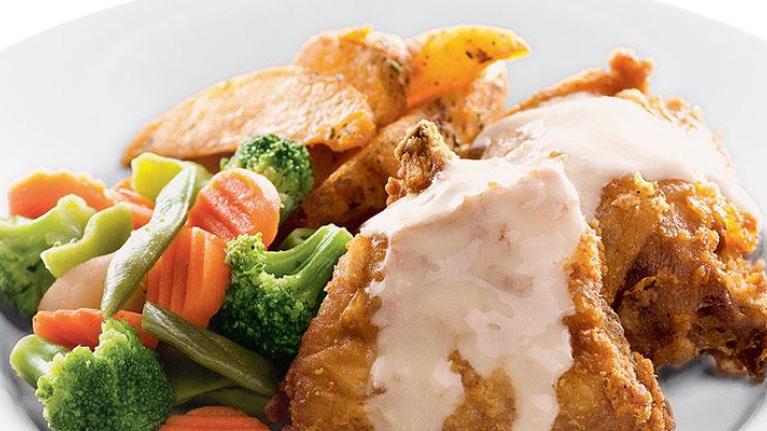 Turn These Limited Time Offers Into Menu Favorites.
October 18, 2020
Draw crowds during every daypart with flavorful LTOs. Cross-utilizing recipes and ingredients to create special LTOs is a great and cost-effective way to add variety across your menu. From morning meals to evening entrées, Trio® sauces and gravies make it easy to mix things up and keep guests satisfied during every daypart.
Add interest to breakfast or brunch by serving chicken and waffles three different ways. 
Chicken and waffles are showing up on specialty breakfast and brunch menus of all kinds. Create your own take on this trend with LTOs that give guests a new way to crave this classic combination.
Trio
Taste. Trust. Serve
Turn These Limited Time Offers Into Menu Favorites.
MENU INNOVATIONS:
Create a better-for-you breakfast or brunch with Guiltless Chicken and Waffles featuring whole grains, grilled chicken and Trio Low Sodium Poultry Gravy. Get the recipe here.
Serve a shareable brunch offering by creating mini chicken and waffle sliders.
Replace waffles with buttery biscuits for added interest and southern-style comfort.
 
Take traditional chili from a hearty midday meal to a small lunchtime side or satisfying afternoon snack.
Chili offers year-round comfort and is always crave-worthy alongside a slice of cornbread. With a few adjustments, turn this hearty midday meal into new and exciting menu items.
MENU INNOVATIONS:
Create a unique 3-Grain Chili to be served on its own or added into different recipes for flavor variety. Get the recipe here.
Stir 3 Grain Chili into your favorite macaroni and cheese recipe for a cheesy spin on hearty chili mac.
Make a filling afternoon snack by topping house fries or chips with 3 Grain Chili.
 
Top things off at dinnertime with Mustard Brown Gravy—made to complement multiple menu items.
Gravy is an easy way to instantly increase the flavor in a variety of dishes. And when paired with the right combination it can create an unforgettable dish guests will want again and again.
MENU INNOVATIONS:
Elevate a classic Irish Boiled Dinner of pork and vegetables with Mustard Brown Gravy. Get the recipe here.
Complement British bangers and mash with a drizzle of Mustard Brown Gravy.
Add sautéed onions to Mustard Brown Gravy to top off perfectly cooked pork chops.

Good gravy! Ready for more? Want more ideas for taking menu favorites from average to amazing with Trio gravies? Contact us!