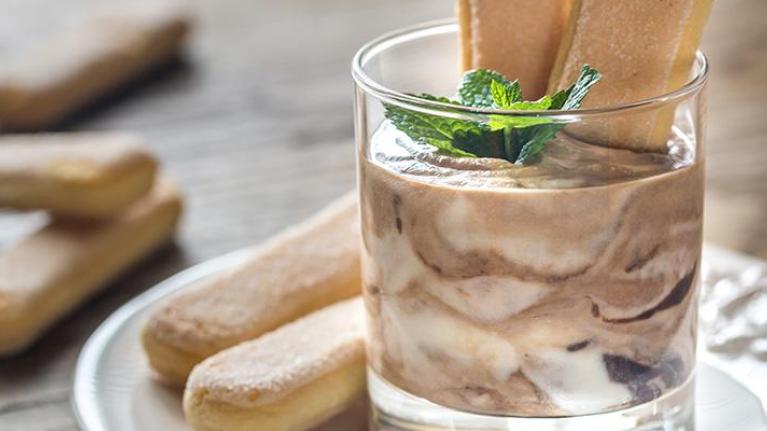 Discover Why Premium Dessert Beverages Are Trending
October 19, 2020
A beverage with dessert is traditional, but beverages can also be marketed instead of dessert. Learn about the coffees, teas, and cocoas that lend themselves to dessert.
Coffee, tea, and cocoa are popular beverages with dessert, but they can also be menued as dessert. In fact, for customers looking to save calories, time, or money, a beverage can offer a satisfying after-meal substitute for more traditional dessert offerings. Premium dessert beverages can also enhance the overall after-meal experience when ordered with dessert, work as a treat any time of day, boost customer loyalty and increase sales.
That's why ramping up hot and cold coffee, tea, and cocoa offerings to create signature, dessert-worthy menu items makes such good business sense.
For more coffee, tea, and cocoa ideas, see below.
Specialty Coffee
It's easy to create a coffee beverage with dessert appeal, using any or all of these ideas:
Elevate the Presentation—Enhance coffee with garnishes, flavorings, and accompaniments:
Top with plain or flavored whipped cream or a heavy cream float
Offer coffee specialties in dessert flavors such as hazelnut, raspberry, vanilla, mocha, or caramel 
Create visual appeal with garnishes including: cinnamon sticks, vanilla beans, chocolate drizzle, sugared rims, or chocolate tuile
Merchandise espresso-based favorites such as lattes, cappuccinos, mochaccinos and more—plain and flavored
Accompany coffee with a plate of biscotti, cookies, or chocolates
Create a Combo—Offer a dessert combination with a favorite sweet and a coffee beverage for one special price:
Creating a flavor theme for your combo, like chocolate, caramel, or vanilla, can be especially effective
Train service staff to suggest combining dessert and a specialty coffee when taking the order
Ice It Down—Iced coffee can be just as appealing as hot coffee for dessert, especially when the weather is warmer:
Apply the same suggestions for elevating the presentation of hot coffee, above, to premium chilled offerings
Utilize iced coffee or cold brew in shakes, freezes, and other frozen coffee specialties
Add a Kick—Irish coffee is a time-honored postprandial indulgence; build on the sales opportunity with other recipes for spiked coffee beverages.
Tea
Tea drinkers deserve a little extra attention at dessert, too:
Offer a stellar tea selection that goes beyond familiar black tea, with options such as green, herbal, flavored, and specialty teas:
Pay attention to details, like inviting menu descriptions or an attractive tableside box for presentation, attractive individual pots, and accoutrements such as brown sugar cubes and freshly cut lemon
Consider such distinctive alternatives as chai and chai lattes, infusions, signature tea blends, Moroccan mint tea, and spiked tea
Don't forget premium iced tea, including not only traditional varieties but also iced chai, spiced and specialty blends, and Thai iced tea.
Tea-based cocktails, such as the Green Tea Mojito, represent another way to leverage tea as a dessert.
Cocoa
Few beverages are more indulgent than a cup of hot chocolate, which makes cocoa perfectly positioned as a dessert alternative or addition.
Put it on the menu; according to Datassential, less than 17% of restaurants in all segments offer hot chocolate, which means there's plenty of room to add it and set your operation apart
Experiment with on-trend flavors to create a premium cocoa beverage, such as salted caramel, mint, maple, even Sriracha hot chili
Elevate hot cocoa with the same kinds of garnishes as for coffee: candy pieces or a peppermint stick, a drift of whipped cream, mini-marshmallows, chocolate sprinkles or a squiggle of caramel syrup, and so on
Spike with rum, brandy, peppermint schnapps, orange liqueur, or another complementary spirit
Ice or freeze hot cocoa to create a distinctive and refreshing beverage that is as appealing as ice cream no matter what the time of year
As with most add-on items, it will help to merchandise beverages in active ways—on menus and other point-of-sale materials, such as table tents, and through suggestive selling techniques.
Source: Datassential MenuTrends, 2017
The information provided is based on a general industry overview, and is not specific to your business operation. Each business is unique and decisions related to your business should be made after consultation with appropriate experts.
DRINKABLE DESSERTS
TRY THIS
Caramel flavor chills out in a Frozen Caramel Latte
Adding cayenne, condensed milk, and orange peel to espresso creates this sophisticated Espresso Volcano
Hot Cocoa is extra delicious with the added flavor of hazelnut in a Hazelnut Cocoa recipe