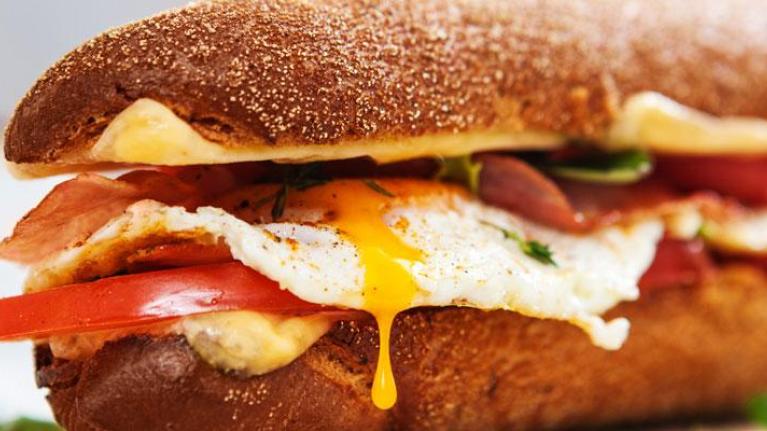 Fast Casual Menus Rise & Shine with Breakfast Served Anytime
April 5, 2017
Breakfast ingredients boost sales across dayparts.
Sales are up for breakfast, and breakfast is no longer restricted to the morning – an opportunity that Quick Service Restaurants (QSRs) have seized. In fact, QSRs are leading the foodservice industry with 73% of QSRs offering breakfast options versus 51% of Fast Casual restaurants.  
Breakfast dishes and ingredients can be incorporated into your menu all day. Overall, 93% of operators report that breakfast sales are steady. Consumers' high demand for more breakfast offerings makes breakfast a par-ticularly profitable segment for Fast Casual restaurants.
There are a few ways to take advantage of this quickly too. To meet consumers' preferences for international ingredients and flavors, update the menu with global spins on traditional breakfast favorites. And balance ex-travagant and healthful offerings for a breakfast menu diners crave.
Cross-Utilize Ethnic Foods to Reduce Waste
With 60% of operators focusing on reducing food waste, cross-utilization is an effortless way to eliminate 
some of that waste, cutting food costs. Globally inspired dishes often feature components that can be cross-utilized. And ethnic breakfast items can feed the growing desire for global flavors – especially for younger generations who are particularly interested in multicultural foods. Many global cuisines offer innovative, spice-forward options that add interest to menu items. Often, it's as simple as adding spice to traditional favorites with gochujang or sriracha. Or offering an approachable dish incorporating well-known flavors such as an Australian sausage roll, which is simply sausage wrapped in puff pastry. The baked beans and sautéed mushrooms of a full English breakfast can serve as side dishes throughout the day. 
Sweet churros work equally well for breakfast or dessert, and pair perfectly with coffee.
Indulge Your Guests to Maximize Their Meal Options
When planning weekend breakfast menus, take into consideration that many diners prefer indulgent breakfasts on the weekends over better-for-you options. As a breakfast offering, consider an egg and pulled-pork sandwich with waffles or donuts as the bun for a more extravagant spin on a breakfast sandwich. The South is known for indulgent food and Southern comfort food is appearing more frequently on breakfast menus. In fact, menu penetration of shrimp and grits has increased over 100% in the last four years. Operators can incorporate shrimp, chicken, and other proteins across dayparts for a full Fast Casual menu that maximizes the number of meal options for diners.
Cross-generationally, consumers want variety on menus, so having extra options they seek could lead to more traffic through the door.
Serve Better-for-Them Ingredients All Day Long
Although customers indulge over the weekend, many consumers seek healthier options during the week. With 80% of consumers saying more healthful foods are an important part of breakfast, avocado toast and smoothie bowls have great appeal. Avocados can then be used across dayparts in salads, sides, and sauces and fruits used in smoothie bowls can become dessert toppings later in the day. Fast Casual operators continue to offer healthier options year after year, with 24% saying they will include additional better-for-you dishes on their menus in the coming year.
All trademarks are owned by Société des Produits, Nestlé S.A., Vevey, Switzerland, or used with permission.
SOURCES: Datassential, CPP – Breakfast, February 2017 | Datassential, PULSE – Market Overview, 2016 | Datassential, FoodBytes – Breakfast Keynote Report, November 2016 | Datassential, PULSE – Addressing Labor Costs, December 2016 | Datassential, CPP – Generations, 2015 | Datassential, International Concepts – Global Baked Goods, December 2016 | Datassential, Breakfast Around the World, June 2016 | Datassential, Modern American Food Trends, December 2015 | Datassential, CPP, 2015