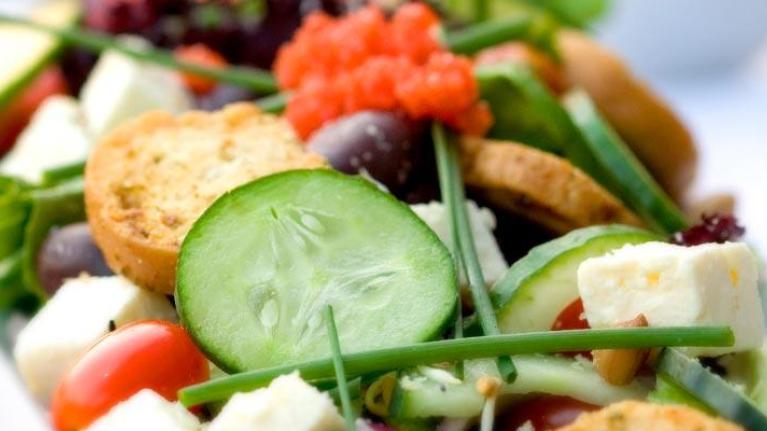 Meatless Menu Options—Not Just for Vegetarians
February 8, 2015
The trend for vegetarian and vegan entrées continues to grow. Learn how to satisfy both committed meat avoiders and those who want a lighter, healthy meal.
It really doesn't matter how many "official" vegetarians or practicing vegans there are. Meatless menu options are important just about everywhere—if only to counter the veto vote in a group of people headed to the nearest steakhouse.
There are lots of different strategies for accommodating guests who don't want meat, either as a steady diet or a change of pace.
At the University of Buffalo, for instance, delicious, high-protein "ancient grains" such as quinoa and buckwheat have been incorporated into a new menu platform (developed in conjunction with Nestlé Professional corporate chef Alan Archer, CEC) that speaks not only to non-meat eaters but also to anyone seeking variety. In fact, with more than 20 different outlets around campus, special dietary needs are met at nearly every venue, from the salad bar at Greens and Beans to the Vegetarian station at Governors Dining Center

At the Yard House, an upscale-casual chain known for its food and beverage program, a dedicated Gardein menu has been created for vegetarians, with the soy-based analog standing in for beef or chicken. Other vegetarian options, flagged on the menu with a V, are scattered throughout the menu

Native Foods Café, launched in Palm Springs, CA, more than 20 years ago, seeks to mainstream the vegan dining model with a plant-based menu that touts everything from an Oklahoma Bacon Cheeseburger to a Caribbean Jerk Kale Salad—all of it vegan, and a lot of it gluten free

Within Loma Linda University, a Seventh Day Adventist educational health sciences institution, there are a number of dedicated vegetarian options, including a public cafeteria in the Medical Center and dining services in the Councilors Student Pavilion, with its salad bar, hot and cold food stations, and rotating chef-attended action stations, including pasta, stir-fry, and pho concepts

Chipotle has added a meatless menu platform via its new braised tofu Sofritas, which are being rolled out in a yearlong state-by-state initiative. The product is available as a burrito, bowl, taco, or salad
There are a number of reasons apart from lifestyle why more customers are selecting meatless options, including increased interest in fresh fruits and vegetables, desire for variety, and the healthy perception that vegetarian and vegan items convey (in fact, some studies indicate that a vegetarian diet can help with weight loss).
It's important to remember, however, that "meatless" doesn't automatically mean "healthy," because there are still the usual concerns about fat and calories. Those who follow a strict vegetarian or vegan diet must be careful to get enough balanced nutrition, including protein, iron, B12, and calcium. And many vegetarians, particularly younger ones, don't actually eat a lot of vegetables—they may subsist on foods like pizza, french fries, and PB&Js.
In serving meat-avoiding customers, operators must do their homework. Beyond eggs and dairy foods like cheese and yogurt, look to alternative protein sources like nuts, black beans, chickpeas, legumes, and quinoa, as well as tempeh, tofu, and seitan. Leafy greens, such as broccoli, Swiss chard, spinach, bok choy, and kale, contain calcium. There is also evidence that Vitamin C, found in citrus fruits as well as certain vegetables, increases the body's ability to absorb iron.
Unless yours is a completely vegetarian or vegan operation, it may be best to integrate your meatless options more seamlessly into the menu, focusing on the usual attributes of flavor, texture, variety, and pleasure in foods that happen to be plant- and/or dairy-based.
Fortunately, there are many entire categories of food items that lend themselves beautifully to meatless interpretations, including:
Frittatas, quiche, and other egg dishes

Soups

Pasta

Stuffed potatoes

Salads

Vegetable-based casseroles (i.e., eggplant Parmesan)

Pizza and flatbreads

Sandwiches and wraps

Rice dishes, such as risotto

Mac-and-cheese variations

Ethnic specialties, including Asian, Latin, and Mediterranean
Get Started: Stouffer's® Macaroni and Cheese Made with Whole Grains—part of a line of menu-ready, whole grain products—is a perfectly delicious starting point for vegetarian menu items. And there are many Minor's® bases and flavor concentrates, including Red Chile Adobo Flavor Concentrate, Sautéed Vegetable Mirepoix NAMSG, and Natural Gluten Free Vegetable Base, that can be used to prepare meatless soups, sauces, and more.