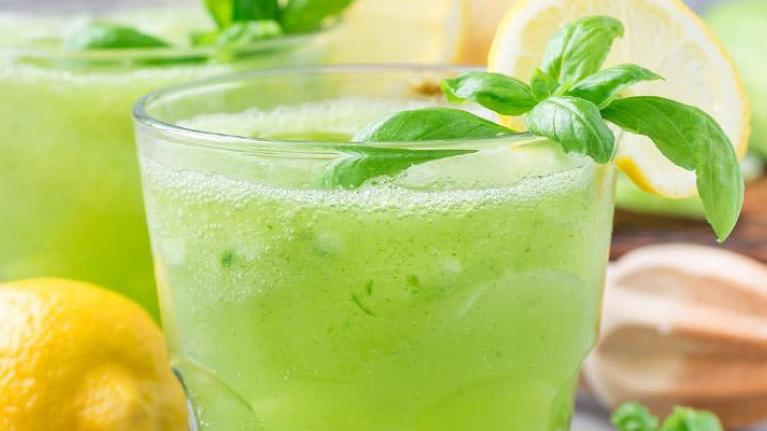 Refreshing Summer Beverages: Lemonade and Beyond
July 1, 2018
Warm weather means an uptick in cold beverage sales. Be ready with signature thirst quenchers. We have the rundown on the very best coolers.
Lemonade Variations
Lemonade is always welcome on a hot day, and this familiar, lighthearted beverage responds well to different variations. According to Datassential, lemonade is on 63.3% of US menus, having enjoyed four-year growth of 12.9%. Popular specialty flavors include Blackberry, Strawberry, and Blueberry. Other variations include:
Sandia (watermelon lemonade served in a sweet-and-spicy-rimmed glass)
Spicy Lemonade (infuse with Sichuan peppercorns and serve with mint)
Basil Lemonade (muddle with basil and serve with basil-flecked ice cubes)
Mango Lemonade (mix 50/50 with mango juice and serve with a chili-dusted mango spear)
Preserved Lemon-Lemonade (muddle with quartered preserved lemons and some of their liquid)
Sparkling Juices and Juice Blends
Lightening up juice with sparkling water or soda is a time-honored way of making juice more refreshing in the warmer weather. And specialty juice blends take the beverage selection beyond the usual orange and grapefruit into signature territory.
Datassential figures show that sparkling juice appears on less than 3% of menus, giving it plenty of potential for differentiating beverage menus. Blended juices have a sky's-the-limit appeal that begs for innovation.
Lemonade and lemon-lime soda
Grapefruit juice and grapefruit soda
Rickey (sparkling water with lime juice and flavored syrup—try blackberry—or a splash of fruit juice such as peach)
Combine a trendy beverage such as pomegranate juice with more familiar apple or orange juice
Kale, ginger, cilantro, acai, cucumber, and other high-profile ingredients believed to have functional benefits can be added to juice
 
Sources: Datassential SNAP Food Profile: Lemonade (2017); Datassential SNAP Food Profile: Iced Tea (2017); Datassential SNAP Food Profile: Sparkling Juice (2017)
The information provided is based on a general industry overview, and is not specific to your business operation. Each business is unique and decisions related to your business should be made after consultation with appropriate experts.