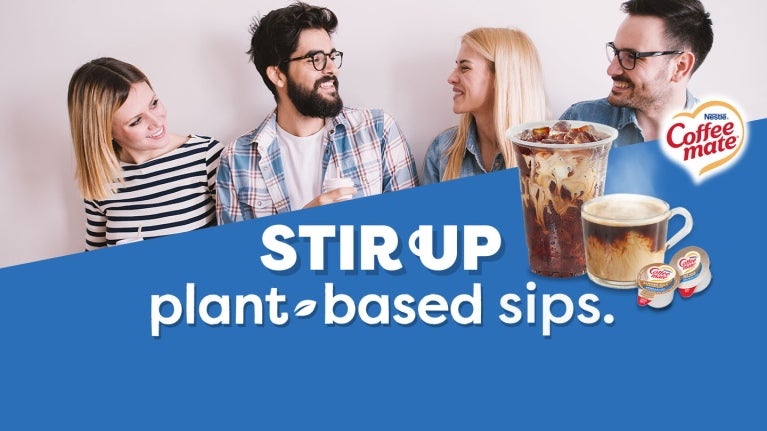 Upgrade Your Coffee Program with Coffee mate's Plant-Based Creamers
March 6, 2023
Consumers are looking for more and more plant-based options away from home. As you're making shifts to meet increasing demand, it's important to consider all aspects of your operation—including your coffee station. 
Plant-based options are more popular than ever. Not only has the overall retail market for plant-based foods grown by $5.5 billion since 2019,[1] today nearly 50% of people report that they follow a flexitarian diet.[2] Younger consumers in particular are drawn to plant-based options, with 79% of Gen Z saying they enjoy plant-based meals at least once a week.2  
This increasing demand goes beyond food items—more than 56% of creamer users are opting to customize their coffee with plant-based options, mainly due to perceived health benefits.2 As consumers are using more plant-based creamers at home, they're expecting to see them offered in foodservice locations as well. When it comes to away-from-home creamer preferences, plant-based picks are second only to half-and-half.2 They're especially popular in cold coffees, with one in five cups of cold coffee plus creamer including a plant-based option.2  
To satisfy consumers' changing tastes, every coffee station should include plant-based options—preferably both almond milk and oat milk varieties. 
Make a splash with almond milk creamer.
Almond milk is a well-loved non-dairy beverage option for plant-based consumers, with 66% saying they have tried it.2 This popularity extends to almond milk creamer as well—it's the top plant-based creamer at home and away from home.[3] Smooth and creamy with a slightly thinner texture and subtle nuttiness, almond milk creamer is an excellent option for consumers seeking a dairy-free, gluten-free milk alternative for coffee customization.
Stand out with oat milk creamer.
Oat milk is the number-two plant-based milk in the U.S. retail space, following closely behind almond in popularity.2 More than 60% of consumers are familiar with oat milk, and 35% have used it.2 This thick, rich and creamy option has a hint of cereal flavor, with the added bonus of being soy-, nut-, dairy- and gluten-free. Operators at colleges and universities are especially interested in oat milk creamers to satisfy student demand.
"Oat milk creamers will be popular with our students. We have a large plant-based population—a lot of flexitarians who do plant-based sometimes, or are somewhere along the spectrum, so we're looking for anything we can add for them."  -Resident District Manager at the College of William & Mary
Exceed expectations with Coffee mate®.
As the brand three out of four consumers prefer for flavored creamer away from home, Coffee mate is the go-to for plant-based coffee customization.[4] Additionally, 66% of consumers say they're more likely to buy coffee from establishments that offer Coffee mate creamers.4
Coffee mate's dispenser solutions are your key to meeting consumer demand with ease. Both almond and oat milk creamers are available in a low-touch, 50-count self-serve dispenser box with a six-month shelf life. Oat milk creamer is also available in a bulk format through a quick-dispensing system that is ideal for mid- to high-volume coffee stations and offers a great way to eliminate theft and minimize restocking.
Coffee mate makes it easy for operators to deliver on the rising demand for personalized and better-tasting coffee—starting with plant-based options.