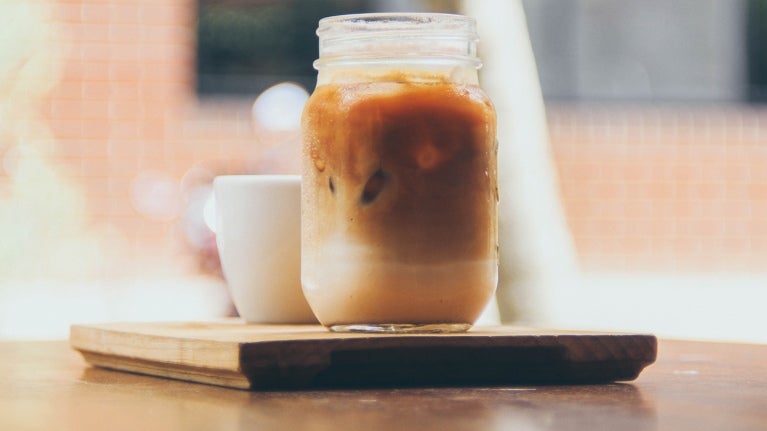 15 Hot Ideas for Cold Coffee
July 3, 2023
Americans love coffee. More and more are taking to iced, nitro, and cold brew. Discover the most popular styles here.
As America's most popular beverage, coffee has been experiencing strong growth for years. But one of the subcategories fueling that popularity has been cold coffee.
Over the past four years, sales of many cold coffee varieties have taken off. For example, cold brew menu penetration has grown by 104%, nitro by 160%, and iced lattes by 75%.1
All signs point to more growth to come. Some of the biggest chains, like McDonald's, continue to invest heavily in cold coffee, announcing this past April that it's testing cold brew coffee.2
Cold coffee sales are being fueled by consumers looking for new kinds of beverage refreshment—and an occasional indulgent treat. Especially appealing are energy-enhancing ingredients like caffeine, the broad range of flavors, and the customizability. Plant-based creamers, for example, have become so popular they are helping to drive and reinforce the cold coffee trend.
Cold coffee is also endlessly versatile, with new brewing and preparation methods—some from other countries—catching on in the United States. Here are some of the most popular, along with a few to spark your own creative ideas.
Most Popular
Cold Brew: The past year has seen cold brew menu penetration continue to rise by 20%.1 Consumers love its smooth, less bitter taste, made by steeping coffee for a long time in either room temperature or refrigerated water to slowly draw out the flavors. 
Nitro: With 160% growth on menus over the past four years, nitro is the cold coffee variety to beat at the moment.1 Usually made from cold brew, it's infused with nitrogen, giving it a creamy, frothy texture resulting in a mouthfeel similar to a stout beer.
Iced Coffee: Have an extra pot of coffee sitting around? Don't toss it. Instead, pour it over some ice, add a splash of milk or other creamer and maybe some sweetener. And don't forget to offer plenty of on-trend plant-based creamers, such as oat, almond, or coconut milks. Flavored syrups also please customers. Classic flavors like caramel, vanilla, and mocha continue to be popular, but there's a growing interest in unique and seasonal flavors like lavender, rose, and pumpkin spice.
Iced Lattes and Cappuccinos: Early cold coffee favorites, they too continue to grow on menus. Iced lattes saw growth of 75% on menus over the past four years, while iced cappuccinos, 17%.1
Iced Mocha: In a

mocha

, a shot of espresso is combined with chocolate powder or syrup, followed by milk or cream. Consumers love mocha over ice or frozen, topped with whipped cream.
International
There are a variety of cold coffees from overseas that have been catching on in the U.S. market. These include:
Dalgona Coffee: This South Korean whipped coffee trend took social media by storm during the COVID-19 pandemic. It involves whipping instant coffee, sugar, and water to create a creamy foam that's served over cold milk.3
Vietnamese: Vietnamese coffee is traditionally made with dark robusta coffee, condensed milk, and served over ice, which results in a sweet, yet strong flavor.4 Its appearance on menus has grown by 39% over the past four years.1
Thai: Similar to Vietnamese iced coffee, Thai iced coffee tends to be milkier, sweeter, and milder as it uses light-medium roast coffee beans. Thai iced coffee's menu penetration grew by 22% over the past four years.1 
Japanese Iced Coffee: A method where the coffee is brewed directly onto ice. Fans say brewing coffee in the traditional method with hot water helps to retain the desired flavors and aromatics. When the coffee hits the ice, it immediately cools, which helps keep the flavors and aromas in place.5
Caffè Shakerato: An Italian-style iced coffee made by vigorously shaking espresso, ice, and simple syrup together to create a frothy and refreshing drink. The result isn't just a sweet, iced espresso, but one that's been transformed in texture: velvety and capped with a creamy foam, mostly thanks to the vigorous shaking that aerates the coffee.6
Indulgent
Recent years have seen a shift toward the indulgent with many cold coffee varieties. Dessert influences and flavors, for example, have been a significant trend, with applications calling to mind nostalgic desserts such as birthday or red velvet cake.7
Affogato: A combination of a shot of hot espresso poured over a scoop of vanilla ice cream or gelato, creating an iced coffee treat. Menu penetration has grown by 89% over the past four years.1
Frappe: A slushy-like cold coffee drink, a frappe can be made using instant coffee, cold water, and ice cubes blended to create a frothy drink.8 Despite what you might think, frozen coffee transcends seasonality with steady consumption year-round.9
Cutting Edge
These innovative cold coffee varieties may push the envelope. But they also exemplify the versatility of cold coffee and the innovation in the category. Try creating your own spin on these ideas.
The Laura Palmer (Iced Coffee Lemonade): Coffee and lemonade? It's a take on the Arnold Palmer iced tea and lemonade classic. Datassential suggests a new spin by pairing it with tonic or club soda. It can result in a slightly less bitter drink.7
Jus Alpukat: Translated into English it means "avocado juice," and is a rich, chilled Indonesian beverage that gets its creamy texture from avocado and milk, and its sweetness from condensed milk. It can be spiked with strong coffee or a double shot of espresso.
Olive Oil Coffee: Coffee created with olive oil can produce a velvety smooth, deliciously lush coffee.
Did You Know?
Seasonal flavors drive drinking cold coffee away from home. Nearly a quarter of consumers had cold coffee with a seasonal flavor away from home compared to 14% at home.10
Sources: 1. Datassential "Coffee: On Menus" (May 1, 2023). 2. Restaurant Business "McDonald's Is Testing Cold Brew Coffee" (April 19, 2023). 3. Intelligent Blends "Coffee Trends" (July 29, 2021). 4. EatDrinkSang.com "The Difference Between Vietnamese Coffee and Thai Coffee" (February 21, 2023). 5. Pull & Pour "How to Make the Perfect Japanese Iced Coffee" (October 9, 2018). 6. Serious Eats "Caffè Shakerato (Italian-Style Shaken Iced Coffee) Recipe" (July 8, 2020). 7. Datassential "The World of Cold Coffee" (March 2023). 8. Homegrounds "What Is a Frappe (vs Frappuccino)?" 9. National Coffee Association "The Reason Is the Season: Coffee's Seasonal Taste and Temperature Trends" (April 13, 2023). 10. Datassential "Buzz Cold Coffee" (March 2023).
The information provided is based on a general industry overview and is not specific to your business operation. Each business is unique, and decisions related to your business should be made after consultation with appropriate experts.