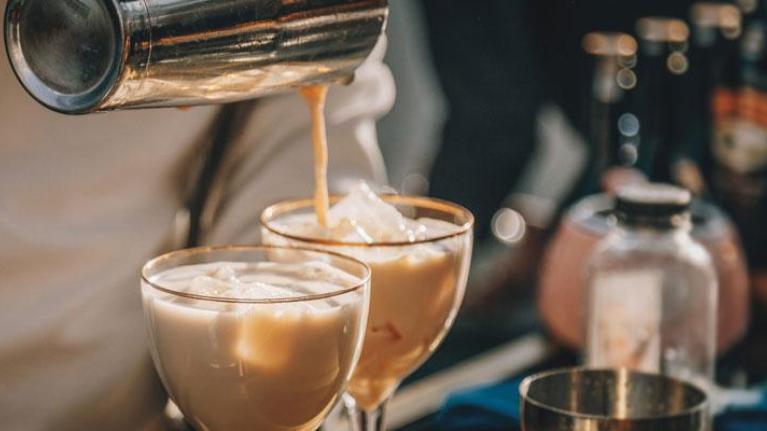 Cozy Up to a Coffee or Tea Cocktail
December 1, 2021
Cooler weather can spark new sales when you leverage your coffee and tea program to create cozy cocktails. Learn how hot beverages can become seasonal sensations.
Operators looking to take advantage of new sales opportunities need look no further than their coffee and tea programs. Cocktails using these two menu stalwarts can provide an easy upsell, while also expanding service into new dayparts. And, with menu versatility virtually unmatched for coffee and tea, they are uniquely positioned to add LTOs (limited-time offers) specialized to each season, further adding to profitability.
During the colder months, tea and coffee cocktails can be cozy treats, and—especially with COVID-19 still circulating—appeal to consumers looking to boost their immunity defense.1 And when spring and summer roll around, add a splash of ice and some on-trend fruit flavors like watermelon or mango (for your iced tea cocktails) and you have craveable refreshers.
Cocktails have been appearing on more menus. Quick service restaurants saw adoption rise from 15.6 percent of menus in 2011 to 16.8% in full year 2019, before the pandemic. The increase was even larger for fast casual, rising from 13.7% to 16.3% in the same period.2
Also, a February of 2021 survey of c-store consumers found opportunities for new alcohol-related profit centers like beer cafés and wine bars.3 
Cozy Cold Weather Coffee and Tea Cocktails
When the cooler months arrive, thoughts begin to turn to staying warm and the upcoming holiday season. Here are some hot coffee and tea cocktails—including a few developed by the Nestlé Professional chefs—that fit the mood:
Espresso Martini: Combine espresso with 3 tubs of Café Mocha

 

Coffee mate®, 2 oz of vodka, and ice. Drizzle chocolate syrup around the inside of the martini glass for added indulgence
Affogato Martini: Fill a shaker with ice, add espresso, 3 tubs of French Vanilla

 

Coffee mate, 2 oz of vodka, and top with 1 scoop of vanilla ice cream
Boozy Americano: Take 10 oz of Americano coffee, mix with 2 oz of Kahlua, add optional whipped cream
Spiked Irish Cocoa: Take 10 oz of hot chocolate, mix with 2 oz of Irish Cream, top with optional whipped cream       
Hot Toddy: This classic hot cocktail has regained attention as operators put their own unique spins on it.4

 

Some think of them as functional drinks that can help reduce cold symptoms. How about a black tea version? Take hot water and add brandy, dark rum, or whiskey, honey, and a lemon wedge. Optional: cloves, cinnamon, star anise
One chain's holiday treat combines premium espresso, spice, and brown sugar cookie notes. Adding some vodka or rum can easily upscale this to a cozy cocktail for those cold winter nights
And a simple Holiday Coffee cocktail recipe combines whiskey, peppermint syrup, hot coffee and lightly whipped cream
Want to turn these hot cocktails into something even more impactful? Blend them with on-trend seasonal flavors, such as maple and increasingly popular apple, or plant-based milks like almond, oat, soy, and coconut, or emerging pea, cashew, banana, sweet potato, or functional ingredient CBD.5
Spring and Summer Refreshers
When the days get longer and warmer, convert your hot coffee and tea cocktail beverage center into something that's refreshing and craveable.
The biggest trend here? Cold brew coffee—something that's easily adaptable to cocktail culture. Take it one step further with nitro cold brew. The process creates tiny bubbles, giving the cold brew a smoother finish and a frothy top.6
And catching on fast? Cold brew tea. This tea, like cold brew coffee, is also made by an infusion, which means the caffeine content is about half of what it would be if the tea was brewed regularly. It is also less bitter.7 
Here are some additional ideas:
A Watermelon Mule crafted with vodka, watermelon purée, and fresh lime juice, shaken and served over ice with ginger beer
Spiked Arnold Palmer, with vodka added to the 50/50 of iced tea and lemonade
Mango Iced Tea Cocktail combines Canadian whiskey, mango rum, iced tea, and is garnished with a lemon wedge
Chai Tea Fizz combines gin, lemon juice, chai tea syrup, egg white, club soda, and a lemon twist garnish
Green Tea Highball combines whiskey, green tea, club soda, and maple leaf candy for garnish
Hibiscus Tea Cocktail combines water, hibiscus tea, sugar, vodka, and pineapple juice
Coffee Old Fashioned combines espresso, bourbon, or rye whiskey, simple syrup, a dash of Peychaud's Bitters, and lemon peel
Sources: 1. World Tea News: 10 Trends in the Tea Industry in 2021. 2. Datassential SNAP! Cocktails (2021). 3. Datassential C-Store Foodservice Consumer Online Survey February 2021. 4. Datassential Alcohol Insights August 31, 2021. 5. Foodservice Director: 10 Coffee Trends. 6. Foodservice Director: 10 Coffee Trends. 7. World Tea News: 10 Trends in the Tea Industry in 2021.
The information provided is based on a general industry overview, and is not specific to your business operation. Each business is unique and decisions related to your business should be made after consultation with appropriate experts.
TrendSetters
Target Millennial and Gen Z consumers with these on-trend tips:
Add spicy flavors for an extra kick.

Japanese matcha tea fans praise its benefits, like helping to energize and focus without causing jitters. Matcha has shown strong growth of +537% menu penetration in the past 4 years1  
Twenty-two percent of consumers age 18–34 say they would consider ordering Thai or Vietnamese iced coffee2
Sources: 1. Datassential Tips: Midyear Trend Report 2021. 2. Foodservice Director: 10 Coffee Trends.